At this years' San Diego Comic Con, The CW's Legends of Tomorrow teamed up Matt Ryan and Courtney Ford to discuss the show's upcoming fourth season. Matt Ryan's reprising his role as John Constantine, a role he originally played in the short-lived series, Constantine. He also voices the character in the animated series, Constantine: City of Demons. Constantine will be working with the Legends in season four as will Courtney Ford's character, Nora Darhk, who's been freed from Mallus and will be struggling to find her new place in the world.
In our roundtable interview at SDCC, Matt Ryan and Courtney Ford shed a little light on what's in store for Constantine and Nora. They also talked about being a part of the large Legends of Tomorrow ensemble.
DC's Legends of Tomorrow season four premieres on October 22, 2018 at 9pm ET/PT.
What's it like to be a part of Legends of Tomorrow?
Matt Ryan: "What I love about the show is that it can go so far in the extreme in terms of comedy, but then it has an emotional core to it as well. And that kind of range in which as an actor you get to play is great."
How does it feel to be back full-on in the Arrowverse after Constantine, both the live-action and animated series?
Matt Ryan: "It's great, man. You know, it's four years since the show was canceled. I've got to go off and do other things as an actor and satiate some of my other kind of wants and needs as an artist. And now I get to dye my hair blonde every week and run around in a trench coat. It's great. And also, to explore the character in this dynamic among these different characters which is new from what I've discovered from the comic books. These are characters that are new relationships for me in terms of how to approach them, so it's great."
Courtney Ford: "You have to dye your hair lighter every two weeks and I have to dye it darker every two weeks."
Matt Ryan: "You do? No way."
Courtney Ford: "Yeah, it's light brown."
How will Nora change in season four since now she no longer has the demon in her?
Courtney Ford: "I know! Who is she? Nora needs to find out who she is without her father and without Mallus. She was possessed by him since the age of 13. And from 13 into her 30s, she fought him and she fought him and she fought him until finally he said, 'I'll help you bring your father back,' and she gave into him. So, you know, I don't think she's ever had any of the normal experiences that we take for granted. Is she going to go out into the world and get a job? How is she going to interact with everybody? And then what part of her is going to win out – the dark or the light? I think she's going to struggle with that and we'll find out more."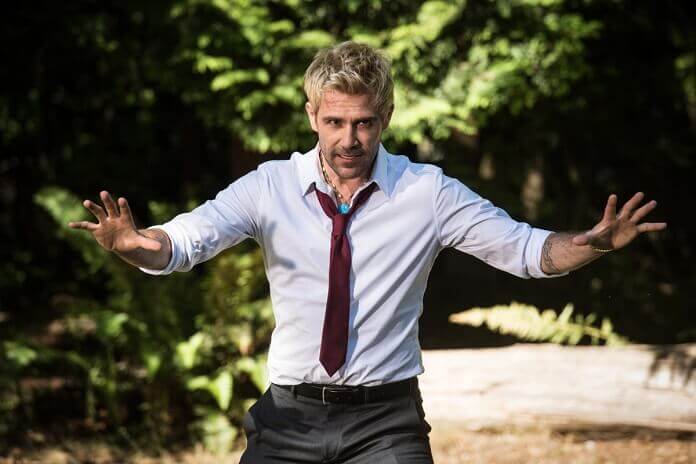 Legends of Tomorrow has such a large cast of regulars. Who would you like to see character really interact with?
Matt Ryan: "Episode 3-10, the relationship between John and Sara is really established. They're both very similar in lots of ways. I think that that for me is the emotional crux of how John kind of comes into this world of Legends. Now, I'm getting to play and explore dynamics with all these different characters. They're all new. They're all something that we're all discovering. It's not Zatanna, it's not Deadman, it's not Batman, it's not Swamp Thing – all these characters we've explored in all the comics. These are characters we're finding out how to explore. That's probably the most exciting thing for me bringing John to this universe is figuring out those dynamics and getting to play with all these guys who are like amazing actors who have so much fun and love our work."
Do you like playing the outsider character who's not really on the team but comes in when they need him?
Matt Ryan: "John is like, 'I walk my path alone.' Everyone around him dies. He would sacrifice his best friend… He does, Gary Lester, who has a demon in him. He would do whatever it takes to get the job done. And, you know, he's a bastard.
What's great is John's not going to be like, 'Oh, I'm a Legend! Let's go!' That's not John Constantine. You drop John in this universe, you drop him in the Arrowverse, you drop him anywhere, he's going to do what he does and there's going to be conflict and there's going to be drama. What's interesting about him coming into Legends is how does it all pan out? How do all these dynamics work? And, what are his motives?"
More on DC's Legends of Tomorrow:
(Article by Rebecca Murray. Additional reporting by Kevin Finnerty.)