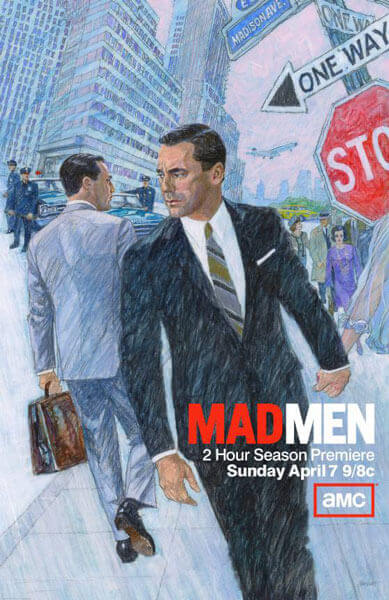 Why are there two Don Drapers on the poster for season six of Mad Men? Why is there a police roadblock? And why does the poster for AMC's critically acclaimed drama have so many 'one way' and other street signs in it? We may get the answers to these questions – or we may not – when the series returns on April 7, 2013.

The sixth season kicks off with a two-hour season premiere at 9pm that was written by series creator Matthew Weiner and directed by executive producer Scott Hornbacher. The show will then move to its regular timeslot at 10pm on April 14th.

Follow Us On:
Journalist covering the entertainment industry for 19+ years, including 13 years as the first writer for About.com's Hollywood Movies site. Member of the Broadcast Television Journalists Association, Broadcast Film Critics Association, Alliance of Women Film Journalists, and President of the San Diego Film Critics Society.
Latest posts by Rebecca Murray (see all)