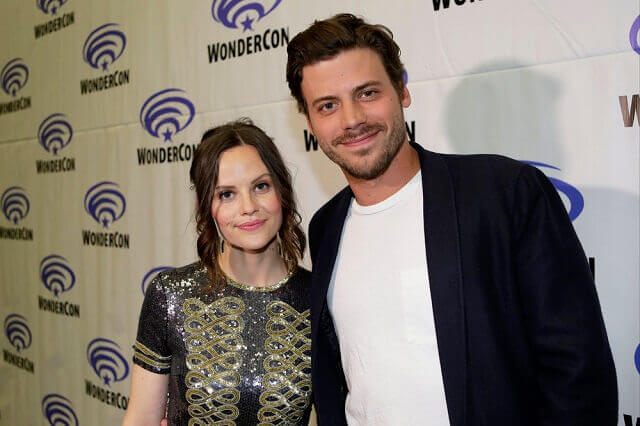 NBC will premiere the new supernatural series Midnight, Texas, based on Charlaine Harris' successful book series, on Monday, July 24, 2017 at 10pm ET/PT. The series stars Francois Arnaud (The Borgias) as Manfred, Sarah Ramos (Parenthood) as Creek, Dylan Bruce (Orphan Black) as Bobo, Parisa Fitz-Henley (Luke Cage) as Fiji, Arielle Kebbel (Ballers) as Olivia, Jason Lewis (Sex and the City) as Joe, Peter Mensah (True Blood) as Lemuel, and Yul Vazquez (Captain Phillips) as Reverend Emilio Sheehan. Monica Owusu-Breen (Agents of S.H.I.E.L.D.) and David Janollari (Six Feet Under) executive produce NBC's new summer series which unfolds in a town full of interesting characters including a witch, a psychic, an angel, an assassin, and a vampire.
Teamed up to talk about Midnight, Texas, series stars Francois Arnaud and Sarah Ramo discussed their roles, the books, and psychic research in our interview from the 2017 WonderCon.
How familiar were you with the books?
Francois Arnaud: "I wasn't at all. I knew of Charlaine Harris' work by mostly the Sookie Stackhouse series. But, I mean right after I read the pilot script I got the first book and read the first book before shooting the pilot. Then, I was sort of waiting – I didn't want to jinx it – so I waited until the series got picked up to continue on. But then after a conversation with Monica, I decided against reading the other two books because even though there are elements from the third book even in the pilot, I knew that she wanted to depart from the books plotlines, even though I think it remains true to the essence of the novels. I didn't want to have to grieve over plot points that I'd become too attached to. So, I wanted to make Manfred my own and not feel too much pressure to be faithful to the character on the page."
Did you do any research on psychics?
Francois Arnaud: "Yes. I met a few. I met one in particular who was very warm and open and welcoming to me called Psychic Ana in Albuquerque where we shot the pilot. It all happened very quickly for me. I booked the role and three days later we were doing prep in New Mexico. She didn't give me a reading but I sat down with her for a few hours and she sort of walked me through all of her process and also told me about other people. I just took a little bit from a few different people as to even the technicalities of giving someone a reading, using different props – either cards or a ball, which we don't do on the show."
Manfred seems to just accept what's happening in Midnight. Is there a point where he becomes skeptical?
Francois Arnaud: "I think it's gripping enough that it just sort of takes him by the throat and doesn't really give him a chance to be skeptical about it. He's lived with supernatural powers and ghosts his entire life which we'll see in a future episode. We go back to Manfred's childhood and we also see Zelda's character as a living person. We see Manfred as a little boy; I don't get to play the little boy, sadly. But it's a very moving storyline.
I think he's sort of shocked by it and constantly thrown around. But I don't think he doubts it. It's funny because I think it's a personality trait of his. I think if he didn't have any powers himself, he probably would be skeptical of all that. He's cynical. But, I think the rest of it he just takes at face value."
Aside from his psychic powers, what is it that you found so compelling about Manfred?
Francois Arnaud: "That he was flawed and sort of reluctant to be a hero. The fact that it was such a hard thing to live with. I think he has a hard time controlling his powers. It costs him very much. I think we see that in the first episode. He pops pills so later on he has to deal with that addiction problem as well. There are a lot of elements with Manfred that sort of ground him and make him relatable to real human beings."
(Sarah Ramos joins the interview.)
Sarah Ramos: "He has some real issues. He's kind of a troubled bad boy."
Francois Arnaud: (Laughing) "Is that why Creek is drawn to him?"
Sarah Ramos: "That's part of why Creek is drawn to him. I mean, she has a really overprotective father and she's probably looking for a little bit of excitement in her life. I think it might be more than she bargained for. Throughout the season I was like, 'So much stuff is happening to him. I don't think he'd be really emotionally available as a boyfriend.'"
Do you believe in the supernatural?
Sarah Ramos: "Sometimes. Depends. I definitely get…I don't know if this is psychic but if I'm home alone I'll get really scared. I'll be like, 'What was that?! What was that?!'"
Francois Arnaud: "I tend to be more skeptical of these things but I can definitely… I sort of avoid these things because I think deep down I am scared of them. But on a more rational level, no, it's not something I partake in."
Will we find out there's more to Creek than we see in the first episode?
(Francois shakes his head no, laughing.)
Sarah Ramos: "There's definitely more to Creek than we know, than meets the eye."
Francois Arnaud: "Very dark secrets."
Will we discover what happened to her mother?
Sarah Ramos: "What happened to her mother is just the beginning of what you're going to find out about Creek's home life."
Watch the full Francois Arnaud and Sarah Ramos Midnight, Texas interview: