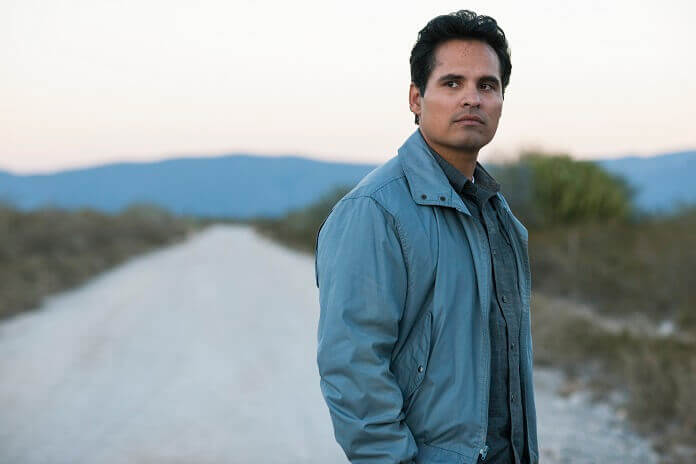 Netflix has just released the first two official photos from the dramatic series, Narcos: Mexico. Narcos: Mexico, the fourth season of Narcos, sets the action away from Colombia and stars Michael Peña and Diego Luna.
In addition to revealing the first photos, Netflix confirmed the supporting cast and their characters. Netflix also released the full official synopsis for the new season.
The new Narcos season will premiere later this year. Eric Newman, José Padilha, Doug Miro, and Carlo Bernard are the executive producers, with Newman also serving as the showrunner.
The Narcos: Mexico Plot: Shifting away from Colombia, where Narcos spent three seasons, Narcos: Mexico will explore the origins of the modern drug war by going back to its roots, beginning at a time when the Mexican trafficking world was a loose and disorganized confederation of independent growers and dealers. Witness the rise of the Guadalajara Cartel in the 1980s as Félix Gallardo (Diego Luna) takes the helm, unifying traffickers in order to build an empire. When DEA agent Kiki Camarena (Michael Peña) moves his wife and young son from California to Guadalajara to take on a new post, he quickly learns that his assignment will be more challenging than he ever could have imagined. As Kiki garners intelligence on Félix and becomes more entangled in his mission, a tragic chain of events unfold, affecting the drug trade and the war against it for years to come.
Narcos: Mexico Cast and Characters:
Michael Peña is Kiki Camarena, a family man and an undercover DEA agent who garnered valuable intel through a series of informants around Félix and his newly minted Guadalajara cartel, but quickly found himself in c as he realized he had completely underestimated the sophistication of Gallardo's system.
Diego Luna is Miguel Ángel Félix Gallardo ("Félix"), the leader of the Guadalajara cartel, one of the biggest narcos in the history of Mexico and the founder of the modern Mexican drug trade. Quiet but bold, inscrutable but sharp-minded, to all appearances he is a benevolent leader, loyal to his friends, associates, and employees…but his ambition comes before all else.
Aaron Staton (Mad Men) as Butch Sears
Alejandro Edda (Fear the Walking Dead) as Joaquin "Chapo" Guzman
Alfonso Dosal (Hazlo como hombre) as Benjamin Arellano Felix
Alyssa Diaz (Ray Donovan, The Rookie) as Mika Camarena
Clark Freeman (We Go On) as Ed Heath
Ernesto Alterio (Cable Girls) as Salvador Osuna Nava
Fermín Martinez (Lady of Steel) as Juan Jose Esparragoza Moreno ("El Azul")
Fernanda Urrejola (Bala Loca) as Maria Elvira
Gerardo Taracena (Apocalypto) as Pablo Acosta
Gorka Lasaosa (Brain Drain) as Hector Palma
Guillermo Villegas (Sin Nombre) as Sammy Alvarez
Horacio Garcia Rojas (Texas Rising) as Tomas Morlet
Jackie Earle Haley (Watchmen, Little Children) as Jim Ferguson
Joaquín Cosío (Quantum of Solace) as Don Neto (Ernesto-Fonseca Carillo)
José María Yazpik (Narcos) reprises his role as Amado Carrillo Fuentes
Lenny Jacobson (Nurse Jackie) as Roger Knapp
Manuel Masalva (Mi corazón es tuyo) as Ramon Arellano Felix
Matt Letscher (Scandal, The Flash) as James Kuykendall
Tenoch Huerta (Sin Nombre) as Rafael Caro Quintero
Teresa Ruiz (Here on Earth) as Isabella Bautista
Tessa Ia (The Burning Plain) as Sofia Conesa
Yul Vazquez (The Looming Tower, Magic City) as John Gavin