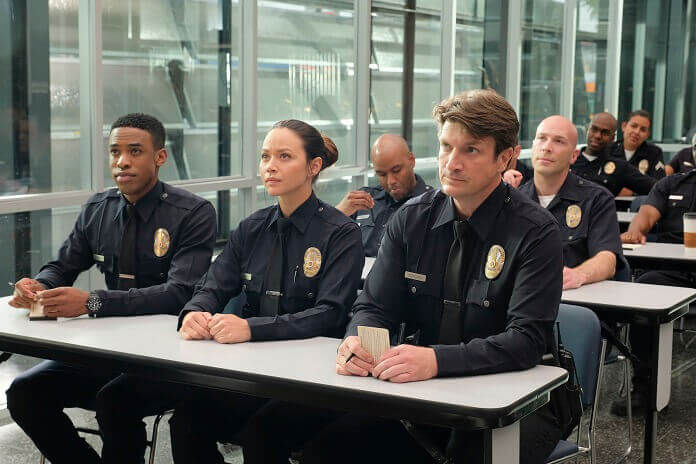 Nathan Fillion is back on TV. Well, after Castle ended, he kept busy doing guest spots on American Housewife, Santa Clarita Diet, and The Big Bang Theory, but now he's back on his own show. Nathan Fillion IS The Rookie.
John Nolan decides at age 40 to become a police officer. At 40, he's the oldest rookie on the LAPD. Fillion spoke with reporters after ABC's panel for the Television Critics Association. The Rookie premieres on October 16, 2018 at 10pm ET/PT on ABC.
Was Santa Clarita Diet a perfect palette-cleansing show?
Nathan Fillion: "That presented some challenges. Being a disembodied head, you're not allowed to move at all. Apparently, moving my head while I'm acting is my crutch. Something I rely heavily on. It's hard to hold still."
Did you think about doing a half-hour comedy after Castle?
Nathan Fillion: "I've thought about a lot of things but it's not about I'm ready to do a half hour comedy, I'll pick up the phone and start doing one. That's not really how it works. As you know, jobs come and opportunities come when they come. I recognize an excellent opportunity when it comes my way, and this was one I just couldn't say no to."
When did you realize Nathan Fillion was a personality you could play in other guest spots?
Nathan Fillion: "You know what's interesting was when we started Castle, we were a one-hour drama. When Castle began to air, it was apparent that we were a comedy. There wasn't a dramedy category when we started. Castle and shows like it now are their own genre. They're not Castle-esque programs. It was a fantastic engine that managed to keep the show running for eight years. That's hard."
As a producer on The Rookie, do you have notes about your character's potential romantic relationships?
Nathan Fillion: "You know what? I think one of my strengths as a producer is knowing when to keep my hands out of the pie. I leave that to story guys. Alexi (Hawley) is a fantastic storyteller. I like to think of myself as pepper. He makes the meal. I come in with some pepper. I'm not changing the menu, just a little pepper. That's all."
Having spent 25 years in the business, could you relate to this guy who wanted a fresh start later in life?
Nathan Fillion: "Good question. I am so fortunate that the job I've chosen to do, I am still managing to be relevant and uniquely important. I have not yet had to have that resurgence. I haven't had to do the flip yet. I'm still riding a fantastic wave. Fingers crossed, I hope for the best and plan for the worst."
How are you going to celebrate 25 years in the business?
Nathan Fillion: "Probably a hot bath and a glass of wine."
Did The Big Bang Theory come to you?
Nathan Fillion: "I had run into those guys. The ones who write that show are like-minded nerds like myself so they have an affinity for the nerd culture and nerd things. Of course, I've had my finger in that pie sometimes. So, when they make Firefly references, Firefly jokes, Nathan Fillion vs. Ryan Reynolds for Green Lantern, they're just touching on stuff that we all talk about in nerd culture. I ran into those guys at a party. They said, 'We'd love to have you on this show.' I said I would love to be on it."
Does that happen often for you when people don't believe you're Nathan Fillion?
Nathan Fillion: "That has happened to me. People often say to me, 'You sound like Nathan Fillion but you don't look like Nathan Fillion.' People often are shocked that I'm tall. People ask me if anybody ever told me I look like Nathan Fillion. Then again, I'm also often mistaken for Jason Bateman."
How was the One Life to Live reunion?
Nathan Fillion: "Fantastic. Again, that show, those people, I mean, if you're going to learn the ropes, learn them from the best. And I was there working with people who have been in the business for 15, 25, 35 years. You can't argue that kind of experience. They've done it all, they've seen it all or they heard about it. So, I'll never speak poorly about daytime drama. I had a fantastic experience with those people. Not just on the show but personally. They took care of me. I nurtured relationships there that I maintain to this day. There is no one on that show I wouldn't give a giant hug to if I saw them. A lot of them I'm still in touch with."