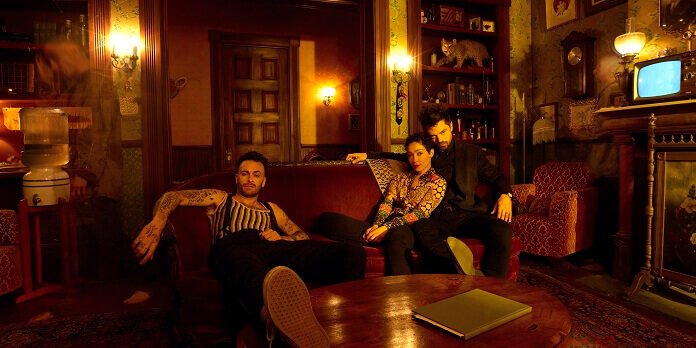 The stars of AMC's Preacher – Dominic Cooper, Ruth Negga, and Joseph Gilgun – joined series creators/executive producers/writers Sam Catlin, Seth Rogen, and Evan Goldberg at the 2018 San Diego Comic Con to promote the show's very twisted third season. In addition to hosting a Q&A with fans, the Preacher team participated in a press conference to delve deeper into what's up with Jesse, Tulip, and Cassidy this season.
Ruth Negga was asked whether there's any hope left for a reconciliation between Jesse and Cassidy after Tulip sent Cassidy away. Negga explained Tulip's motivation behind telling Cassidy she wasn't interested in him romantically. "Well, I think it's her way of saving him, really. I think it's her sacrificing her relationship to get him out of the way because she thinks he's in danger," said Negga. "She needs him to be out of danger and that's why she tells him that."
Negga added, "Also, there's a truth there. She genuinely wants to be honest with him and I think she suffers from that. She could have gotten rid of him in a different way that would have been easier for her. I think she loves him so much she wants to be honest."
Joseph Gilgun agrees that Tulip did what she needed to do to keep Cassidy safe. "Cassidy, I think, needs telling that way. Otherwise he would have just kept pushing," said Gilgun. "You've got to be cruel to be kind sometimes, and that's what she did. She needed to protect him and their friendship as well."
Will we see the trio brought back together to defeat Jesse's family? "I hope so, but not for the moment. I think that relationship is imploding," said Dominic Cooper. "For Jesse, you meet him at a very stressful time. He's made a decision that he feels extremely guilty about. Cassidy's made his views very clear on the friendship and how he feels he's handled it. He's now confronting a place which he would do anything not to go back to and confronting a person who he could possibly become in that situation. And he's having to push them away from him in order to save them. But, on the surface that looks like he's not very selfless; it looks like he's doing it as a selfish act. And certainly, it looks like from Cassidy's point of view from jealousy."
Cooper added, "I think they have to come together. We hope they come together. They're the closest things they've ever had to friendship. We were saying earlier that they're sort of discovering certain things about their past and who they are that they're trying to deal with. I think for the moment it means them going on their own journeys and separating. I have the family to deal with and this bond I've created in order to save Tulip's life. I don't know how they'll eventually, but I do hope they'll end up coming together again. Certainly, this season the relationship is very strained and problematic. It gets worse before it gets better."
Joseph Gilgun joked that Jesse and Cassidy's relationship is one of those where they can have long conversations and never agree on a single thing. That said, the two seem to fit together and Gilgun believes each will give the other a second chance at friendship.
Among the third's season batch of bizarre new additions is the character of John Wayne. While locked in a coffin underwater, Jesse retreats from reality to have a conversation with the legendary Western actor. Sam Catlin revealed they weren't going to put in John Wayne from the comics at all, but ultimately decided to bring the character to life during season three.
Catlin describes John Wayne as a coping mechanism Jesse created as a child. "[John Wayne] was somebody he imagined would give him strength. He was this ideal hero, the guy who is always going to tell him to toughen up," said Catlin. "It just felt like a good opportunity for us to see Jesse in a Western."
Seth Rogen believes inserting John Wayne in the first season would have been too much on top of all the other weird characters and storylines.
Asked if she has favorite Tulip scenes, Ruth Negga confessed she believes Tulip has now come more into her own. "She's sort of got her agency back and I feel like it's, for me, it's quite thrilling the idea that she feels more independent, actually, of the two boys while still being on their journey. For her, this is her family but I think she's finding her own way and solidifying her sense of self and her sense of who she is," explained Negga. "She's owning her flaws."
Negga also believes that the Purgatory scene was a watershed moment for Tulip. She feels Tulip has now become her own superhero.
Season three's presented more of Jesse's backstory, and Dominic Cooper is amazed with each script that comes along and delves more into Jesse's upbringing. "I feel like I've only just scratched the surface with what has been revealed about him. There's a much, much darker side the more we learn about the grandmother as well and the family and the things that he put up with and the things that he witnessed. It involves all decisions that you actually make."
Cooper admitted it's been challenging to play the version of Jesse who enjoys The Tombs. "That's been a very interesting part of playing the season out is how much he has to restrain himself from indulging too much in the brutality of it. I keep re-watching them having made them and there are things that he's done that are just utterly awful. You see him as a child and you think the decisions that he maybe was forced into making, they're really quite terrible things and awful memories to live with. But it definitely colors certainly the audience's perception of who he is.
That's the heart of it for me in terms of how this entity is still so confusing to him, why this thing can exist within him. It's clear to me that that's because he is half the blood of his grandmother. That's part of his heritage. I think it's that constant battle, that struggle to – as we all do – we're constantly trying to better ourselves. There's part of us that we don't like and he's now being forced into really facing that side of himself head-on. But it makes it all the more enjoyable and exhilarating to play each time you get another script which reveals more about the past."
As for how closely the season will hew to the source material, Catlin confirmed the comics are in the writers room and are a constant source of inspiration. "I feel like this season there's probably more stuff that's directly from Garth (Ennis) and Steve (Dillon's) writing than in the previous two seasons. We're hoping to get to all of it or as much as we possibly can. It just takes time.
I think there's a version last year when we were breaking season two where we were going to get to Angelville in the middle of the year and bring in Gran'ma. And it just felt like we were sort of giving ourselves short-shrift and we weren't spending enough time with Herr Starr. We wanted to get into this world of Angelville because it's such an important part of the comics and we really wanted to spend time there."
Although much of comics come to life on the small screen extremely faithful to Garth and Steve's vision, one thing fans will never see is Cassidy walking around with dark sunglasses. Rogen says the decision was made to forego the sunglasses in large part not to limit Joseph Gilgun's performance. "We were just like, 'It would be great to see Joe's eyes because he's so wonderful,'" said Rogen, laughing. "In the comic Cassidy has these like it's kind of vague – he has these red, gnarled eyes I guess is the implication."
"Only (jerks) wear sunglasses indoors," said Gilgun. "I'm saying there's no reason to wear shades indoors."
Catlin interjected, "And it would also make people early on just think he's a devil or something which would throw them in a weird direction."
"Or Bono," offered Negga.
"Exactly," laughed Rogen. "Bono would be… We went to Bono first."
"I'm glad I'm a poor man's Bono," joked Gilgun.
Preacher airs on AMC on Sundays at 10pm ET/PT.