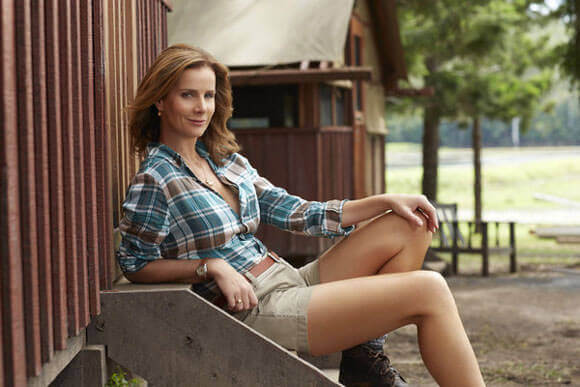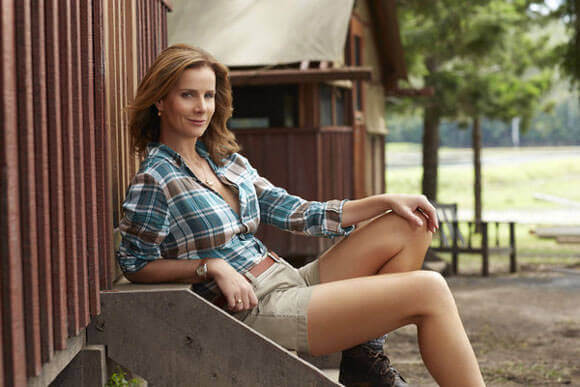 NBC's
Camp
is set in the United States, however the story is universal. Featuring an Australian cast led by Rachel Griffiths (
Brothers & Sisters
,
Six Feet Under
) and actually shot in Australia,
Camp
tells the story of Mackenzie Granger, the owner and director of Little Otter summer camp who's struggling to keep her camp afloat. Newly divorced, Mackenzie's also dealing with potential romantic entanglements as well as the stress of raising her adolescent son Buzz (Charles Grounds) on her own.
The one hour dramedy airs on Wednesday nights at 10pm.
Rachel Griffiths Camp Interview:
Could you discuss what it's like to film on location at such a beautiful place? A lot of shows don't make use of the environment the way that Camp does.
Rachel Griffiths: "Oh, look, it's a really good question. Here we have long days in Camp, maybe not as long as like we used to do in Brothers and Sisters, but I would get to the end of the day and I would never feel the kind of fatigue and total exhaustion, I guess. For five years on [Brothers] I would often drive in the dark and then I would come out in the dark and drive home. It was kind of sunrise on the way in on the 101 and sunset on the way home. And you're in these wonderful studio lots that basically kind of are in these giant vaults making make-believe. And it was absolutely a completely different experience to [be] outside. We were always outside or in an inside/outside kind of flow.
A lot of things we tried to make transitional because we could. So you would enter into a world from an outside world, have a scene and then, you know, perhaps exit. And it just was absolutely beautiful to be breathing real air. Everything you interacted with was real. You know, everything you leant against, every object you held, every door you closed was real. Every prop had a kind of reality to it. And it was interesting [because] I guess you don't really realize the energy that you put in as an actor in that studio environment to create reality. And not having to do that was quite a different experience.
You could kind of relax and occupy the environment, feel very much that it was yours and it just kind of affected everything: your level and your pitch and you would be really reaching across actors in time and space, walking and talking. So it really was very different and a great pleasure. I love being outside. It's my kind favorite place to be. I'm a real water girl. So, yeah, it was stunning. It was just stunning place to shoot. It's got to be one of the most beautiful locations in the world."
We haven't seen you do much comedy recently or where your character gets to have a few lighter moments. How was it to actually tackle something like that again?
Rachel Griffiths: "[…]It was kind of terrifying for sure but also a real pleasure. I don't know, it met where I wanted to be in my life right now, you know? It was kind of a return to it. Muriel's Wedding definitely had the kind of dramedy tone. And it was kind of lighter, definitely kind of lighter with hilarious moments. So it was a bit of a return to that, but I always do love lighter shows. I was the biggest Ally McBeal fan. I'd learn a lot from Calista [Flockhart]. She would definitely take the drama when it was there but really she's quite a unique way of keeping the kind of light and fluffy when that's really all that's called for.
Whereas, I think the last few years I tended to turn left always and not necessarily feel as confident to turn right. But here I felt they took a risk on me because when I first went in to meet them they're like – you know, basically they ask you a question. They're like, 'You haven't really done this.' And I could kind of see on Peter's face when he – Peter Elkoff flew out and met me and I didn't really think I was what he had in mind. And we just had a great meeting and I left and they – I guess I have this quite a lot – had that thing after a meeting where people would say, 'Wow, you're much funnier and lighter than I had expected.'
You know, when you think of me and Brenda, you think I'd go around like torturing my husband from 8:00 am to late night. So, they call me and they really loved [me]. They loved the vibe in the room. So if that can go on screen, then I guess they were prepared to take a risk. But that's not to say that when I first walked into rehearsal I wouldn't think, 'What if I'm not funny, what if I can't do it?' I had all those doubts. I have to say the kids really helped. They were just naturally so carefree and funny. And they kept it very light."

Some of the younger characters on the show, and even your character Mack, are going through some big changes in their lives. Would you say that the summer camp experience can be viewed as a metaphor for transitions?
Rachel Griffiths: "I love that. I love it. You have a serious approach. I know this with my own kids just over the long summer, when the to-do list is kind of taken off the table and you're not just meeting your deadlines and doing your homework and being shuffled from all your activities, I think it does create some psychic space where we're able to catch up with who we are and maybe who we want to be and make those decisions really actively. It kinds of lean left or lean right. Of course, I don't mean politically. Or, sometimes we just find at the end of the summer how kids have even grown. I don't think that's been true of Mac up until this particular summer.
I think, you know, the last 10 summers maybe have been very similar, a welcome, predictable time of the year for her and what she's super comfortable kind of shepherding these young people through their often kind of great adolescence and transitions. But I guess this is her summer. It is a bit her second adolescence."
What did you like best about going to camp as a kid?
Rachel Griffiths: "Well, you know, we don't so much have the big camp tradition in Australia. And one [reason] is that our summers are only half the length of yours, so we're not trying to keep our kids occupied for three months. The second thing, and you're going to find this terrific, is that most Australians get four weeks annual leave and they take it at that time. And then they roll it into the Christmas New Year, what they call it, so they end up with sometimes five weeks. I know it's really bad, isn't it? It's probably why we're way down on the list of the world's most productive countries.
I think so much of that camp tradition also came of getting kids out of this stinking metropolis scene of the boiling stinking metropolises and wanting our children to have a kind of a freedom and a contact with the great American outdoors of which I'm a ridiculous fan of the American landscapes and all their varied beauty. But if I guess I would say these are dense, they're not as built up, they're not as hot in the summer. It's easier for us. A lot of people still have their quarter acre backyard and that need is not as important.
I went to my first family camp actually as a family. That was my first. I never did Camp America though I was thinking about it at some point. But I went to Camp Montecito up in the Sequoia National Park with the kids. We had actually a wonderful time and met these gorgeous kids. […] There was a great kind of a mix of [people]. There were some Hollywood families who were kind of going rustic and trying to get their kids away from the devices very much with camp. And I really got it, you know? They keep you running off all day and did these great things and we hung by the lake and drank Chardonnay and read novels. And then it all came together at night. I really got it. It was a very nostalgic camp and had that 1950s feel. So when they were explaining the pitch for the show, I was like, 'Don't worry. I know. You don't have to explain.'"
Could you talk a bit about Raffi and Todd, the gay dads on the show?
Rachel Griffiths: "[We did] Six Feet Under back in 2000 and we made that pilot. We were really kind of groundbreaking I think about normalizing the gay family member and not the outsider. So we did just some of the kind of first TV breakthroughs. And then moving on to Brothers and Sisters, I think we had the first gay wedding on network television. Then now we're in a kind of a lighthearted, growing American camp tradition and there we have the full gay family. And more than anything I think it's just [that] I can't imaging NBC would have been kind of tossing that idea around or if they would, it wouldn't have just been a casual, 'No, we should definitely have a gay family,' back in 2000.
So I'm really proud to be part of I guess a kind of change in attitude towards gay families and gay marriage and also the representation of gay families and gay relationships in a very kind of normalized way. I mean I know they still [had] a guest role in these early episodes but, he should certainly become more significant. And some of the issues that children of gay parents particularly, and the marriage thing debate is still out there and we're still saying that it's not…some people are trying to say that it's not an ideal situation for children to be raised in. To be following the child off that situation and her being such a beautiful girl and her being a good voice on how it feels sometimes to be the subject of any prejudice, I just think it's a really interesting progression through the last 13 years and for what GLADD has done in representations of those issues in the media and that they just be funny [how] one guy fell in love, you know? I think it's great."