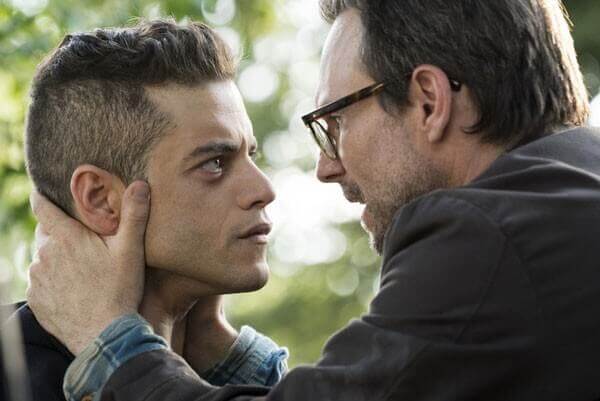 USA Network's Mr. Robot was one of the big successes of the fall 2015 television season, earning two Golden Globes, three Critics' Choice Awards, and a spot on the AFI TV Programs of the Year list. The critically season one of the series starred Rami Malek and Christian Slater who were charged with guiding viewers on a journey down a twisted path to a finale that was one of the most talked about episodes of 2015. At the 2016 Television Critics Association's press event, series creator/writer Sam Esmail promised season two will be just as engaging.
"I think the whole show has been about Elliot's emotional journey, and I really wanted to focus on that and make it less about the plot," explained Esmail. "How does Elliot reconcile the fact that he's just been aware that he's seeing this fantasy? So that's the struggle that is going to kind of take over in season two."
After the Mr. Robot panel, Malek provided further insight into playing Elliot while answering questions from a small group of journalists.
Rami Malek Interview:
Can you talk about how mentally and emotionally challenging this role is?
Rami Malek: "As you can imagine it's very challenging – very challenging mentally and emotionally. I really respond to characters like that, very complicated characters, but it wears on me as I think it should. If I didn't go home entirely spent after every day of work and prep for this role, I would think I was doing him an injustice."
What about your mental health care?
Rami Malek: "It's daunting. I won't lie. There have been nights when I've come home and really just struggled, just moments where I've struggled because of this character. I won't say that I haven't.
My cast has been my therapy. I'm not kidding."
What was your initial take on him when you first read the script?
Rami Malek: "I thought that it read very poetically and it was profound. It had something to say and behind it was a unique voice that I hadn't heard before. Instantly I wanted to be a part of it and discover more about it."
It sounds like not everything has been revealed about the first season. Do you know everything?
Rami Malek: "I go back through and comb through every script finely and see what I'm missing. [Creator/writer Sam Esmail] doesn't do anything without purpose. I've asked him a few questions about things that I thought that I missed and he's told me that my beliefs are untrue or unfounded. But I'm sure there will be things that I discover later with you."
How carefully did you have to play the whole Sixth Sense aspect of the first season?
Rami Malek: "I treated everything with my research as if I was dealing with what was reality. I mean, everything I saw to me was real. It was not a delusion. He questioned himself quite a bit, but as an actor playing a role I think the most convincing way to do it is to see it as it is."
Do you think about going online differently now?
Rami Malek: "Entirely differently. I fear it. I just think we're exposed in a way that I didn't realize. I didn't think we were in the past. You read about things that happen in society with hacks and whatnot, but once you get in there and do the show you realize it's happening in one sense or another to all of us."
Do you get to smile once on Mr. Robot?
Rami Malek: "I do, but they all end up on the cutting room floor."
How did you feel when you read the script to episode eight which is when reality really starts crashing down?
Rami Malek: "Eight? Oh, I loved eight. Eight was a very special script. I knew it was coming at some point. I didn't know exactly how the fallout was going to be played out. I live for those types of challenges and those big scenes. It's why I got into this, to have those types of moments and discoveries."
Can you talk about your scene with BD Wong?
Rami Malek: "It was a very long night. We shot it in a number of different ways from a number of different angles. Yeah, it was very fast-paced. I remember our director telling us…he gave us directions of, 'Try to make it like you're in a boxing ring,' at one point."
Was this really a good point in your career to have a project like this come around?
Rami Malek: "People are calling me a breakout actor, but I've been around. I've been doing small roles in great movies for quite a while. I'm just picking challenging roles and it feels like as good a time as any, as far as I'm concerned. I'm enjoying it thoroughly."