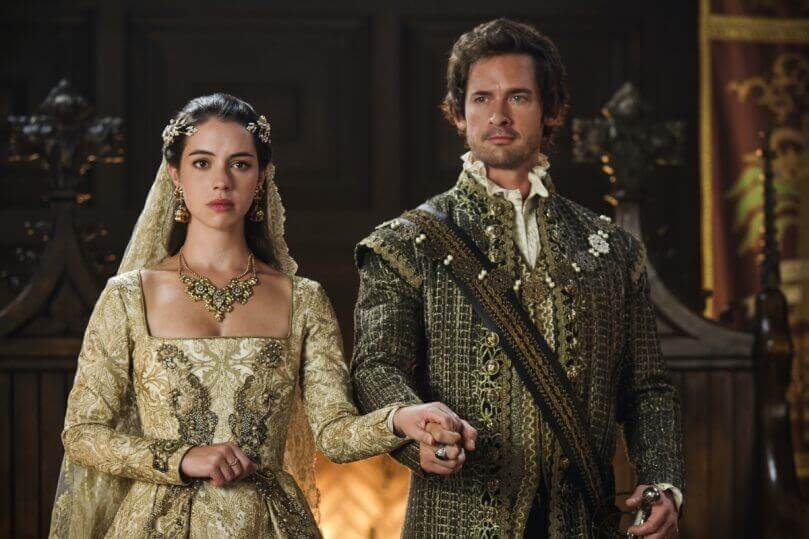 The CW's Reign season four episode eight ended with Queen Mary in tears over her impending marriage to Lord Darnley. After Darnley's lover was accidentally injured and subsequently died, he told his bride-to-be he would never be able to forgive her. Mary turned to Catherine for help in calling off the upcoming nuptials, but season four episode nine will find the Queen going forward and exchanging I dos. Directed by Andy Mikita from a script by April Blair and Laurie McCarthy, season four episode nine is titled 'Pulling Strings' and will air on April 14, 2017.
The season four cast includes Adelaide Kane as Queen Mary, Rachel Skarsten as Queen Elizabeth, Megan Fellows as Queen Catherine, Dan Jeannotte as James, and Will Kemp as Lord Darnley. Ben Geurens, Celina Sinden, Jonathan Goad, Craig Parker, Spencer MacPherson, and Rose Williams also star in Reign's fourth and final season.
The 'Pulling Strings' Plot: MARY TAKES A SECOND HUSBAND — Mary (Kane) and Darnley (Kemp) wed in a lavish affair, which proves to be a successful decision in regards to her political standing. James (Jeannotte) makes an interesting discovery about Greer (Sinden), while Elizabeth (Skarsten) frantically tries to salvage England's power.