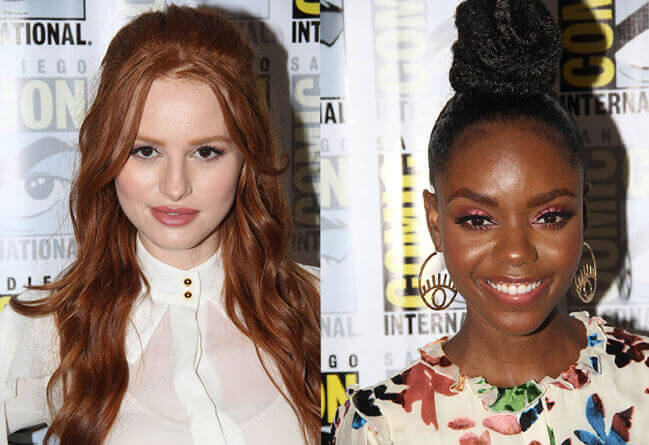 Riverdale fans who were hoping Cheryl Blossom would have a less stressful second season and Josie would be free from drama to concentrate on her music might want to adjust their expectations for season two. The CW's Riverdale stars Ashleigh Murray and Madelaine Petsch confirmed Josie and Cheryl will have a lot to deal with in season two of the popular dramatic series based on the Archie Comics. Murray and Petsch teamed up for roundtable interviews at the 2017 San Diego Comic Con and provided a sneak peek at what's in store for Josie and Cheryl in the upcoming second season.
What did you reveal in the Comic Con panel?
Ashleigh Murray: "We talked a lot about love interests. We talked a lot about new cast members. We talked a lot about the new direction we're going in Riverdale. It's a lot of edginess, a lot of sexiness, a lot of darker tones. Things that are going to affect everyone in town. Houses burning down, questions about who we are as people."
The music has been one of the lighter things on the show. Will Josie and the Pussycats still be performing?
Ashleigh Murray: "Yeah, there's going to be more music in season two which is great. Josie's also going to be experiencing what it's like to further her music career and that might cause disruption in the group. So, there's going to be a lot of elements to that in season two."
Do the Blossoms have a chance to go through grief over the loss of Jason?
Madelaine Petsch: "I got closure on Jason. Cheryl is moving on. Good lord."
And her dad?
Madelaine Petsch: "Yeah, I don't think she's grieving about that one too hard. Cheryl took a choice to kind of be reborn from the ashes. She is no longer interested in being treated the way she's treated by her parents. She was a doorknob for so long in her family and she's not doing it anymore. She's taking the reins back. She's definitely putting her mother in her place and she will be in charge this season of the Blossom family, what's left of it."
Is she also taking more control at school?
Madelaine Petsch: "Not necessarily more control. I think it's that she is more unapologetic and she's even meaner this season because she tried. Can you believe it? Her walls are up even further. She put her defense mechanisms down last season and it didn't work well for her so she's getting colder, she's getting meaner."
How does it feel to work in a cast with so many other women?
Madelaine Petsch: "I feel like there's always one bad seed, is what I hear. We haven't one. We have no bad seeds. We have all amazing seeds."
Ashleigh Murray: "It doesn't even feel like going to work, you know what I mean? We miss it and show up just like, 'Hey, what did you have for dinner last night?' We're just all hanging out. We want everybody else to have really cool projects. We just want everybody else to succeed. We love each other so much that there's no competitive nature whatsoever. It's really, really wonderful and it's so rare so I'm trying not to get used to it."
Watch the full Madelaine Petsch and Ashleigh Murray Riverdale interview: