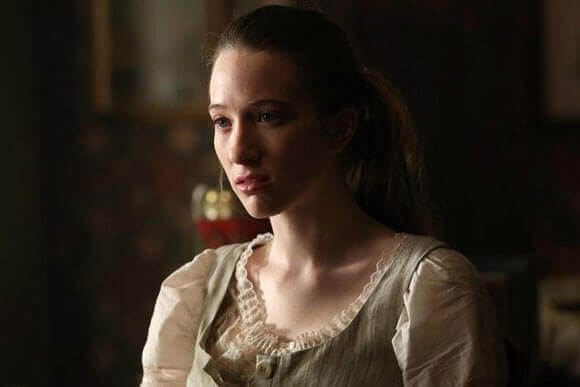 By Fred Topel
At the 2013 summer Television Critics Association event we learned these important facts about ABC's Once Upon a Time in Wonderland from the show's executive producers Edward Kitsis and Adam Horowitz:
– This is a post-curse Wonderland.
– The world of this show exists concurrently with Once Upon a Time's universe.
– Season one of Wonderland is meant to be a closed-ended story told within this first season.
– If it works, Alice will go on more adventures in future seasons.
– The producers hope to have Barbara Hershey back in flashbacks.
– This show will have its own mythology that's not dependent upon Once Upon a Time.
– Once Upon a Time in Wonderland will have the Hookah-Smoking Caterpillar, the White Rabbit (played by John Lithgow), and the Cheshire Cat.
– The first season features a love story between Alice and the genie, Jafar (played by Naveen Andrews), from Aladdin.
– Sebastian Stan's schedule is so full that he may not be able to play Mad Hatter this season. However, the producers say they do not intend to re-cast the character. "We are never going to have a Mad Hatter that isn't played by Sebastian," said Kitsis. "We are just going to keep that seat empty until he's able to come back."
– Describing the tone, Kitsis said, "Wonderland is like a psychedelic romance, and it is trippy, and it is weird, and it is intense. But it also has some real characters and humor and romance."

Also answering questions about Once Upon a Time in Wonderland was the show's Alice – actress Sophie Lowe. This is an Alice we haven't seen before, and Lowe talked about what audiences can expect as well as her own fond memories of Alice in Wonderland.
Sophie Lowe Once Upon a Time in Wonderland Interview
This has been described as the most kick-ass Alice we've ever seen. How do you feel about that description?
Sophie Lowe: "That's  spot on, actually. Yeah, she's tough mentally and physically, and she can kick ass and look after herself."
Do you think you're like Alice? Are you making Alice yours?
Sophie Lowe: "I'm trying to make it mine. She's such a woman and I feel like that's what I'm becoming as well so I'm trying to use my own experiences within Alice because we're growing up together. That's what I feel like. She's very strong and I can't really fight like she can. [Laughing] I'm just pretending. But she inspires me as a person."
What part of being Alice do you enjoy the most?
Sophie Lowe: "I love the fight stuff, the fight sequences. [Laughing] You know, you don't get to do that every day – especially not in real life because that is against the law."
Have you noticed your strength changing since you started doing fight training?
Sophie Lowe: "Yeah, I've training a bit trying to get a bit fitter so that I don't get too worn out with it all. But I'm definitely getting the gist of it. I have a dancing background so it's kind of like a dance routine – all these fighting sequences. So I feel like I'm getting better that way, but there are new things I'm learning."
What did you get surprisingly good at and what was really tricky to learn?
Sophie Lowe: "I'm surprisingly good at…I don't know. Because I'm from a dancing background and a trapeze background and I do a little trampolining so all the stunts and stuff like that I absolutely love, doing wire stuff. But the tricky stuff is learning the lines quickly because you only get the script, like you get the lines a week before and you've got the lines and don't get very much sleep. It's a big schedule but I'm eating it up and loving it."
What's it like to work with the green screen?
Sophie Lowe: "It's crazy. They have this picture or a board on the set to show you what it will look like, so that helps a lot because otherwise I'm just like, 'Where am I?'"
Tell us a little bit about your history with Alice in Wonderland. There's so many different versions. Some people get the cartoon version; some people get the series. Some people actually read the books. What was she for you?
Sophie Lowe: "Yeah, well, my mom actually she read it to me when I was a little girl, and it was a big part of my childhood. I loved it. It's funny as well because my mom,  it's the only book she had as a child and it's the only book she was allowed to read. So I think that's really strange now I get to play [Alice]. [It's] like her childhood is coming to life in front of her as well. So it's a big part of our family."
Your parents are English, but you basically grew up in Australia most of your life?
Sophie Lowe: "Yeah. I moved to Australia when I was 10."
Is Alice in Wonderland big in Australia like it is in England? Is the reason your mother grew up with it partly  because of the English culture or is Alice in Wonderland just a huge part of the culture?
Sophie Lowe: "I think it does hit home for England, but I think it's an international story. I think everybody knows the story of Alice in Wonderland. Everyone I've mentioned it to in Australia, they know what I'm talking about, and everyone's excited for it."
A lot of people describe going to Hollywood as being like falling through the looking glass. For you, because you've done Australian projects and independent films, what was it like the first time you came to Hollywood to read or audition for a show? What's it like to be involved in this huge production after doing independent films?
Sophie Lowe: "It's surreal. It's like my dreams have come true, basically. I've wanted to play a role like this and to be in a show like this. I'm very blessed to be a part of this family. But it is…it's a crazy roller coaster."
What were the books and stories you loved growing up?
Sophie Lowe: "I was kind of a tomboy so I loved Power Rangers and I loved Star Wars. I loved video games and I used to play Mario with my brother and all that stuff. But I also loved The Lion King. I was joking before that we should have the little lion in the show. That would be fun."
* * * *
Once Upon a Time in Wonderland premieres on ABC on October 10, 2013 at 8pm.
Follow Us On:
Stumble It!