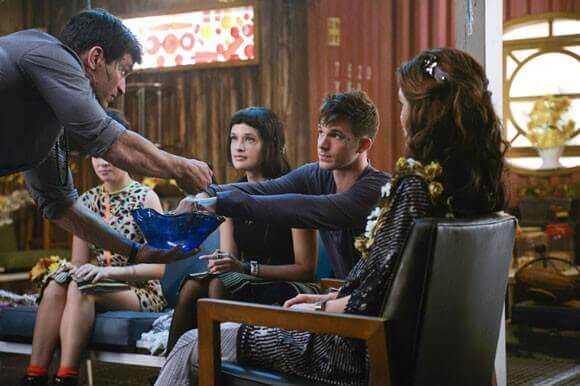 The eighth episode of
Star-Crossed
airing on April 7, 2014 at 8pm ET/PT introduces a special Atrian holiday and continues to spotlight the relationship between Emery (
Aimee Teegarden
) and Roman (
Matt Lanter
). Episode eight of season one was directed by Michael Zinberg from a script by Brian Studler.
The Plot of "An Old Accustom'd Feast" Episode
ROMAN AND EMERY'S RELATIONSHIP TAKES A TURN, VEGA TELLS DRAKE SHE'S SENDING HIM AWAY — Roman (Lanter) invites Emery (Teegarden) inside the sector to celebrate Dinaskyu, an Atrian holiday that celebrates the family. Emery asks Sophia (Brina Palencia) for tips on how to impress her mother (guest star Susan Walters Ashby). Vega (guest star Merle Dandridge) tells Drake (Greg Finley) that with Zoe missing, they've tapped him to be their new undercover operative, which means he'll be leaving town and getting his markings removed. When Roman goes to Vega and asks her to reconsider sending Drake away, she offers him a way out. Meanwhile, Eva (guest star Stephanie Jacobson) approaches Julia (Malese Jow) with an offer. When Julia refuses, Eva takes her mission to a dangerous place. Finally, Grayson (
Grey Damon
) confronts Emery about her feelings for Roman.

-By Rebecca Murray

Follow Us On:
Stumble It!