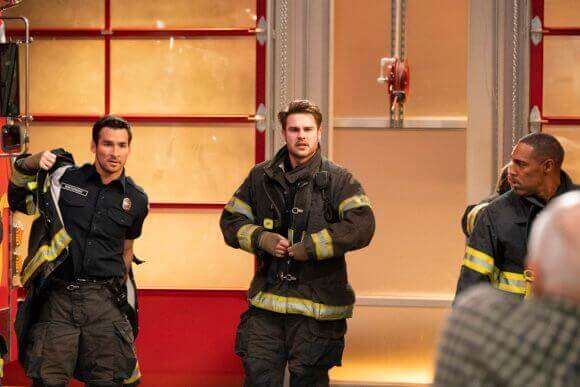 ABC's Station 19 has been on a four month break and is finally scheduled to return on March 7, 2019. Season two episode eight titled "Crash and Burn" was directed by Paris Barclay (his fifth time helming the drama) from a script by Tia Napolitano. The current season airs on Thursdays at 9pm ET/PT.
Season two of Station 19 stars Jaina Lee Ortiz as Andy Herrera, Jason George as Ben Warren, Boris Kodjoe as Captain Sullivan, Grey Damon as Jack Gibson, Barrett Doss as Victoria Hughes, Alberto Frezza as Ryan Tanner, Jay Hayden as Travis Montgomery, Okieriete Onaodowan as Dean Miller, Danielle Savre as Maya Bishop, and Miguel Sandoval as Captain Pruitt Herrera.
The "Crash and Burn" Plot – In the aftermath of the windstorm, Andy and Sullivan's fates remain unknown while trapped in the overturned aid car. Meanwhile, back at the station, the team confronts Jack about his well-being; and when it's safe enough to venture out, they search for their fellow firefighters in a race against time.
The Station 19 Plot:
"Station 19 follows a group of heroic Seattle firefighters as they put their lives and hearts on the line. The latest series from the executive producers of Grey's Anatomy, Scandal and How to Get Away with Murder takes us inside the tough, tight-knit and sometimes heartbreaking world of the city's bravest first responders.
Season two of Station 19 will return with answers to all of our burning questions. With a massive skyscraper fire raging, can Andy (Ortiz) lead her team to safety? Will her former flame Jack (Damon) and teammate Travis (Hayden) survive after an explosion sends them both into jeopardy? And when the dust finally settles, who will win the race for the captain position at Station 19?"