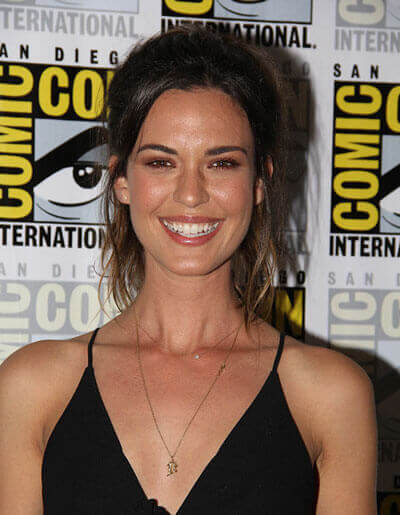 Odette Annable (Pure Genius) joins the cast of The CW's Supergirl season three as the season's major villain, Reign. Annable made the trek to the 2017 San Diego Comic Con along with the cast of Supergirl, and she did her best to not give away anything that could be considered a major spoiler while participating in roundtable interviews at the sold-out Comic Con.
Supergirl season three will premiere on October 9, 2017.
What can you tell us about Reign?
Odette Annable: "Well, I can't say much because rule number one, I don't want to get fired right away and I just started. But, what I can say is that she is one of five Worldkillers. She was bioengineered in a lab from Krypton, just like Kara and Clark. But, her motives are much different than any of the other villains that we've seen on Supergirl season one and season two. She's not out to kill everybody. She's not out to rule the Earth like other villains have. She has a very specific agenda and her story is really quite heartbreaking. It will be, at least. So, that's the spoiler that I'll give. Not really a spoiler, but…"
What about her makes her a worthy opponent to Supergirl?
Odette Annable: "I think – and I hope I'm not speaking out of turn when I say this – but I think they have very similar powers, so in that way. Also, she's one of five Worldkillers. She's going to be, I think, Kara's greatest match so far."
Is it fun to play the villain?
Odette Annable: "It's always fun to play the bad girl. Absolutely, yes."
Do you have a cool costume?
Odette Annable: "I can't say much about my costume but I will say it's pretty kick ass, from what I know. I haven't seen it yet but it's going to be really, really special."
How much have you dipped into the comics in creating the character for yourself?
Odette Annable: "I watched – I'm almost finished with season one. I have a baby; I have a two-year-old so that sort of takes up most of my time and I have to prioritize. When I put her down, I'm ready to go to bed. So, I'm in Vancouver right now diving into Supergirl, not only the TV show but sort of everything that surrounds it which is fun. I'm a fan of the genre, but I don't know much about it."
Your husband worked with executive producer Greg Berlanti on Brothers & Sisters. Any chance he'll join you on Supergirl?
Odette Annable: "Oh my gosh, I don't know. That would be awesome!"
Who should he play?
Odette Annable: "He should kill my character. That would be awesome! Actually, I should kill him. That would work better. No, Greg really does create a sense of family. I worked on Brothers & Sisters for five episodes. Dave and I were almost about to get married and they brought in a new character for Justin to play, and they asked me if I could do it. That's just a testament to Greg and how he likes to keep it in the family. Working on this show now is really special because it feels like it's come full circle. And to be given this opportunity, I feel really grateful. These guys are so amazing. You can tell that they're a very tight knit group and they welcomed me right away. It's going to be a fun season. I think it's going to be much different than what we've seen so far on Supergirl in a really great way."
More on Supergirl Season 3: Melissa Benoist Interview / Chris Wood Interview
Watch the full Odette Annable Supergirl interview:
(Interview by Fred Topel. Article by Rebecca Murray.)