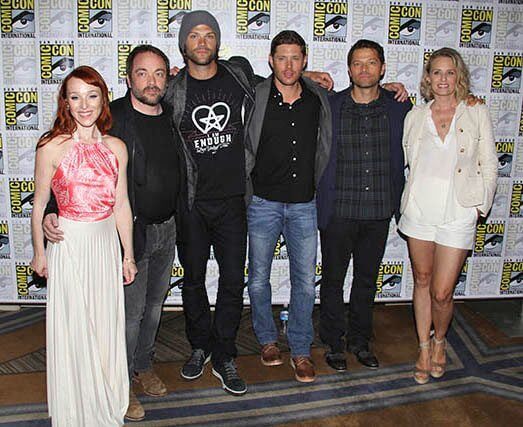 The CW's Supernatural returns for its 12th season on October 13, 2016 with Sam and Dean's mom back from the dead and Rick Springfield playing Lucifer. The series has a passionate fan base and Ruth Connell ('Rowena') loves being part of the show, her character, and getting the opportunity to interact with fans. At the San Diego Comic Con, Connell joined Supernatural's Jared Padalecki, Jensen Ackles, Mark Sheppard, Misha Collins, and Samantha Smith to talk about being on the long-running series and what we can expect from the upcoming 12th season. During our roundtable interview, Connell discussed Rowena, fan encounters, and Rowena as a grandmother.
Ruth Connell Interview:
What's Rowena's next move?
Ruth Connell: "I hoped that the end of last season had affected her in some way and when I got the first script I see that it has. That's really nice. There's a change, a different flavor, a different objective that will change throughout the season. I know what I'd like to happen. But, you know, it's fun. We pick her up with a different mindset and I think it's kind of fun. I hope you enjoy it."
When you were originally cast did you have any idea it was going to be such an extensive role?
Ruth Connell: "I got booked for an episode and then for two. After I shot the first couple a few more popped in. I think Jeremy (Carver) said last year at Comic Con, at the panel, that the biggest surprise to him was how much that relationship developed between Crowley and Rowena and how much they enjoyed it. I'm like, 'Thank goodness! I have a job because of that.' I love doing it so much. They've killed me so I've come back – maybe I'm okay for a couple more episodes. I'm so proud I'm the longest running woman on the show. I can't believe that. I'm so grateful for it. It's the best thing that's happened to me."
What do you love the most about playing Rowena?
Ruth Connell: "I love her unapologetic-ness. I love that, and that she can go toe-to-toe with anyone which I don't feel I can, but as Rowena you're given permission. That's a lot of fun to play."
With Gavin back in the picture, how do you think Rowena will feel about being a grandmother?
Ruth Connell: "Well, that's it. I don't think she's ready for the granny look. We'll see. Usually Rowena's first thought is how can I use this to my advantage? He's a nice boy and I like Theo (Devaney) so it'll be fun to play. Maybe he'll change Rowena. Maybe he'll change her. Maybe it's easier to be a loving grandmother than it is to be a put-upon mom."
How does it feel to be one of the few powerful female characters to stick around?
Ruth Connell: "It feels amazing. It feels like if there is any supernatural magic, this is my bit of it – to be involved with this. Because with this show it's not just turn up and do a job; it's the people that you meet and then the convention circuit – the whole thing. It's completely taken over my life and changed my life, 100%. It's amazing. I love it so much."
Have you had any really weird fan encounters?
Ruth Connell: "I had one scary one, just one. There was a knife involved at a photo op, but that was just somebody who was just a little bit… It was just a misguided choice. I thought, 'Oh my god, am I going to be Monica Seles?' It was a Monica Seles moment. But it's like 99.9% love and I've tried to embrace the fandom because I'm so grateful for the fandom. I enjoy it and I've learned a thing or two. I try and copy Misha (Collins)."
Watch the full Ruth Connell interview: