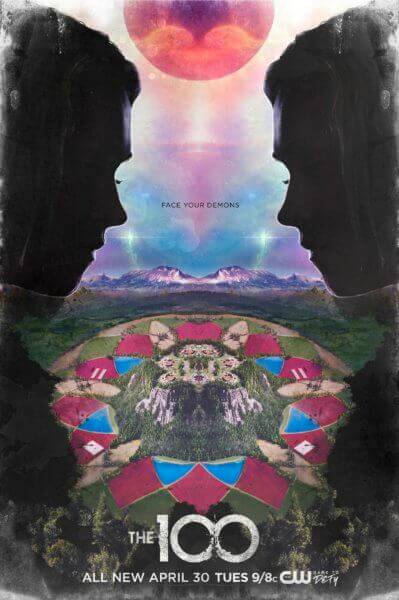 The CW's just unveiled the poster for the upcoming sixth season of the sci-fi action/drama, The 100. The colorful poster features two images of Clarke (Eliza Taylor) in profile, facing each other but looking down. In between the two Clarkes, the poster reads: "Face Your Demons."
In our interview at the New York Comic Con, Bob Morley ("Bellamy") talked about how the series continues to reinvent itself season after season. "I mean, I think it's amazing for me. It's probably a lot of work for Jason (Rothenberg) and the writing team. But, like, being able to explore the actual physical world of what is going on in Jason's mind is pretty surreal. I hadn't really thought of it like that until just now, but yeah. It's tricky for us as actors and it's tricky for the crew to get used to new sets just because there's practical reasons that it can be tricky. But in terms of performance and that and going to new worlds – like Mount Weather and Polis – it's really exciting. It just kind of spices up the seasons and the episodes. I really love it," said Morley.
Season six will premiere on April 30, 2019 at 9pm ET/PT.
The 100 was created by Jason Rothenberg. In addition to Taylor and Morley, the season six cast includes Marie Avgeropoulos, Richard Harmon, Tasya Teles, Paige Turco, Lindsey Morgan, Lola Flanery, and Shannon Kook.
The 100 Season 6 Plot:
"After the game-changing season five finale, Clarke and the team make their way down to the new planet. They are left wondering if this planet is suitable for life, and if the human race can finally live in peace? What will they find on this new mysterious home, and what will emerge from Monty's discovery of the Eligius III mission?"