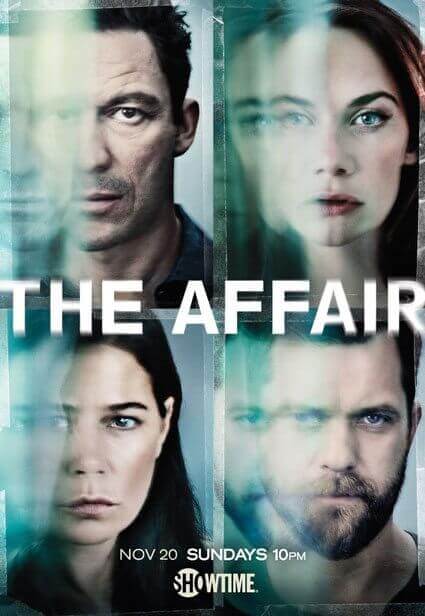 The first teaser trailer's arrived for season three of The Affair starring Ruth Wilson, Dominic West, Joshua Jackson, and Maura Tierney. Along with releasing the new trailer, Showtime's showing off the poster for the upcoming season which will debut on November 20, 2016 at 10pm ET/PT. In addition to Tierney, Wilson, West, and Jackson, season three's cast includes Catalina Sandino Moreno, Omar Metwally, Irène Jacob, Jennifer Esposito, and Brendan Fraser. The series was created by Sarah Treem (House of Cards) and Hagai Levi (In Treatment), and Treem and Jeffrey Reiner executive produce.
The Plot: The Affair explores the emotional and psychological effects of an affair that destroyed two marriages, and the crime that brings these individuals back together, as told through multiple perspectives. Season three picks up three years after Noah's (West) shocking admission of guilt at the murder trial of Scott Lockhart. Noah attempts to restart his life, but the damage wrought by his past decisions has made him a ghost of his former self. Alison (Wilson) has been raising daughter Joanie alongside Cole (Jackson) and Luisa (Moreno) in Montauk, but Alison's past continues to rear its ugly head as Cole and Luisa attempt to build their own future. For Helen (Tierney), life appears to continue on, but just below the surface of a successful business and a bustling home lies uncertainty with her boyfriend Vik (Metwally), instability amongst her children, and an unshakeable feeling of guilt.
This season, BAFTA and César Award-nominated Irène Jacob joins the cast, providing the series' new fifth perspective. Jacob plays Juliette Le Gall, a new love interest of Noah's, running from her own secrets, who helps him process a trauma from his past and understand himself a little better.
Watch The Affair trailer: