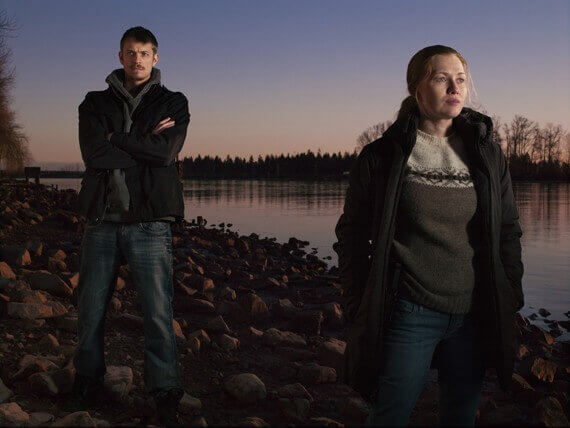 Starring: Mireille Enos, Michelle Forbes, Billy Campbell and Joel Kinnaman [full cast list under the 'Cast' tab] Premiere: April 3, 2011
Season 2 Debut: April 1, 2012
Season 3 Debut: June 2, 2013
Genre: Drama
Running Time: 1 hour
Network: AMC
News: The Killing is cancelled
News: The Killing is revived
The Synopsis: The Killing ties together three distinct stories around a single murder including the detectives assigned to the case, the victim's grieving family, and the suspects. Set in Seattle, the story also explores local politics as it follows politicians connected to the case. As the series unfolds, it becomes clear that there are no accidents; everyone has a secret, and while the characters think they've moved on, their past isn't done with them.
The Killing stars Mireille Enos (Big Love) as Sarah Linden, the lead homicide detective that investigates the death of Rosie Larsen; Billy Campbell (Once and Again) as Darren Richmond, Seattle's City Council President and now running for Mayor; Joel Kinnaman (Snabba Cash) as Stephen Holder, an ex-narc cop who joins the homicide division in the investigation to find Rosie's killer; Michelle Forbes (True Blood) as Rosie's mother, Mitch Larsen; and Brent Sexton as Rosie's father, Stan Larsen. The pilot was directed by Patty Jenkins (Monster).
[tabs style="default" title="The Killing' Resources"] [tab title="Cast"] Mireille Enos – 'Sarah Linden'
Annie Corley – 'Regi Darnell'
Joel Kinnaman – 'Stephen Holder'
Michelle Forbes – 'Mitch Larsen'
Eric Ladin – 'Jamie Wright'
Brendan Sexton III – 'Belko Royce'
Jamie Anne Allman – 'Terry'
Brandon Jay McLaren – 'Bennett Ahmed'
Seth Isaac Johnson – 'Denny Larsen'
Bill Campbell – 'Darren Richmond'
Brent Sexton – 'Stanley Larsen'
Evan Bird – 'Tom Larsen'
Tom Butler – 'Mayor Lesley Adams'
Kristin Lehman – 'Gwen Eaton'
Kacey Rohl – 'Sterling Fitch'
Liam James – 'Jack Linden'
Callum Keith Rennie – 'Rick Felder'
Garry Chalk- 'Lt. Michael Oakes'
Katie Findlay – 'Rosie Larsen'
[/tab] [tab title="Trailer"]
[/tab] [tab title="Photos and Poster"]
[/tab] [/tabs]