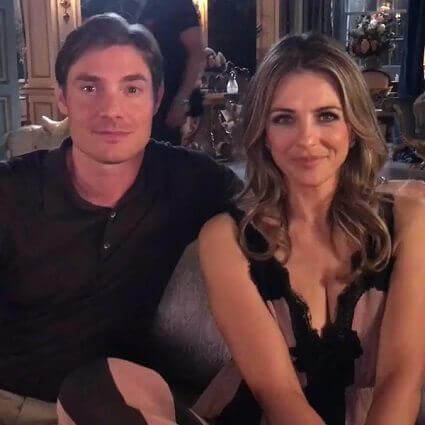 The Royals stars Elizabeth Hurley and Max Brown took to Twitter and Instagram to announce filming has begun on the 10-episode fourth season of the popular E! drama. In addition to Hurley as Queen Helena and Brown as King Robert, The Royals cast includes William Moseley as Prince Liam, Tom Austen as Jasper, Alexandra Park as Princess Eleanor, and Jake Maskall as Cyrus.
E! hasn't set a premiere date for the fourth season of the hour-long drama. Season three averaged 1.1 million viewers and 1.6 million weekly social media engagements.
The super-short 10 second video has Max Brown and Elizabeth Hurley introducing themselves and confirming it's their first day on set for the upcoming season. Commenting on season four, Brown says, "Don't miss it," and Hurley adds, "We're looking forward to shooting the rest."
"The third season of The Royals has proven to be an entertaining mix of secrets, deceit and desire that our fans can't get enough of," said Adam Stotsky, President, E! Entertainment and Esquire Network. "We are excited to see what new scandals await our royal family, and how their dynamic evolves in season four."
The Royals is written, directed, and executive produced by Mark Schwahn. ""The writers, cast and crew love making this show, and I'm thrilled to once again play the role of court jester and humbly entertain our dedicated fan base with many more scandalous, sexy, heartfelt and addictive tales from the House of Henstridge," stated Schwahn after E! confirmed the series' renewal in February 2017.
Back on Set! @TheRoyalsOnE #itishappening! pic.twitter.com/3WCTE3quVm

— Max Brown (@MrMaxBrown) June 13, 2017
Details on Season 3: "The third season has been a fun, sexy romp filled with battles for the throne, unexpected trysts, secret relationships, impossible returns, and complicated reveals from the past. Events have included Queen Helena's (Hurley) bitter battle against Cyrus (Maskall) to prove Prince Liam (Moseley) and Princess Eleanor (Park) are rightful heirs to the throne after King Simon's murder; the presumed dead Prince Robert's (Brown) return to the palace; Queen Helena's obsession with the Crown Prince of Lichtenstein (Elizabeth Hurley's son, Damian Hurley) from the Royal & Beautiful television series; Princess Eleanor and her bodyguard Jasper (Austen) taking a romantic turn in their relationship while he struggles to keep his past from catching up to him; and finally, Cyrus fighting for his life and the throne."