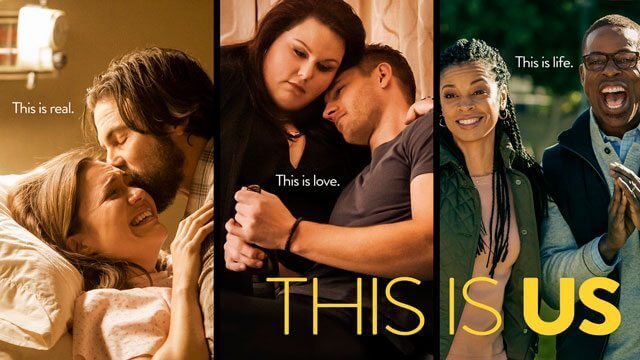 NBC's first trailer for the dramatic series This Is Us surprised pretty much everyone with its incredible popularity. Following its debut on Facebook, the first trailer for This Is Us was watched more than 15 million times in just 48 hours, crossing the 50 million milestone on Facebook after just 11 days. And, those figures do not include additional views on YouTube or NBC. If trailer views are any way indicative of a show's chances at success, NBC's new family drama should be a real ratings winner.
After watching the pilot, I certainly hope everyone who checked out the trailer actually tunes in to watch the premiere of This Is Us. It's smart, heartwarming, emotionally engaging, and filled with interesting characters all of whom are given an opportunity to connect with the audience in the series' first episode. Only one episode was available for review, but that one episode laid out the premise, introduced the characters, and provided a huge twist at the end that I will acknowledge I did not see coming.
This Is Us' first episode plays connect the dots between a diverse assortment of appealing individuals. Mandy Moore and Milo Ventimiglia play Rebecca and Jack, a married couple on the verge of becoming first-time parents who we meet on Jack's 36th birthday. Sterling K. Brown, outstanding as prosecutor Christopher Darden in The People v. O.J. Simpson, plays a successful businessman who's also celebrating his 36th birthday while trying to work out whether he wants to actually meet his birth father. Chrissy Metz and Justin Hartley star as twins, one of whom is dealing with a weight problem and the other is a sexy TV sitcom star who's tired of being thought of as a brainless hunk. Twins Kate and Kevin are also celebrating their 36th birthdays in the show's pilot.
Every character is dealing with some sort of challenge in episode one and all of the situations they're placed in feel genuine and real. With perhaps the exception of the handsome actor working through his issues, all of the storylines also seem relatable and authentic. The dialogue isn't stagey. There's never a moment when you're yanked out of the show by a line that doesn't feel as though it could occur in any normal conversation taking place in the same circumstance. That realness allows us to immediate connect with these people and leaves us wanting to know more about their lives.
The Crazy, Stupid, Love team of writer Dan Fogelman and directors Glenn Ficarra and John Requa reunite for the series, with Fogelman creating and writing the show, Ficarra directing, and all three executive producing. Crazy, Stupid, Love is one of the better romantic comedies of the decade, sharply written, and featuring a talented ensemble cast led by Steve Carell, Ryan Gosling, Emma Stone, and Julianne Moore. This Is Us also features a terrific ensemble, although not quite as well known. It's impossible to tell if one character of the group will wind up being the one most audiences connect with the most, but if I had to choose one I hope is explored much more it's Ventimiglia's Jack. That said, I'd be fine if each episode continues to follow the first episode's setup of devoting almost equal amounts of time to the five leads.
This Is Us enters a fall primetime lineup that's crowded with dramas and low, unfortunately, on new comedies. But even with a packed lineup of dramas, This Is Us should be added to your TV viewing schedule. It'll tug at your heartstrings while entertaining even the most cynical viewers. There's something both ordinary and extraordinary about what Fogelman has tapped into in creating these characters that makes This Is Us something incredibly special.
NBC's This Is Us will premiere on Tuesday, September 20, 2016 at 10pm ET/PT.
GRADE: A-