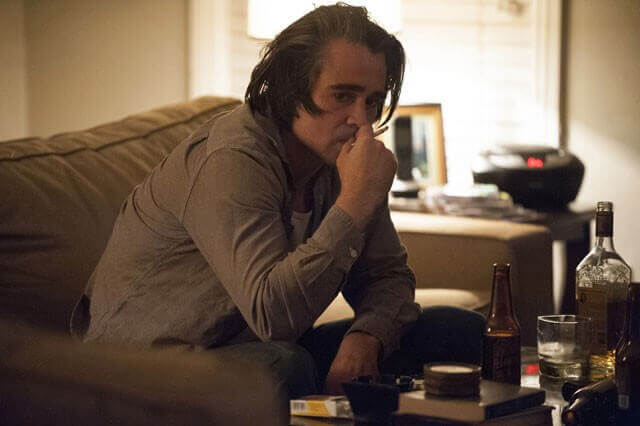 "You might be one of the last friends I got," says Frank Semyon (Vince Vaughn). "Wouldn't that be f**ked up?" replies Ray (Colin Farrell) as the two men decide not to have a shoot-out in Semyon's kitchen after Ray confronts Frank about providing the wrong name of the man who raped his ex-wife in HBO's dramatic crime series, True Detective.
The tension filled the entire kitchen as Frank and Ray literally solved their differences over a cup of coffee while both holding a loaded gun pointed at each other under the table. Turns out Semyon thought the info he had given Ray so many years ago was good and that he wasn't setting him up…or so he claims. Ray decides not to shoot Frank but tells him he wants the name of the man who gave Frank the wrong info.
Meanwhile, Paul Woodrugh (Taylor Kitsch) does some solid detective work and discovers that the blue diamonds Caspere had in his safe deposit box were part of a robbery during the 1992 LA riots. It seems it was staged to look like a looting gone bad, but two young girls witnessed the murder of their parents by the thieves.
Ray has his first supervised visit with his son where it's clear that he's uncomfortable trying to talk to his son and spend some time with him while every few seconds the social worker writes something down. After sending his son home early Ray goes on a bender, drinking and snorting cocaine. When he finally starts coming down from all the drugs, Ray calls his ex-wife and offers to make her a deal. Ray says he'll let her win and not contest her having full custody, he'll even give up his visitation rights and leave them alone forever if she swears to him to never tell the boy about the rape and the possibility Ray isn't his biological father. "Just let him believe I'm his father, please," begs Ray over the phone. Resistant at first and not wanting to give into Ray's request, she finally agrees and swears she will let the boy continue to believe Ray is his biological father.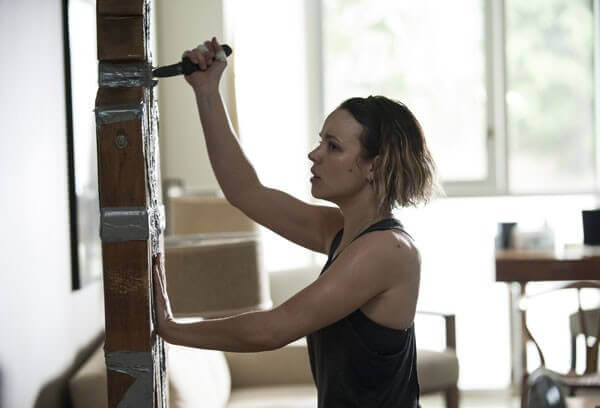 Ani (Rachel McAdams) gets a visit from her sister, Athena (Leven Rambin), and tells her the details about how she's going to get into one of those sex parties as a high-class hooker. Obviously worried about her, Athena tells Ani she won't be able to have any knives or guns on her because security will pat her down and check her all over. Training with her knife as she does daily, Ani tells her kid sister, "I'll figure it out."
Frank is becoming more and more desperate to find the girl Irina Rufo (she was one of Amarilla's prostitutes) to see what she knows about Caspere's personal property that she pawned. He gets a lead after torturing a former associate of Amarilla's and ends up in a standoff, which he jokes is literally a Mexican standoff, with some Mexicans who were looking to do business with Frank a few months ago in his club. He makes a deal with them that if they help him get in contact with the girl, they can use his club three times a week to move their merchandise. They tell him they'll get her to call him…maybe.
Ani, Paul, and Ray meet up to go over details of Ani's big undercover operation. Both Ray and Paul are a little concerned for Ani but promise to follow her and have her back. Paul gives her a tracer the size of a microchip to wear. The next night Ani is in line with other high-class call girls, wearing a very sexy black dress and dark wig. She gets the approval to get on board the party bus after being padded down, just like her sister warned her. As the bus travels north, both Paul and Ray follow at a safe distance behind in their cars.
Frank finally receives a call from Irina and she tells him that it wasn't Caspere who she got the items from but a slim cop. Frank tells her he wants to meet in person to show her some photos so she might be able to pick out the cop. At first she says no, but Frank tells her she can bring her friends with her and that he'll pay her $1,000 for her time and trouble, so she agrees. When Frank arrives at the designated meeting place he finds Irina dead with her throat cut. The Mexicans he talked with earlier killed her and are still there. "Why?" asks Frank. "She told you she was working with the police," answers one of them. As they leave they remind Frank of the deal to use his club to move their drugs.
When Ani gets to the big mansion where the sex party is happening, she discovers all the girls who were on the bus have to take a drug. Not seeing any way out of it, she allows a woman to spray the drug into her mouth. Later, as she tries to move around the house to see if she recognizes any of the men there, Ani begins to feel the effects of the drug. She's light-headed, her vision is blurred, and she has a flashback to being sexually violated as a child. An older man takes hold of Ani telling her he's been watching her all night and likes the fact she's older. He starts to take her upstairs and on the way Ani sees there's a huge orgy going on. Before leaving the main room Ani is able to get hold of a small, sharp knife from one of the tables and slips it into her dress.
While drug-induced Ani is trying to maintain her senses enough so she doesn't end up getting raped, Paul and Ray are working their way toward the heavily-guarded mansion in full burglar outfits, knocking out one of the guards and getting close to the window of the study. Paul overhears more talk about an investment of $12 million in the upcoming land deal and when the two men leave the room, Paul slips in through the window and grabs the files while Ray keeps lookout.
The old man has now moved Ani up to one of the rooms where a few women and their clients are engaged in sexual activity, and he encourages her to join in while he watches. She excuses herself saying she needs to visit the bathroom but will be right back. Once in the bathroom Ani sticks her finger down her throat and makes herself throw up what's left of the drug she took that's not already in her system. When she begins to pick herself up, she sees a few women sitting and chatting and recognizes the woman passed out in the shower as the girl who went missing the day before Caspere's death – the missing woman Ani's been trying to find. Ani tells the young girl to come with her and that they have to get out. As she's trying to carry the half asleep girl across the room and to the stairs, the old man grabs her telling her he's been looking for her. Ani quickly hits and kicks him in the privates to knock him off of her, and her attack is effective. She tries to carry the girl out when a Russian thug picks Ani up and slams her against the wall, choking her but not before Ani is able to use the knife she hid in her dress to cut him open in several vital places.
As the thug quickly bleeds to death, Ani grabs the young girl and heads for the door. She's just outside when she's met by Paul who helps get the girl to safety. Ani, Paul, and the rescued missing girl run as best as they can down to the street while searchlights on the mansion light up the grounds and guards come running out with machine guns. As they run through the grass and trees, Ray comes speeding up in his Dodge Charger and yells for them to get in. Ray, Ani, Paul, and the girl speed down the road with no lights on while the guards attempt to shoot the fleeing vehicle. Ray asks who the girl is and Paul tells him she's Ani's missing person. Paul also tells Ani and Ray the documents they took are all about the land deal and lots of signatures are involved. Ray asks Ani if she is okay and she tells him they made her take some drug and that she thinks she might have killed somebody back there. The episode ends with a shot of Ray's Dodge Charger, headlights now turned on, racing down the road with the full moon big and bright in the sky.
Suspenseful, dark, and creepy, True Detective season two episode six titled "Church in Ruins" finally proves there's a connection between the missing girl found at the mansion that hosts the weird sex parties and Caspere's death. The mansion is also the main location where money is dropped off and secured for the massive land deal Semyon was trying to get in on.
The performances from the cast are extremely strong, but it's definitely Rachel McAdams who delivers the stand-out performance as Ani as she struggles to find some hard evidence in the mansion while fighting the effects of the drug she was forced to take. Her flashbacks to being tricked and eventually molested as a child are disturbing and heartbreaking. Finally the television audience gets to see how all that training with her knife pays off as she quickly dispatches a much larger opponent, saving herself and the missing girl.
Colin Farrell delivers another heartfelt performance as Ray, with the most memorable scene featuring Ray talking to his ex-wife on the phone and pleading with her not to tell their young son that he might be the result of her being raped 11 years ago and that Ray may not be his biological dad. It's a sad and powerful scene which Farrell plays perfectly, displaying both the self-loathing and noble aspect of Ray's character.
With only two episodes left it's going to be very interesting to see just how high the murder/blackmail and conspiracy ring goes and if Ani, Ray, and Paul are going to be able to expose it and take it down.
GRADE: B-
Original Air Date: July 26, 2015
Follow Us On: