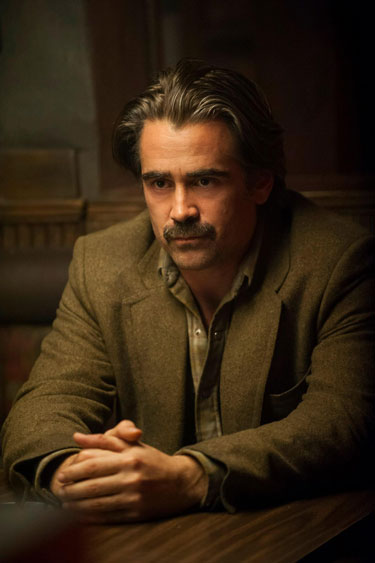 HBO's critically acclaimed True Detective returns for a second season with a completely different cast on June 21, 2015. Colin Farrell, Vince Vaughn, Rachel McAdams and Taylor Kitsch lead the ensemble and are featured in the first minute-long teaser trailer for the dramatic series. The eight episode season two also features Kelly Reilly, with the first two episodes directed by Justin Lin (the Fast and Furious franchise) from a script by series creator Nic Pizzolatto.
The basic plot: "A bizarre murder brings together three law-enforcement officers and a career criminal, each of whom must navigate a web of conspiracy and betrayal in the scorched landscapes of California."
Per HBO, here the details on who Farrell, Vaughn, McAdams, Kitsch, and Reilly will be playing:
The Plot: Three police officers and a career criminal must navigate a web of conspiracy in the aftermath of a murder.
– Colin Farrell as Ray Velcoro, a compromised detective whose allegiances are torn between his masters in a corrupt police department and the mobster who owns him.
– Vince Vaughn as Frank Semyon, a criminal and entrepreneur in danger of losing his empire when his move into legitimate enterprise is upended by the murder of a business partner.
– Rachel McAdams as Ani Bezzerides, a Ventura County Sheriff's detective whose uncompromising ethics put her at odds with others and the system she serves.
– Taylor Kitsch as Paul Woodrugh, a war veteran and motorcycle officer for the California Highway Patrol, running from a difficult past and the sudden glare of a scandal that never happened.
– Kelly Reilly as Jordan, Frank Semyon's wife, a former D-list actress who is a full partner in his enterprises and ambitions.
Watch the trailer:
-By Rebecca Murray
Follow Us On: