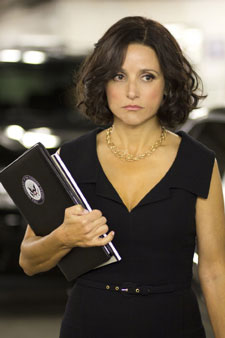 HBO's
Veep
is returning for season two, debuting the first of 10 brand new episodes on April 14, 2013 at 10pm. Emmy Award-winner Julia Louis-Dreyfus leads the cast of the critically acclaimed comedy series created by Armando Iannucci and co-starring Tony Hale, Anna Chlumsky, Reid Scott, Matt Walsh, and Timothy C. Simons.
And as the second season premiere approaches, HBO has revealed the details for season two and an April 2013 episode guide.
The Plot:
With midterm elections looming, Vice President Selina Meyer is scoring higher ratings than the president in several popularity polls, which she hopes will boost her influence and help her curry favor with the chief executive. But as she knows all too well, even the most banal action can set off a ripple effect that has unexpected, far-reaching – and often disastrous – consequences.
Julia Louis-Dreyfus plays Selina Meyer who becomes vice president, only to discover the job is nothing like she expected, but everything she was warned about.
Veep
follows the whirlwind day-to-day existence of Vice President Meyer as she puts out political fires, juggles a busy public schedule and demanding private life, and defends the president's interests, even as she tries to improve her dysfunctional relationship with the chief executive.
Veep April 2013 Episode Guide:
Episode #9: "Midterms"
Debut: SUNDAY, APRIL 14 (10:00-10:30 p.m. ET/PT)
Other HBO playdates: April 14 (midnight), 16 (12:30 a.m.), 17 (9:30 p.m.) and 18 (10:30 p.m.)
HBO2 playdates: April 15 (8:30 p.m.), 16 (11:00 p.m.), 17 (11:35 p.m.) and 20 (1:15 p.m., 8:30 p.m.)
Fresh off successful campaign appearances for midterm elections, Selina sees an opportunity to expand her role, but must first curry favor with Kent Davison, the president's icy senior strategist. Meanwhile, there are new developments in the staff's personal lives.
Teleplay by Will Smith; story by Armando Iannucci & Will Smith; directed by Christopher Morris.

Episode #10: "Signals"
Debut: SUNDAY, APRIL 21 (10:00-10:30 p.m.)
Other HBO playdates: April 21 (midnight), 23 (12:30 a.m.), 24 (9:30 p.m.) and 25 (10:45 p.m.)
HBO2 playdates: April 22 (8:30 p.m.), 23 (11:00 p.m.), 24 (11:15 p.m.) and 27 (1:45 p.m., 8:30 p.m.)
Selina attends a pig roast in North Carolina as part of the president's "Listen to Rural America" initiative. Dan takes up Pilates to get face time.
Teleplay by Simon Blackwell; story by Simon Blackwell & Armando Iannucci; directed by Chris Addison.

Episode #11: "Hostages"
Debut: SUNDAY, APRIL 28 (10:00-10:30 p.m.)
Other HBO playdates: April 28 (midnight) and 30 (12:30 a.m.), and May 1 (midnight) and 2 (10:30 p.m.)
HBO2 playdates: April 29 (8:30 p.m.) and 30 (11:00 p.m.), and May 1 (12:30 a.m.) and 4 (2:00 p.m., 8:30 p.m.)
As a hostage crisis in Uzbekistan heats up, Selina and Secretary of Defense General Maddox have trouble getting on the same page at their joint appearance at the Marine Corps Base at Quantico. Sue testifies at a congressional hearing on governmental efficiencies; Dan and Gary jockey for the Veep's ear.
Teleplay by Sean Gray; story by Armando Iannucci & Sean Gray; directed by Chris Addison.

Episode #12
Debut: SUNDAY, MAY 5 (10:00-10:30 p.m.)
Other HBO playdates: May 5 (midnight), 7 (12:30 a.m.), 8 (9:30 p.m.) and 9 (10:30 p.m.)
HBO2 playdates: May 6 (8:30 p.m.), 7 (11:00 p.m.), 8 (11:40 p.m.) and 11 (4:15 p.m., 8:30 p.m.)
Selina is rankled when the White House releases an unflattering photo of her. Mike and Kent bond over sailing; Jonah gets an executive parking space; Sue has a job interview. Selina takes steps to keep her staff happy as they prepare for her appearance at the Vic Allen dinner.
Written by Simon Blackwell & Armando Iannucci; directed by Chris Addison.

Source: HBO
Follow Us On: