Read no further unless you are completely caught up on History's Vikings season four through episode 15 which aired on December 28, 2016. (FYI – The featured photo is not of the dead character.) The devastating episode titled 'All His Angels' was one of the season's best, focusing almost exclusively on the death of one of the show's most vital and beloved characters. Ragnar Lothbrok, played by Travis Fimmel, was given one of the most brutal death scenes of any lead character on TV. Tortured by King Aelle and his men, Ragnar's nearly lifeless body was then tossed into a pit of snakes where he was repeatedly bitten before finally succumbing to death.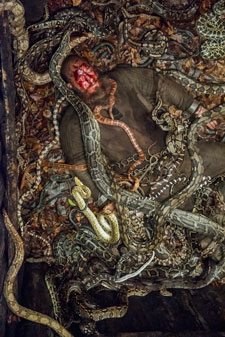 In an interview with The Hollywood Reporter, Fimmel and series creator/writer Michael Hirst discussed Ragnar's death scene which was based on historical records.
"Ragnar was so ready to die and was happy to die there. He feels like his whole plan has worked, and his kids were coming to avenge him and get revenge on Ecbert," explained Fimmel who, according to Hirst, had "strong ideas" about how Ragnar's death should play out in the series. Fimmel was also fully on board with the idea of Ragnar's death not coming at the end of the season.
Speaking with THR, Hirst explained why he chose not to make Ragnar's death the focus of the season four finale. "This is the saga of Ragnar and his sons. I didn't want to suggest to the audience that the death of Ragnar meant some huge breaking point in that saga; it's just part of the weight. So Ragnar's sons will continue the saga. This isn't the end of Ragnar Lothbrok. Ragnar will live on in his fame. He will live on because he was the most famous Viking of the time. But he also, of course, will live on through his sons. I never wanted this story to end when Ragnar dies physically. We've shot roughly 25 more hours of TV now after Ragnar's death, and we are a long way down the line. We are really embracing the sons, but Ragnar hasn't gone away, because Ragnar is still the inspiration."
Vikings has killed off major characters before, but with Ragnar fans are holding out hope Travis Fimmel can somehow return as a physical presence (not just in visions or dreams) to the series. Unfortunately, Fimmel put an end to those hopes by telling THR he is not returning to the series. "It sort of doesn't make sense. My character is an atheist, so I'm not going to be coming up in any ghost, religious ghostly images or anything. I think you have to be very religious for people to have that belief in you," explained Fimmel.
Check out videos of Ragnar's final speech and Ivar (Alex Hogh Andersen) vowing to avenge his father's death, along with photos of Ragnar's death scenes: