Nobody who grew up in New York's Hell's Kitchen area was a pansy. At least you couldn't be and survive. James Cagney found that out after being born there in 1899. It was the era of immigrants flocking to New York. There were Italian areas, Jewish areas, Irish areas and so on, making the city the melting pot of America. Cagney was half Irish and half Norwegian. Being street-wise helped a young boy navigate the tough areas and survive relatively unscathed. It was his mother Carolyn (Nelson) who encouraged him to take up boxing to defend himself. But she was vehemently against his becoming a professional boxer.
Cagney was naturally talented as a tap dancer, which he began performing as a young boy. He graduated high school in 1918, went on to enroll at Columbia University as a possible art major. He dropped out after one semester. Brother Harry was a fledgling actor at the Lenox Hill Neighborhood House theater. One night Jimmy had to go on for his ill brother, having memorized everything about the show. He dabbled in performing at a number of small-time companies.
In 1919 Cagney was cast in Every Sailor, in which all the male members dressed as women. He fooled the producers into thinking he could dance by performing the only routine he knew. Playing a woman in drag did not bother him at all.
He met his future wife, Frances "Billie" Vernon, in the musical show Pitter Patter. They got married in 1922 and toured the vaudeville circuit for several years, struggling to earn a living. In 1925 Cagney was cast in his first dramatic role in Outside Looking In, a play by the formidable Maxwell Anderson. The Cagneys returned to vaudeville after the play closed. Cagney also started his own dance school to earn extra money. His reputation as a dancer led to being cast in Grand Street Follies of 1928 and its sequel in 1929.
While acting in the show Penny Arcade with actress Joan Blondell, singing sensation Al Jolson bought the play for Warner Bros. Jolson insisted the studio cast the two leads in the film version. This was Jimmy's introduction to the studio which would become his home for many years. The film was re-titled Sinners' Holiday. Cagney played a tough guy character who becomes a killer.
Warner Bros liked what they saw and signed Cagney to a seven-year contract and immediately cast him in The Doorway to Hell, another gangster movie. The studio then shoved him into more potboilers such as Blonde Crazy, Smart Money, and The Millionaire, all in 1931.
It was the Depression Years, and gangsterism was highly prominent in America. With the rise of Al Capone, gangsters became almost matinee idols. Warner Bros jumped on the craze and started pumping out raw, hard-hitting films. Edward G. Robinson became a star with Little Caesar in 1931. He made his only film with Cagney in 1931's Smart Money. Oscar® winner Paul Muni had sensational hits with Scarface and I Was a Fugitive From a Chain Gang, both in 1932. Tough guy films were all the rage, so it was only fitting that Warners star Cagney in films that were sure to make money.
The film that made Cagney a huge star was The Public Enemy, released in 1931. In it, Cagney played killer Tom Powers, a man who was ruthless, unsentimental and meaner than mean. Audiences went crazy when Cagney pushed a grapefruit into the face of actress Mae Clarke. It is one of the most famous scenes in movie history. It was the era when men pushed women around and frequently slapped them or gave them black eyes. Cruelty was in! He got a chance to slap leading lady Evalyn Knapp in his follow-up of Smart Money.
Cagney was a scrappy little fella and constantly battled Jack Warner for more money. Warner, a well-known penny-pincher, at first refused to give him a raise. Cagney walked out of the studio and went back to New York. Warner finally caved in and gave him a raise. The toughie star and Warner had spats over the years, always involved with money. Cagney rightly thought he was worth more because his pictures were always hits for the studio.
The bantam-weight star returned to the studio to make the musical Footlight Parade in 1933 with dancing star Ruby Keeler, singer Dick Powell, actress Joan Blondell, and comic Frank McHugh. The spectacular overhead shots of chorus lines were devised by choreographer/designer Busby Berkeley. The studio then cast him in various films such as Here Comes the Navy, Jimmy the Gent, G-Men, and Something to Sing About.
The animated actor filled out the end of the 1930s with two good pictures. The first was Angels With Dirty Faces in 1938. As gangster Rocky Sullivan, he is idolized by The Dead End Kids, a scruffy group of teenagers. Rocky's best pal is priest Jerry Connolly, played by Pat O'Brien. When Rocky is sent to the electric chair, pal Connolly begs him to show the kids that he is afraid and chicken-livered so that they quit admiring him. Does he or doesn't he? That is left ambiguous, and Cagney said he always thought that was better. Cagney was nominated for an Oscar® for Best Actor.
The Depression decade was rounded out with the release of The Roaring Twenties in 1939. Cagney starred with Humphrey Bogart, Priscilla Lane, Gladys George, and his old pal Frank McHugh. In the film, the buddies who were in World War I return to civilian life and start up a bootlegging business. Naturally, things go awry and it involves the underworld. It was a wonderful gangster movie and the last one Cagney appeared in for the next ten years. For you movie historians, the movie was filmed on stages 19, 20, 24, 26, 27 and 27A at the Warner Bros studio in Burbank.
The 1940s brought about many changes in the public taste. Gangster movies went out of fashion. World War II loomed over Europe and arrived on America's doorstep in 1941. Cagney tried comedy with Bette Davis in The Bride Came C.O.D. and a Gay Nineties romp with dancing star Rita Hayworth in Strawberry Blonde, both in 1941.
The significant event of the year was, of course, the bombing of Pearl Harbor, Hawaii on Dec. 7, 1941. This thrust the United States into World War II. America was on a war footing, and patriotism rose to a new high. Everybody helped the war effort, and the studios were no different. Hollywood stars got on the band wagon and did everything they could to help our military in their efforts. Most famously, Warner Bros giant Bette Davis and film star John Garfield opened the Hollywood Canteen. All the film stars volunteered to cheer up the soldiers and sailors, and icons such as Marlene Dietrich, Dorothy Lamour, the Andrews Sisters, and Linda Darnell were only a few of the top celebrities to dance with the boys.
In keeping with this patriotic fervor, Cagney made one of his most enduring movies, Yankee Doodle Dandy, playing music man George M. Cohan. The film was a smash in 1942 and just what the country needed. Its patriotic themes and music inspired countless Americans. The talented cast included Rosemary DeCamp as Cagney's mother. DeCamp was only 10 years younger than Cagney at the time! Joan Leslie (b.1925) played his girlfriend and was 26 years younger than Cagney. And singer Frances Langford (b. 1913) was only 28 when the movie was made. It had a stellar cast of Warner Bros staples such as S.Z. "Cuddles" Sakall, George Tobias, Walter Huston, Eddie Foy, Jr., and Irene Manning. The film was nominated for 8 Oscars. Director Michael Curtiz was nominated as Best Director, Walter Huston got a nomination as Best Supporting Actor. Oscars were won for Best Musical Score and Best Sound. James Cagney won his first Oscar as Best Actor.
With his contract with Warner Bros now over, Cagney and his brother William decided to go the independent route. They made two films, Johnny Come Lately (1943) and Blood on the Sun (1945), both box office flops.
At this time as well, Cagney loved touring the USO shows to military bases in England. He was also hired by 20th Century Fox to star in 13 Rue Madeleine, a spy thriller shot on the Fox lot, in Boston and Quebec with Richard Conte and Annabella as co-stars. The 1947 film was a box-office hit. Not so lucky was the film of William Saroyan's play, The Time of Your Life, a financial disaster for United Artists in 1948. Cagney starred with William Bendix, Broderick Crawford, Wayne Morris and sister Jeanne Cagney. Although the play won a Pulitzer Prize, movie audiences turned up their noses at the movie.
Allegedly with his tail between his legs, Cagney returned to Warner Bros to give one of his most memorable performances on film. In White Heat, he played the psychotic gangster Cody Jarret as a completely nuts person. His scene in prison when he hears of his mother's death is a classic of over-the-top acting. He completely was psychotic, raging, animal-like in his reactions. Some people on the set thought he might really be going berserk! Lovely leading lady Virginia Mayo managed to survive 1949's White Heat and went on to make other pictures. Another hit for Cagney.
Cagney expressed a desire to the studio that he didn't want to play any more gangster parts. So, they shoved him into a musical story starring pert Doris Day of the twinkling teeth Days. The movie was The West Point Story in 1950. In the story, Cagney plays a Broadway director who is persuaded to direct a show for the cadets. Co-starring with Cagney is Day, Virginia Mayo, warbler Gordon MacRae and terpsichorean Gene Nelson doing pirouettes around all the boys. The colorful story was filmed in black and white.
A new decade arrived, and Cagney filled the years with Kiss Tomorrow Goodbye (1950), Come Fill the Cup (1951), What Price Glory? (1952) and Lion in the Streets (1953).
The year 1955 would prove to be a big year for Cagney, for he had four big hits that year. He once again starred with Doris Day, but Love Me or Leave Me was not the usual Day-type musical. It was a dramatic story with music, a new departure. Day played real-life jazz singer Ruth Etting, a 1920s star who rose from sleazy night clubs and taxi dance saloons in Chicago to becoming a top star. But she had help along the way. Gangster Martyn "Moe the Gimp" Snyder fell in love with her. She was not interested in him romantically, but she came to depend on him and his help in making her a star. He intimidated her and used threats to get his way. Cagney once again acted his way to a Best Actor Academy Award nomination for his superb portrayal. The film co-starred Cameron Mitchell and Tom Tully, was produced by Joe Pasternak, directed by Charles Vidor, and shot at the Metro-Goldwyn-Mayer Studios.
Mister Roberts was adapted from the hit Broadway play. The leading actor in New York was Henry Fonda, and he was hired to head the film. The play had been a hit when it opened February 18, 1948 as directed by Joshua Logan. In the film version from Warner Bros., James Cagney was perfect as the Captain. Newcomer Jack Lemmon played the bumbling Ensign Pulver, and Betsy Palmer played the delectable female officer Lt. Girard that had been played by Jocelyn Brando on stage. (Yes, Brando's sister.) Young sailors were played by Patrick Wayne, Nick Adams, and Perry Lopez. Veteran MGM star William Powell played the doctor. The film was partially shot in Hawaii, and the inventor of the surfboard and Olympic champion Duke Kahanamoku made a guest appearance.
Cagney returned to his vaudeville days when he guest-starred in the Bob Hope musical The Seven Little Foys, a biographical film about stage star Eddie Foy. Cagney stole the picture when he danced on top of a table with Hope. In addition to that memorable appearance, Cagney starred in director Nicholas Ray's (Rebel Without a Cause) Western thriller Run For Cover, with leading lady Viveca Lindfors and John Derek for Paramount Pictures.
By 1956 Cagney had already worked for 25 years in films. He was not ready for retirement yet, but he carefully chose his projects. When Spencer Tracy could not make Tribute to a Badman, Cagney stepped in and won accolades for his performance in the western for MGM. He then was cast in These Wilder Years with A-list actress Barbara Stanwyck (Sorry, Wrong Number), a performer he had known since his vaudeville days.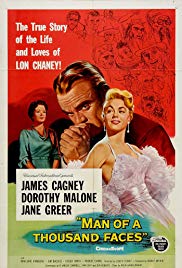 Lon Chaney was the original horror star and created memorable screen appearances such as in The Phantom of the Opera for Universal Pictures in the early days. Cagney was the actor of choice to play Chaney in Man of a Thousand Faces, a biographical film about the man. Cagney's co-stars on Universal's Stage 28 were Dorothy Malone, Jane Greer, Robert Evans and Roger Smith. The movie was a huge hit.
The final musical picture Cagney appeared in was Never Steal Anything Small for the 1959 season. Written and directed by Charles Lederer, the movie also starred singer Shirley Jones (Music Man), Roger Smith, and comic actress Cara Williams. Famed choreographer Hermes Pan did the dances. He worked many times with Fred Astaire.
As he began aging, he slowed down. In 1960 he made only one film, and that was the patriotic movie The Gallant Hours in which he played World War II hero Admiral Bull Halsey.
This writer's personal favorite of all the Cagney films is the Billy Wilder comedy One,Two,Three, which was filmed in 1961. Cagney played a soft-drink executive stationed in Europe. In the film he used a rapid-fire presentation of his lines. It was amazing to see the actor spew out reams of dialogue without missing a beat. The New York Film Critics Circle nominated him as Best Actor that year. Cagney did not get along with young German co-star Horst Buchholz. The up-and-coming actor tried everything he could to steal scenes. Cagney got so irritated with him that he almost slugged him. After this film, Cagney threw in the sponge and retired to his farm in New England.
For 20 years Cagney was content to live on his New York state farm and his home in Hollywood. He was never tempted to return to the sound stages. That is, until 1981 when friend, director Milos Forman, offered him a significant part in the film Ragtime, from E.L. Doctorow's 1975 novel. In the film Cagney played Police Commissioner Rhinelander Waldo. The book was later adapted into the Broadway musical which opened in 1998 and starred Brian Stokes Mitchell, Marin Mazzie, and Tony-winning Audra McDonald.
After a couple of small ventures into television, Cagney's health became frail and he suffered a stroke in 1984. While recuperating on his farm he suffered a heart attack and died March 30, 1986 at the age of 86. He was an original, for sure.