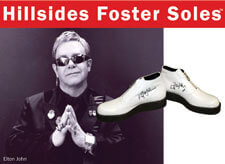 Elton John, Jennifer Lopez and Sugar Ray Leonard are among the celebrities who have donated autographed shoes and photos to help out Hillsides Los Angeles Foster Care Charity during their annual Hillsides Foster Soles online auction. Dr. Drew Pinsky is this year's Honorary Chair and Celebrity Auctioneer.
The online auction takes place April 25th through May 5th as part of Foster Care Awareness Month. In addition to autographed shoes, the auction will feature purses, belts and other accessories along with set visits and signed scripts.
Hillsides reports other celebrities who have participated in the autographed shoes charity auction include Joel McHale, Jon Cryer, Hilary Swank, Seth Green, Adrian Grenier, Nancy Grace, Wendy Williams, Jane Kaczmarek, Billy Bob Thornton, Tim Allen, Jimmy Kimmel, Anderson Cooper, Piers Morgan, Dave Koz, Charles Barkley, Billy Zane, Mike Epps, Marlee Matlin, Mark Harmon, Edie Falco, and Devon Werkheiser.
For more information, visit www.Hillsides.org.
More on Hillsides:
"As a Pasadena foster care charity founded in 1913, Hillsides creates safe places for vulnerable children and their families by providing residential care, mental health services to break the cycle of domestic violence, special education, and advocacy."