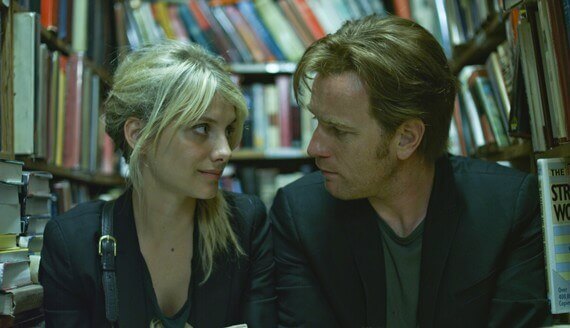 Mike Mills' touching indie comedy/drama is based on his own life experiences, in particular his relationship with his father.
Starring:  Ewan McGregor, Christopher Plummer, and Melanie Laurent  [full cast list under the 'Cast' tab] Directed By:  Mike Mills
Release Date:  June 3, 2011
Genres:  Comedy, drama, romance
MPAA Rating:  R for language and some sexual content
Review: Read the review
Official Synopsis:  Oliver (Ewan McGregor) meets the irreverent and unpredictable Anna (Mélanie Laurent) only months after his father Hal (Christopher Plummer) has passed away. This new love floods Oliver with memories of his father who – following 44 years of marriage – came out of the closet at age 75 to live a full, energized, and wonderfully tumultuous gay life. The upheavals of Hal's new honesty, by turns funny and moving, brought father and son closer than they'd ever been able to be. Now Oliver endeavors to love Anna with all the bravery, humor, and hope that his father taught him.
[tabs style="default" title="'Beginners' Resources"] [tab title="Cast List"]
Ewan McGregor – 'Oliver'
Melanie Laurent – 'Anna'
Christopher Plummer – 'Hal'
Goran Visnjic – 'Andy'
Kai Lennox – 'Elliot'
Mary Page Keller – 'Georgia'
Keegan Boos – 'Young Oliver'
China Shavers – 'Shauna'
Melissa Tang – 'Liz'
Amanda Payton – 'Party Person'
Lou Taylor Pucci – 'Magician'
Reynaldo Pacheco – 'Julio'
Jodi Long – 'Dr Long'
Bruce French – 'Dr Wright'
[/tab] [tab title="Trailer"]
[/tab] [tab title="Interview Clip"]
[/tabs]