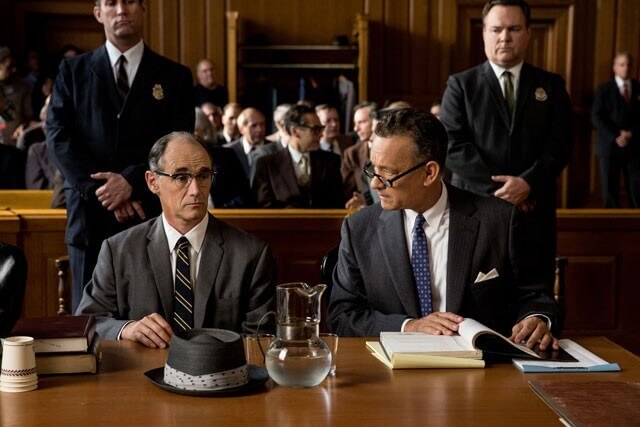 "The next mistake our countries make could be the last one," says Jim Donovan (Tom Hanks) to one of the chief KGB negotiators while trying to come to an agreement about the United States and Russia swapping spies during the height of the Cold War in the thriller, Bridge of Spies.
Jim Donovan is an insurance lawyer who is handpicked by the U.S. government for the unwanted and undesirable task of representing and defending KGB spy Rudolf Abel (Mark Rylance) who's on trial for the crime of espionage against the United States. Donovan struggles to do his best to build a case with a client who is guilty and a family who doesn't understand why he has to be the one to defend an enemy of the state. He finds his will, determination, and belief in the law to be his only allies in trying to deliver a solid defense and fair trial for Mr. Abel. Despite his best efforts, Rudolph Abel is found guilty of his crimes. However, thanks to Donovan having had a discussion with the judge about not sentencing Abel to death for doing his job for his country, using the argument that it might influence Russia to make the same decision if they ever catch a U.S. spy, Abel is instead sentenced to serve a jail term.
Almost as though Donovan had seen a glimpse of the future it's not long before the famous CIA U-2 spy plane is shot down and pilot Francis Gary Powers (Austin Stowell) is captured, put on trial, and found guilty of espionage. This is when the CIA reaches out to Donovan and recruits him for the intense mission to negotiate the release of Powers in exchange for the Russian spy Abel. Both countries agree to have the negotiations in Berlin just as the city is being split in two by the Berlin Wall dividing East and West, with the East side being communist loyal to Russia.
Based on a true story and expertly directed by Steven Spielberg, Bridge of Spies is a suspenseful, taut, engaging, historical spy drama that brings back to life up on the big screen the fear, hatred, and mistrust that existed between the U.S. and Russia in the late 1950s and into the 1960s. It's an incredibly engaging film with a tight script and two stand-out performances.
Tom Hanks delivers another dynamic performance as Jim Donovan the insurance lawyer who loves the law and gets pulled into a very dangerous and intense game of spy trade for the good of both countries. It's the classic situation of an everyman being in way over his head and rising to the occasion. Hanks displays perfectly the concern, frustration, fear, and determination Donovan goes through trying to make this historical, never been done before swap and becomes even more steadfast in being successful when the stakes are raised and he has to try to get two Americans back for the price of one KGB agent.
The other stand-out performance is given by Tony Award-winner Mark Rylance as the seasoned KGB spy Rudolph Abel. It's a low-key almost mild-mannered performance of a man who views himself as a patriot to his country and just doing his job, which happens to be espionage. The scenes between Rylance and Hanks are some of the best in the film, with both actors having real chemistry on screen and showing how these two men eventually grow from being lawyer and client to borderline friends. Here's hoping Rylance's performance is remembered by Academy Awards voters when considering nominees in the Best Supporting Actor category.
The production design, costumes, set design, and cinematography are all excellent in bringing to life the late 1950s and early '60s so vividly that audiences are sure to feel teleported back to a time when the U.S., Russia, and Germany were full of mistrust, suspicion, hate, and even courage.
Compelling and intriguing, Bridge of Spies is an extremely well-crafted historical drama that's sure to entertain as well as enlighten moviegoers. It's one of this year's best films.
GRADE: B+
MPAA Rating: PG-13 for some violence and brief strong language
Running Time: 141 minutes
Release Date: October 16, 2015
Also of Interest: Top 10 Best Spy Films