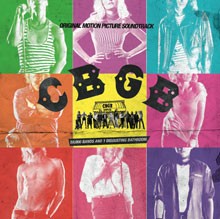 What does CBGB stand for? Country, Bluegrass and Blues, and CBGB the film is based on the true story of the New York club that helped launch the careers of The Ramones, Blondie, Talking Heads, and The Police. The cast is led by Alan Rickman and includes Ashley Greene, Malin Akerman, Freddy Rodriguez, Donal Logue, Stana Katic, Rupert Grint, Joel David Moore, Ryan Hurst, Johnny Galecki, Ahna O'Reilly, Richard de Klerk, Mickey Sumner, Taylor Hawkins, and Bradley Whitford. Jody Savin & Randall Miller co-wrote the script with Miller directing.

The Plot:

CBGB follows the story of Hilly Kristal's New York club from its origins as Country, Bluegrass and Blues (CBGB) to what it ultimately became: the birthplace of underground rock 'n roll and punk. Kristal, a fan of Country and Bluegrass dreamed of having a club in the lower Eastside that catered to that kind of music, when he had difficulty booking those bands he turned to other kinds of rock music. Hilly had one demand of the acts he booked, they could only play their own original music. No top 40's, no covers. It was the credo he lived by, support the artist at whatever the cost.

Watch the trailer:



CBGB's heading to theaters later this year featuring a soundtrack that includes songs by New York Dolls, The Stooges, and Dead Boys, and Omnivore Recordings has released the track list for the CBGB: Original Motion Picture Soundtrack CD and double-LP.
CBGB Soundtrack List:
1. LIFE DURING WARTIME – Talking Heads
2. KICK OUT THE JAMS (Uncensored Version) – MC5
3. CHATTERBOX – New York Dolls
4. CAREFUL – Television
5. BLANK GENERATION – Richard Hell & The Voidoids
6. SLOW DEATH – Flamin' Groovies
7. I CAN'T STAND IT – The Velvet Underground
8. OUT OF CONTROL – Wayne County & The Electric Chairs
9. PSYCHOTIC REACTION – The Count Five
10. ALL FOR THE LOVE OF ROCK 'N' ROLL (Live) – Tuff Darts
11. ALL BY MYSELF – Johnny Thunders & The Heartbreakers
12. CALIFORNIA SUN (Original Demo) – The Dictators
13. CAUGHT WITH THE MEAT IN YOUR MOUTH – Dead Boys
14. I GOT KNOCKED DOWN (BUT I'LL GET UP) – Joey Ramone
15. GET OUTA MY WAY – The Laughing Dogs
16. SUNDAY GIRL (2013 Version) – Blondie
17. I WANNA BE YOUR DOG – The Stooges
18. SONIC REDUCER – Dead Boys
19. ROXANNE – The Police
20. BIRDS AND THE BEES – Hilly Kristal

You can pre-order the soundtrack at omnivorerecordings.com.

Follow Us On: