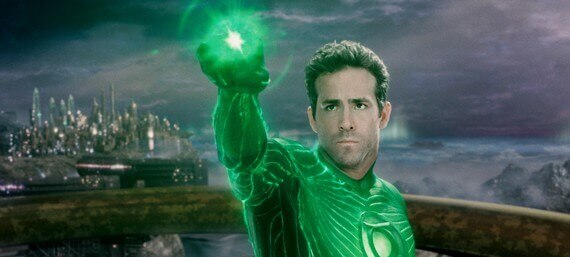 2011 finds three 'green' films hitting theaters: The Green Hornet, Green Lantern, and The Muppets (it counts because Kermit's one of the most famous green characters ever created). Ryan Reynolds zooms around in a green suit created via the magic of CG, while Gossip Girls star Blake Lively is a much more grounded character.
Starring: Ryan Reynolds, Blake Lively, Mark Strong and Peter Sarsgaard [full cast list under the 'Cast' tab] Directed By: Martin Campbell
Release Date: June 17, 2011
Genres: Sci-fi, action, drama
MPAA Rating: PG-13 for intense sequences of sci-fi action and violence, language and some drug use
Review: Read the review
Official Synopsis: In a universe as vast as it is mysterious, an elite, powerful force has existed for centuries. Protectors of peace and justice, they are called the Green Lantern Corps. Warriors sworn to keep intergalactic order, each Green Lantern wears a ring that grants him the ability to create anything his mind can imagine. But when a new enemy called Parallax threatens to destroy the balance of power in the Universe, their fate and the fate of Earth lie in the hands of their newest recruit, the first human ever selected: Hal Jordan (Ryan Reynolds).
Hal is a gifted and cocky test pilot, but the Green Lanterns have little respect for humans, who have never harnessed the infinite powers of the ring before. But Hal's humanity is one weapon no member of the Corps has ever had, and if–with willpower, determination and the encouragement of fellow pilot and childhood sweetheart Carol Ferris (Blake Lively)–Hal can quickly master his new powers and find the courage to overcome his fears, he may prove to be not only the key to defeating Parallax…he will save the Earth and all of mankind from certain destruction.
[tabs style="default" title="'Green Lantern' Resources"] [tab title="Cast List"]
Ryan Reynolds – 'Hal Jordan/Green Lantern'
Blake Lively – 'Carol Ferris'
Peter Sarsgaard – 'Hector Hammond'
Mark Strong – 'Sinestro'
Jon Tenney – 'Martin Jordan'
Tim Robbins – 'Senator Hammond'
Geoffrey Rush – 'Tomar-Re'
Michael Clarke Duncan – 'Kilowog'
Angela Bassett – 'Dr Amanda Waller'
Clancy Brown – 'Parallax'
Jay O Sanders – 'Carl Ferris'
Temuera Morrison – 'Abin Sur'
Taiki Waititi – 'Tom Kalmaku'
Mike Doyle – 'Jack Jordan'
Nick Jandl – 'Jim Jordan'
Leanne Cochran – 'Janice Jordan'
Jeff Wolfe – 'Bob Banks'
[/tab] [tab title="Trailer"]
[/tab] [tab title="Photos"]
[/tab] [tab title="Interviews"]
Ryan Reynolds Green Lantern Interview
Premiere Live-Stream Video[/tab] [/tabs]