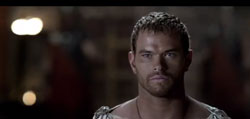 "In an ancient kingdom ruled by fear…one man dared to follow his heart"

What Hercules: The Legend Begins might lack in impressive dialogue it makes up for in Kellan Lutz' well-oiled pecs. This Hercules looks a lot like Starz' Spartacus but with Lutz in the lead rather than Liam McIntyre (who does, incidentally, show up in a supporting role). This three minute trailer has so much in it that I'm not sure it's actually necessary to watch the full-length film.

Directed by Renny Harlin, Hercules: The Legend Begins may be released in theaters sometime in 2014.

Watch the trailer:



Follow Us On:
Stumble It!