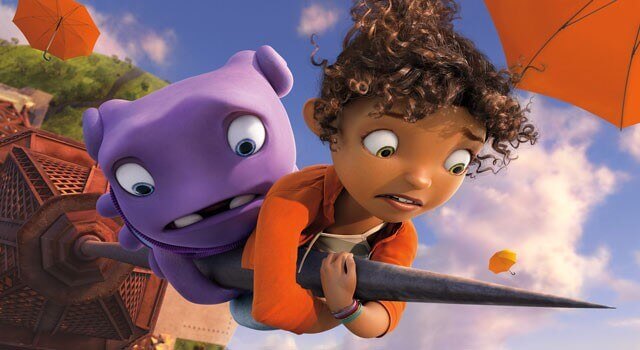 "What did you do to my car?!" yells Tip (voiced by Rihanna). "It should hover much better now," replies Oh (voiced by Jim Parsons), a cute, well-meaning but accident-prone alien from another world who's on the run from his own kind ("The Boov") in the family-friendly animated film Home.
When Oh and his kind land on Earth, Chief Alien Captain Smek (voiced by Steve Martin) orders all humans to be relocated to Australia to make room for the Boov. Trying to fit in and be accepted – Oh, it seems, is not popular among his kind – Oh sends an email to everyone in the universe inviting them to attend his house-warming party. This is a bit of a problem as a rival alien race that's been hunting the Boov down will receive the message and know where to attack.
Oh goes on the run from his own people and bumps into Tip, a teenage girl who's trying to find her mom while avoiding being detected and relocated by the Boov. When the Boov captured and relocated all the humans to Australia, they missed Tip. Needing Tip's help and promising her he can help reunite with her mother, Oh and Tip form an unlikely partnership to avoid the Boov at all costs and get to Australia to find Tip's mom. So begins a new friendship and a series of funny and dangerous adventures for the two unlikely heroes, and for Oh an opportunity to discover what being human and different is really all about.
Cute, colorful, and loud, Home is a goofy animated fantasy adventure that works due to the talents of its voice performers and its ability to recover from a sluggish first half. Jim Parsons is perfect as the voice of the little alien named Oh, a sweet, lovable misfit who just wants to be accepted and liked by his own kind and who wants nothing more than to make his friends happy. Rihanna does a great job in bringing to life Gratuity 'Tip' Tucci, the young teenage girl who only wants to find her mom, the person she's closest to in the world. Rihanna provides Tip with just the right amount of smart aleck humor and sadness to make her a relatable character.
Steve Martin delivers a terrific performance as the voice of Captain Smek, the obnoxious, self-absorbed and brainless leader of the Boov who always steals and takes credit for other aliens' ideas and usually makes a bad situation worse without even trying. It's a character that adds even more humor to the film. Another character who adds both humor and a little heart to the adventure is Pig, Tip's pet cat who takes an early liking to Oh and always has perfect facial reactions to the chaos and craziness occurring during Tip's and Oh's adventure.
The film has a wonderfully bright and colorful look to it, but its use of 3D is almost non-existent which is unfortunate as half of the film is spent with Oh and Tip in a hovering car. Not once did the 3D make the audience feel as though it was soaring or diving amongst the clouds alongside the animated characters. This is truly a shame considering the movie was made by Dreamworks, the same studio responsible for both How to Train Your Dragon films which were full of stunning 3D effects.
Home has a strong soundtrack with some catching tunes including "Feel the Light" performed by Jennifer Lopez who also voices Lucy, Tip's mom.
Charming and funny, Home is a solid animated fantasy adventure with lessons for children about friendship, trusting yourself, and self-sacrifice. It also features a touching and emotional ending that lifts the film above the average animated movie.
GRADE: B-
MPAA rating: PG for mild action and some rude humor
Release date: March 27, 2015
Running time: 94 minutes
– Reviewed by Kevin Finnerty
Follow Us On: