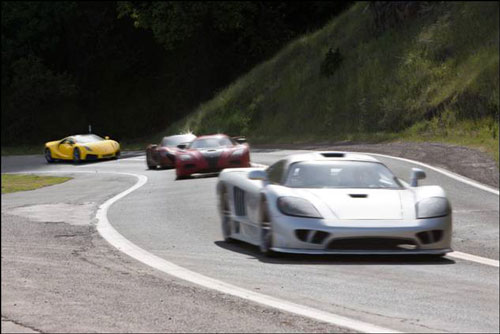 DreamWorks Pictures is not going to let Need for Speed slip quietly into theaters, with the studio putting out a series of behind-the-scenes videos in support of the movie's upcoming release. The latest video released showcases the automotive stars of the movie.

The action film based on the popular video game series is heading to theaters on March 14, 2014 and has Breaking Bad's Aaron Paul in the lead role. Directed by Scott Waugh, the cast also includes Dominic Cooper, Imogen Poots, Ramon Rodriguez, Rami Malek, Scott Mescudi, Dakota Johnson, Harrison Gilbertson and Michael Keaton.

The Plot:

DreamWorks Pictures' Need for Speed marks an exciting return to the great car culture films of the 1960s and '70s, when the authenticity of the world brought a new level of intensity to the action on-screen. Tapping into what makes the American myth of the open road so appealing, the story chronicles a near-impossible cross-country journey for our heroes — one that begins as a mission for revenge, but proves to be one of redemption. Based on the most successful racing video game franchise ever with over 140 million copies sold, Need for Speed captures the freedom and excitement of the game in a real-world setting, while bringing to life the passion for the road that has made our love of cars so timeless.

The film centers around Tobey Marshall (Paul), a blue-collar mechanic who races muscle cars on the side in an unsanctioned street-racing circuit. Struggling to keep his family-owned garage afloat, he reluctantly partners with the wealthy and arrogant ex-NASCAR driver Dino Brewster (Cooper). But just as a major sale to car broker Julia Maddon (Poots) looks like it will save Tobey's shop, a disastrous race allows Dino to frame Tobey for a crime he didn't commit, and sending Tobey to prison while Dino expands his business out West.

Two years later, Tobey is released and set on revenge — but he knows his only chance to take down his rival Dino is to defeat him in the high-stakes race known as De Leon — the Super Bowl of underground racing. However to get there in time, Tobey will have to run a high-octane, action-packed gauntlet that includes dodging pursuing cops coast-to-coast as well as contending with a dangerous bounty Dino has put out on his car. With the help of his loyal crew and the surprisingly resourceful Julia, Tobey defies odds at every turn and proves that even in the flashy world of exotic supercars, the underdog can still finish first.



Details on the Need for Speed Cars [Courtesy of DreamWorks Pictures]

For decades, cars have been a vital part of American culture. There is a strong association between drivers and their vehicles and they are often seen as an extension of ourselves, representing who a person is and what they stand for. Now from DreamWorks Pictures comes a film that honors the heritage of our country's passion for cars, the testosterone-fueled Need for Speed.

Based on EA Entertainment's best-selling racing video game franchise of the same name, the film is a visceral and evocative return to the great car-culture movies of the '60s and '70s, tapping into our timeless fascination with the individualism and freedom of a car and our love of the open road. Need for Speed captures the excitement of the game in a real-world setting while bringing a level of intensity and authenticity to the action on-screen.

Movies develop for all kinds of reasons, but Need for Speed came about for the best reason: passion. Screenwriter John Gatins and his brother and co-writer George own an auto shop in Van Nuys, California where they restore classics. Both have been enamored with the culture of cars since childhood, and when EA visited their garage to discuss a possible screenplay, everyone immediately hit it off. With the Gatins' brothers they found kindred spirits who spoke the same language and were equally as well versed in cars and filmmaking, and who crafted a screenplay that was a gear-grinding drama with well-written believable characters.

In Need for Speed the stars of the movie are the cars themselves, so it was important that the filmmakers found cars that would deliver the right look, attitude and performance on screen. In the end, a variety of classic '70s muscle cars and pricey European super cars were chosen. Plus, many of the super cars had been featured in the video games.

Director Scott Waugh comments, "The film begins in Mt. Kisco, New York, a blue-collar town with hard-working Americans, and that sort of culture had always gravitated toward muscle cars."

Producer Mark Sourian adds, "I have to give Scott a lot of credit in terms of finding the right cars. He knew what he was looking for and he got it."

The Mustang that Tobey and Julia drive en route to De Leon was designated the film's hero car. The "it" car of 1964 symbolizing freedom, romance and America, the Mustang launched the American muscle car movement and went on to become a worldwide icon.

Once Ford Motors heard about the film and the significance of the Mustang to the story, they were eager to get involved. The company worked with production to design a special Need for Speed Mustang based on the 2013 Shelby GT500. Caroll Shelby, a legendary American racer turned car designer who created the performance-based Mustang for Ford in 1965, had been working on the 50th anniversary edition when he passed away in 2012.

Ford was intrigued by the premise and collaborated with the filmmakers to style a car they hoped was similar to what Shelby would have created. Both parties wanted to respect the vision Shelby might have made without making it look too futuristic but did keep two of Shelby's signature design elements, the blue stripes and chrome.

According to Waugh, "If you wanted a Mustang you always wanted the Shelby Mustang because it was an amazing car."

The frame was altered by celebrated Ford designer Melvin Betancourt and built by Techno Sports in Detroit. Some of the alterations made to the Need for Speed Mustang include: a wider body, 20-inch alloy wheels (to help facilitate easier stunts for the stunt drivers), a V8 engine topping out at 190 miles per hour, heavier compression rates on the springs, high-charged Bilstein shocks and thicker sway bars. The interior console was adapted to accommodate an iPad for Tobey to use when communicating with his crew and the futuristic side-view mirrors were turned into cameras.

Eventually seven different Mustangs were built, each serving specific purposes ranging from beauty shots, stunts and driving shots to a model that could be lifted by and hang from a helicopter. Three of the cars were 5 L 420 horsepower with a six-speed manual transmission, two were 662 horsepower with a V8 engine and six-speed manual transmission, one was 5 L 420 horsepower with an automatic transmission and one was 305 horsepower with a V6 automatic transmission.

In addition to the Mustang, other iconic American muscle cars featured in the film were the '69 Ford Gran Torino, '68 Chevy Camaro and '66 Pontiac GTO. Each car came equipped with a GM LS3 engine, 430 horsepower 425-foot pounds of torque and weighed close to 3,400 pounds.

One of the focal points in both the crucial race between Tobey, Dino and Little Pete (Harrison Gilbertson) and the climactic show-down at De Leon are the European super cars, which include: a Swedish Koenigsegg Agera R, a Lamborghini Sesto Elemento, a Spano GTA, a Bugatti Veyron and McLaren P-1, all of which were featured in the video games, and a Saleen S-7. All six super cars had a GM LS3 engine, 430 horsepower 425-foot pounds of torque and weighed close to 3,200 pounds.

The production also required multiples of each super car rigged for camera platforms on set for a variety of shooting needs, but due to their exorbitant price tags ($2 – $3 million each) and the fact that they could not be placed in situations where damage was possible, they would have to be built. Luckily the manufacturers were enthusiastic to get involved and shared confidential CAD specs with Reel Industries in Los Angeles who then created 15 chasses and fiberglass shells for each make and model which could then be swapped out.

Waugh explains, "There are only a few super cars in the world and they're not really camera-friendly. You're not going to drill into the side of a two and a half million dollar car … they're art pieces, that's what everyone forgets. You're going to replicate it to wreck it so the real one is still there."

The Koenigsegg, Bugatti and McLaren all had 105-inch wheel bases, the Lamborghini a 101-inch wheel base and the Spano a 100-inch wheel base and the Keonigsegg, a high-performance mid-engine two-seater which can reach speeds up to 270 miles per hour.

While the actors did receive extensive training on the fundamentals of stunt driving and did in fact do more than their share of the driving on screen, some driving had to be left to the professionals. The super cars at De Leon were driven by famed precision drivers Tanner Foust, the most successful driver in X Games history and a world record holder for the longest jump in a car, and Rhys Millen, a Formula D champion and two-time world record holder for speed. They were joined by professional high-performance drivers Rich Rutherford, Tony Brakohiapa, Brent Fletcher and Paul Dallenbach.

According to Aaron Paul, "Scott wanted us to learn the practicality of car maneuvers but also how to look cool when doing it. We attended a driving clinic where we were taught a bunch of stunt driving like drifting, 180's and backwards strategy."

In discussing Paul's skills as a driver, stunt driver Rick Seaman (The Amazing Spider-Man) says, "He has good driving instincts. Some people are born with it and some aren't, but I can tell you right now Aaron was born with it."

Three camera cars were also used during principal photography for specific moves called for in the script, which were a Mercedes Benz with a 24-foot telescopic Russian arm, a Porsche Cayenne used to push or pull a picture car and a Saleen-supercharged Mustang.

The sidekick to Tobey's Mustang in the film, The Beast, is driven by Joe Peck (Ramon Rodriquez) and Finn (Rami Malek) on the cross-country trip. The Beast, along with the helicopter flown by Benny (Scott Mescudi), are Tobey's eyes and ears as he races towards the De Leon starting line. Picture Car Coordinator Steve Mann and his crew constructed it from a Ford F-450 truck raising it seven inches and outfitting it with giant 37-inch tires, a utility bed and new front and back bumpers.

Mann and his team of mechanics had to complete restorations on a number of vehicles prior to and during production and in short amounts of time when the cars were damaged. One day they were restoring Tobey's Gran Torino from the ground up and on another day taking apart a crashed GTO and putting it on another frame.

"It's unheard of what these guys can do," says Mann, "But they are great mechanics who feed off adrenaline and thrive under this kind of pressure."

Pod cars, which are duplicates of the race cars designed so the actors can sit behind the wheel and deliver dialogue while a stunt driver steers remotely, were also used during production. The portion of the pod with the stunt driver's seat and controls is a cage mounted outside the body of the car which places the stunt driver above and behind the actor. The pod cars were driven by Foust and Millen doubling for Tobey and Dino respectively, and Rutherford, Brakohiapa, Fletcher and Dallenbach.

"The pods are scary," says Foust. "You have a very fast car but with a pod mounted on the back, so it's like strapping yourself to the ski rack of a sports car and driving it from that position."

He continues, "The steering can be rather challenging too, especially when you're going door-to-door with a bunch of other cars at 100 miles per hour and you have an actor inside the car with you as well."

It was scary for the actors as well, but on a different level, as they were racing in cars reaching high speeds but with someone else sitting behind them doing the driving.

Dominic Cooper explains, "At first it is absolute terror, particularly if you're someone who enjoys driving as much as I do. The first time around I had my foot slammed against the brake pedal purely on instinct hoping it would help but knowing it did nothing. But you know the guys in the pod are a billion times better drivers than you, so eventually you begin to let go and trust."

Foust, who races cars professionally for Ford and Rock Star and is the host of Top Gear USA," says going fast is addicting.

"There's something about feeling the G forces pulling you that makes your vision look like you're going into a tunnel," he says, "And the acceleration is so violent that your adrenaline is kicking in almost as a natural response just to survive."

Source: DreamWorks Pictures

-Posted by Rebecca Murray
Follow Us On:
Stumble It!