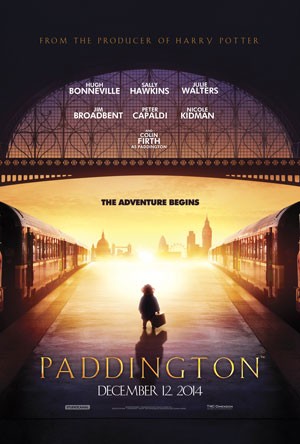 "Please look after this bear. Thank you" reads the tag at the end of the first teaser trailer for
Paddington
, and if the actual film remains as faithful to the books as the teaser (that tag is lifted from
author Michael Bond's
long-running series of children's books), then there's hope for a
Paddington
film that'll be embraced by generations of Bond's books. Also tipping the scales toward this being a sincere and faithful adaptation is the fact it's from producer David Heyman. You may remember him as one of the key individuals behind the blockbuster
Harry Potter
films.
Adapted and directed by Paul King (
The Mighty Boosh
,
Come Fly With Me
), Colin Firth provides the voice of the cute little bear. The live-action cast includes Hugh Bonneville and Sally Hawkins (as Mr. and Mrs. Brown), Jim Broadbent, Peter Capaldi, Julie Walters, and Nicole Kidman.
Paddington
arrives in theaters on December 12, 2014.
Watch the trailer:

-Posted by Rebecca Murray
Follow Us On:
Stumble It!