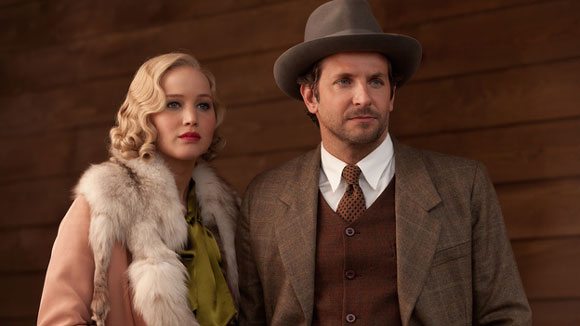 I don't make any secret of the fact that Susanne Bier is my favorite director. She crafts these achingly beautiful portraits of humanity and melancholy, letting raw emotion steer the course. Seriously, watch Open Hearts, After the Wedding, or Brothers (the original, not the American remake). If you can't relate to the characters' heartbreak, passion, frustration, pain, or love, then I'm seriously concerned you torture animals.
When I heard that she was making a film starring Bradley Cooper and Jennifer Lawrence, I was a bit concerned but I was holding out hope. Bier's made English language films before. With Things We Lost in the Fire, she surprised me with managing to get Halle Berry to deliver a sincere and moving performance, amidst a sea of tropes that I would normally eschew (having Benicio del Toro along didn't hurt things though). And I didn't have much hope for Pierce Brosnan's performance in Love is All You Need either but the film really opened up as it went along and took me by surprise as well as it managed to balance the general upbeat tone just enough.
So with Serena, I tried to temper my eagerness as Bier's proven to be fairly smart and/or incredibly astute in the casting choices. Then of course, there's the problem of how long this movie has sat on the shelf. Made in 2012, you'd think the star power of alone would be enough to get it released in some capacity. This was the most troubling aspect for me, that and my general fatigue of all things Cooper and Lawrence (though I give Bradley kudos for his role in American Sniper).
So … now I've seen Serena. And sadly, part of me wishes I had not. There are definitely some good points. The cinematography is gorgeous, aided by the stunning Czech Republic countryside standing in for North Carolina (also quite pretty but that's filmmaking for you). The score is a bit leading but beautiful as well. There are also some nice performances from Rhys Ifans playing well against type, and from Toby Jones who made something out of nothing with his portrayal as the town Sheriff.
Sadly, things pretty much end there with my praise. It's not the bleak tone, or the ill fate destined for pretty much everyone whose name is somewhere near the title. I love that stuff. However, there just wasn't any point in the film where I stopped seeing Bradley Cooper or Jennifer Lawrence (unless you count the brief moments where she reminded me of Rosamund Pike from Gone Girl). This was an exercise in watching these two mime the appearance of chemistry and attempt accents now and then because they seemed to remember their characters were from distinct regions of America during the beginning of the Great Depression.
There were some plot developments which I found interesting, at least because you don't often see a story go in the direction this does when it comes to movies with actors this recognizable. But I chalk that up to Bier more than anything else, and that this was made prior to both Cooper and Lawrence reaching the heights they have after shooting the movie.
I'm not even sure who to recommend the movie to. Fans of the actors are not going to get what they want. Fans of Bier aren't either. I could tell I was in trouble very early on, just from the way she seemed to hold back from utilizing the camera in her normal fashion, relying far more on generic framing of the actors in a scene and wide shots of the landscape rather than pushing in ultra close to highlight small flutters of the eye or restlessness of a hand.
Really, the overall experience sort of feels like meeting your idol and realizing they don't live up to the legend. Some of that is my fault as taking expectations into a film is always dangerous, but there just didn't seem to be the same passion for the human experience as there has been in her previous work. The characters are undergoing extreme levels of stress and engage in highly volatile acts … but none of it spiked my blood pressure or got under my skin. And since most people who read my reviews may not have seen much of Bier's work, my advice is to go back to the home market and check out some of the films I mentioned above rather than passing the time with Serena. There just isn't much point in watching a movie if it's not going to be memorable … and I'm already well on my to forgetting this. I guess it's a good thing I'm writing the review immediately after I saw the film. Otherwise you might have just read my estimation of a great tennis player with her own fashion line. Maybe you wish you had.
GRADE: C-
MPAA rating: Rated R for some violence and sexuality
Running time: 109 minutes