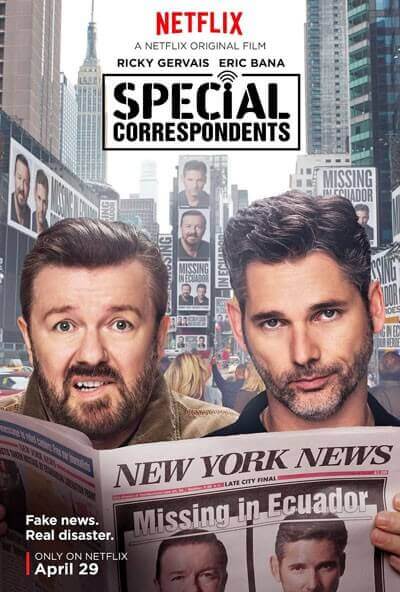 Netflix just released a new trailer and poster for the comedy movie Special Correspondents. The film, which teams up Ricky Gervais and Eric Bana as reporters who fake the news, will premiere on Netflix on April 29, 2016. Written and directed by Ricky Gervais, the cast also includes Vera Farmiga (Bates Motel), Benjamin Bratt (24: Live Another Day), America Ferrera (Superstore, Ugly Betty), Kelly Macdonald (Boardwalk Empire), Kevin Pollak (The Usual Suspects), and Raúl Castillo (Looking).
Gervais previously directed Derek, Life's Too Short, Cemetery Junction, The Invention of Lying, Extras, and The Office.
The Plot: The film is about a struggling New York based radio journalist whose arrogance and decadent lifestyle has hindered his career. With his job on the line, he fakes front line war reports from the comfort of his hideout above a Spanish restaurant in Queens.
Watch the Special Correspondents trailer: