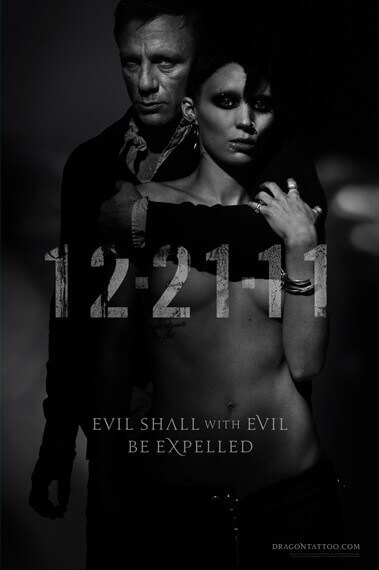 Will audiences embrace an American version of Stieg Larsson's bestselling novel the way they did with the critically acclaimed version starring Noomi Rapace?
Starring: Daniel Craig and Rooney Mara [full cast list under the 'Cast' tab] Directed By: David Fincher
Release Date: December 21, 2011
Genres: Drama, mystery
Running Time: 158 minutes
MPAA Rating: R for brutal violent content including rape and torture, strong sexuality, graphic nudity, and language
News: Sony moves Dragon Tattoo release date
Review: Read the full review
Official Synopsis: Stieg Larsson's popular trilogy has sold more than 40 million copies worldwide. The first book follows Mikael Blomkvist, a disgraced journalist who is hired to investigate the disappearance 40 years prior of Harriet Vanger, a member of one of Sweden's wealthiest families. A tattooed computer whiz named Lisbeth Salander helps Mikael on his quest to discover what became of Harriet all those years ago.
[tabs style="default" title="'The Girl with the Dragon Tattoo' Resources"] [tab title="Cast"] Daniel Craig – 'Mikael Blomkvist'
Rooney Mara – 'Lisbeth Salander'
Christopher Plummer – 'Henrik Vanger'
Stellan Skarsgard – 'Martin Vanger'
Steven Berkoff – 'Frode'
Robin Wright – 'Erika Berger'
Yorick Van Wageningen – 'Bjurman'
Joely Richardson – 'Anita Vanger'
Geraldine James – 'Cecilia'
Goran Visnjic – 'Armansky'[/tab]
[tab title="Trailers"]
[/tab] [tab title="Photos"]
[/tab] [/tabs]