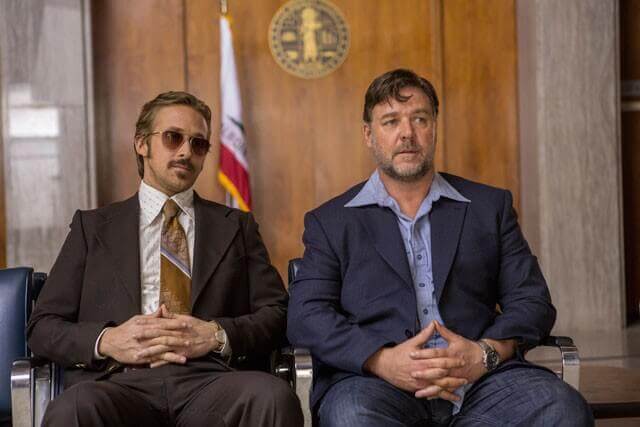 "What the hell is going on?" asks Holland March (Ryan Gosling), a down on his luck private investigator. "Oh, you know, there's a guy coming to kill us…that kinda of crap," answers Jackson Healy (Russell Crowe), a muscle for hire who's teamed up with Holland to find a missing girl in the action comedy, The Nice Guys.
Set in Los Angeles in 1977, March is a struggling private eye who gets cases tossed his way from his police connections that usually don't add up to much. His path ends up crossing with Healy after taking on a case to look for an elderly woman's niece who died yet was seen alive and kicking two days later. Unfortunately, Healy has been hired by a young woman named Amelia (Margaret Qualley), who looks very much like the woman's niece, to scare March off so Healy breaks the PI's arm to get him to drop the case. However, when Healy is ambushed by two hit men (played Keith David and Beau Knapp) who are also looking for Amelia, he quickly realizes he made a mistake with March and approaches him again but this time to help him find Amelia who has now gone into hiding.
During their investigation, the two mismatched private investigators discover Amelia's disappearance seems to be connected to the porn industry and the accidental death of rising porn star Misty Mountains (Murielle Telio). As they continue to work together, March and Healy – along with March's 13 year-old daughter, Holly (Angourie Rice) – stumble across a criminal conspiracy which could involve someone very high up in the city's Justice Department.
Written and directed by Shane Black (Kiss Kiss Bang Bang, Iron Man 3), The Nice Guys is an uneven and overly violent action comedy interspersed with some funny slapstick moments and featuring a solid performance by Russell Crowe. Crowe brings both humor and emotional depth to his character Jackson Healy who, on the surface, appears to be nothing more than a very effective muscle for hire but who really wants to find a way to help people. The scenes between Crowe and Rice, who portrays March's daughter, are the true highlights of the film, giving the movie some touching and sweet moments.
Speaking of Rice, she absolutely steals the film as Holly, March's loving, feisty, and smart teenage daughter who has basically taken care of her dad since her mother passed away and even helps him solve his cases. Rice grabs your attention in every scene she's in with her more famous, award-winning co-stars Gosling and Crowe, and she has strong chemistry with both of her leading men.
Gosling is humorous and effective as the bumbling, not-too-bright gumshoe March who without his daughter would never make it to an appointment on time, let alone actually solve a case. There are times, however, that his pratfalls and comedic antics come across forced and over-the-top. This is especially true in any of his scenes without Crowe. Still, Gosling does have chemistry with both Crowe and Rice which makes watching the three interact enjoyable.
The premise is fine but the script doesn't take full advantage of the setup. Plus, coming from Black who helmed Iron Man 3 you'd expect more impressive action scenes. The pacing is a bit jerky and erratic, and The Nice Guys has too much intense violence to stay in balance with its comedic tone. In short, it's all over the place. Missing the correct balance of action and humor, The Nice Guys struggles to be as great as Black's unrated film Kiss Kiss Bang Bang but comes up way short.
GRADE: C+
Release Date: May 20, 2016
MPAA Rating: R for violence, sexuality, nudity, language and brief drug use