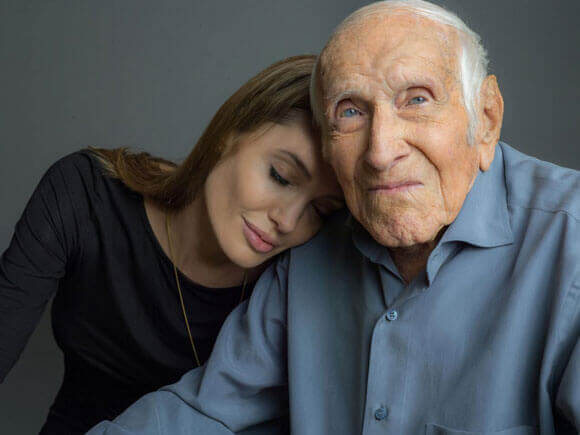 If you were watching NBC's coverage of the Olympics on Sunday, you may have seen the first teaser for Universal Pictures'
Unbroken
, coming to theaters on Christmas Day. Directed by Angelina Jolie,
Unbroken
is based on the bestseller by Laura Hillenbrand and tells the incredible true story of Olympian and war hero Louis Zamperini. The
Unbroken
video that premiered during the Olympics coverage is narrated by Tom Brokaw and shows a few clips of Jack O'Connell as Zamperini as well as providing the basic details on Zamperini's inspirational story.
The Plot:
Academy Award® winner Angelina Jolie directs and produces
Unbroken
, an epic drama that follows the incredible life of Olympian and war hero Louis "Louie" Zamperini (Jack O'Connell) who, along with two other crewmen, survived in a raft for 47 days after a near-fatal plane crash in WWII—only to be caught by the Japanese Navy and sent to a prisoner-of-war camp.
Unbroken
brings to the big screen Zamperini's unbelievable and inspiring true story about the resilient power of the human spirit.
Starring alongside O'Connell are Domhnall Gleeson and Finn Wittrock as Phil and Mac — the airmen with whom Zamperini endured perilous weeks adrift in the open Pacific — Garrett Hedlund and John Magaro as fellow POWs who find an unexpected camaraderie during their internment, Alex Russell as Zamperini's brother, Pete, and in his English-language feature debut, Japanese actor Miyavi as the brutal camp guard known only to the men as "The Bird."
Watch the video:
-Posted by
Rebecca Murray
Follow Us On:
Stumble It!