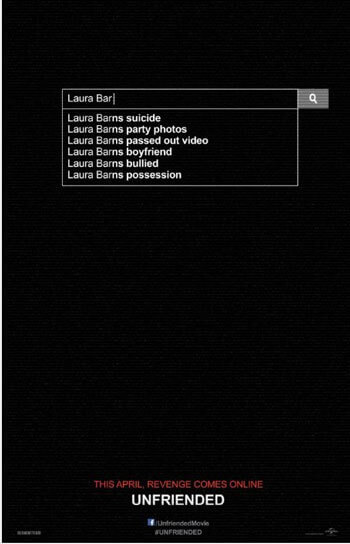 From producers Timur Bekmambetov (director of Wanted, Night Watch) and Jason Blum comes Unfriended, a cautionary horror/thriller about a group of friends whose Skype conversations are interrupted by an unknown person. Universal Pictures has just released the first official creepy trailer for the film starring Shelley Hennig, Moses Jacob Storm, Renee Olstead, Will Peltz, Jacob Wysocki, Courtney Halverson, and Heather Sossaman, and directed by Levan Gabriadze.
Unfriended arrives in theaters on April 17, 2015.
The Plot:
Ushering in a new era of horror, Universal Pictures' Unfriended unfolds over a teenager's computer screen as she and her friends are stalked by an unseen figure who seeks vengeance for a shaming video that led a vicious bully to kill herself a year earlier.
Watch the trailer:
-By Rebecca Murray
Follow Us On: