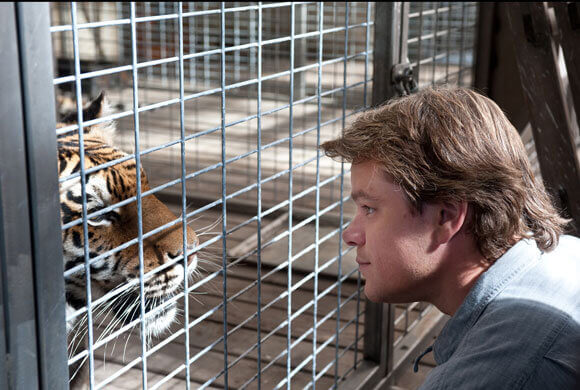 Reviewed by Ian Forbes, Sobering Conclusion
Normally, if I saw the headline "Matt Damon Buys a Zoo", I'd just think he and Ben Affleck got bored. However, in re-reading the title for Damon's latest film, We Bought a Zoo, I realize my mistake.
Based on the true story of Benjamin Mee (Matt Damon) and his family, the movie starts just after the death of Mee's wife. This leaves him alone to raise a teenage son (Colin Ford) and a ridiculously adorable and precocious little girl (Maggie Elizabeth Jones). Looking to get a fresh new start, Mee ends up buying Rosemoor Animal Park (Dartmoor Zoological Park in real life). The locale is switched from England to California for the movie but I think we can all agree that was a better plan than watching American actors fumble with a British accent.
Directed by Cameron Crowe, what audiences will experience is a touching and uplifting story of finding a way to work through grief and find happiness. It's corny and predictable but what holds things together is a collection of enjoyable performances. It starts with Matt Damon, and while it's weird to see the math genius from Good Will Hunting now playing a single father in 2011 (though by different circumstances between this and Contagion), there's a certain warmth that exudes from that goofy smile he flashes around.
What solidifies the connection to the film, however, is his kids. Colin Ford plays your typical teenage boy; clueless to the advances of a sweet girl (Elle Fanning) and angry at Dad for being the parent he's got left. Of course, his performances isn't hurt by Fanning being just as endearing and adorable, though far more bubbly, than she was in this summer's Super 8. And Maggie Elizabeth Jones may just be the cutest, most precocious child on celluloid in 2011, if not a bit longer. It's really her that Mee is placating in buying the zoo, hoping the rift between him and his son will be healed along the way.
The rest of the supporting cast is a hodgepodge of standard stock characters all played decently enough though if there is a weak link in the chain, it's Scarlett Johansson, who gets to play the love interest/zoo keeper. It might be factually accurate to have a 28 year-old woman be responsible for the care of the animals when Mee came into the zoo's picture, and it might be factually accurate that she and Mee fell in love (no, I never read the book and if this counts as a spoiler alert, I'm revoking your movie passes), but the gap between Johansson and Damon (both in age and performance) just feels off for most of the film. The surrounding bits make up for this and the primary focus is on the family's journey but Scarlett's abilities still seem to lie in either brooding or posing rather than much else (this is neither Lost in Translation nor Iron Man 2).
Even with that caveat, if you're one of the millions of families looking for a movie this holiday season to duck into and thereby escape non-alcohol soaked conversation with relatives, then We Bought a Zoo is your best (and probably only legitimate) option. It's sweet, heartwarming, and if you live in or visit the southwest of England, maybe it'll spark the idea for a trip to the real zoo. Consider it a cinematic road trip if you will, complete with lions, tigers and bears. Oh my, indeed (and no, I couldn't resist).
GRADE: B+
We Bought a Zoo hits theaters on December 23, 2011 and is rated PG for language and some thematic elements.
More on We Bought a Zoo:
—Photo gallery
—Trailer, news and cast list