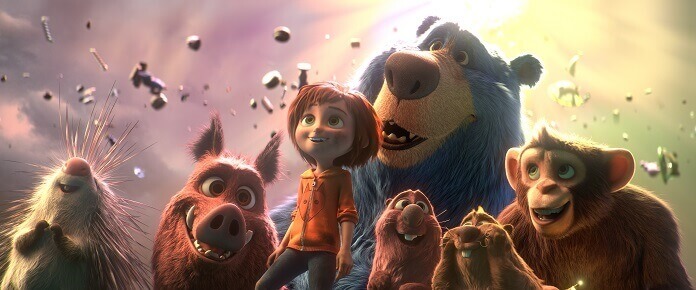 "It's time to bring the park back to life. Who's with me?" asks June (voiced by Brianna Denski), an imaginative young girl who's trying to save her dream amusement park in the 2019 animated film, Wonder Park.
Young June loves playing pretend and making up stories with her mom (voiced by Jennifer Garner) about a made-up amusement park they name Wonder Park, complete with talking animals who run the place. June wishes that she could create a real Wonder Park.
A few years later, June's mom becomes ill and has to go away for treatment. June packs away her Wonder Park model, full of fear and resentment over the fact her mother is sick and has left her for who knows how long.
While on her way to math camp, June accidentally discovers Wonderland…a version of Wonder Park that's hidden in the woods. She quickly realizes the park's fantastic rides are shut down and the talking animals are on the run. Chimpanzombies have the overrun the park, destroying rides and tossing parts of what's supposed to be a land full of fun and adventure into the terrible darkness that hovers over Wonderland.
The creative young girl teams up with the animals to try to find a way to bring wonder and fun back to the park.
Colorful, loud, and chaotic, Wonder Park is an animated adventure that has a solid message about being creative and children using their imaginations. Unfortunately, it fails miserably in creating any kind of true excitement, joy, or fun for the audience (no matter the age). The animation and style aren't anything special and the chaotic action scenes are just rowdy and obnoxious.
The characters lack originality, but the true kiss of death is they're simply annoying and forgettable. The plot is predictable and boring, and the PG-rated animated film won't keep the attention of anyone over the age of nine.
To get straight to the point…there's absolutely no wonder or excitement in Wonder Park.
GRADE: C-
Release Date: March 15, 2019
Running Time: 1 hour 25 minutes
MPAA Rating: PG for some mild thematic elements and action
Additional Voices: Ken Hudson Campbell, Kenan Thompson, Mila Kunis, John Oliver, Ken Jeong, Norbert Leo Butz, and Matthew Broderick