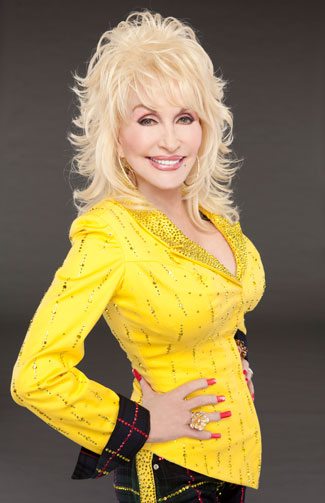 Country legend Dolly Parton will receive the Willie Nelson Lifetime Achievement Award during the 50th Annual CMA Awards on November 2, 2016. Willie Nelson, Kenny Rogers, and John Cash previously won the Lifetime Achievement Award which is given to an "iconic artist who has attained the highest degree of recognition in Country Music." The honor recognizes not only artistic ability but also a Country artist's philanthropy and humanitarian efforts.
Carrie Underwood and Brad Paisley are hosting the 50th Annual CMA Awards which will be broadcast live from Nashville.
"Dolly epitomizes the very definition of the Willie Nelson Lifetime Achievement Award," stated Sarah Trahern, CMA Chief Executive Officer. "She is a trailblazer who continues to enchant and captivate fans around the world, from her latest No. 1 album, to her sold-out tour, and numerous television projects. She is a treasure and deserving of this industry acclaim for her undeniable contributions to the success of Country Music, today."
Parton's no stranger to the CMA Awards stage having picked up 44 nominations and nine wins. She was named the Entertainer of the Year in 1978, and twice won the Female Vocalist of the Year award (1975 and 1976).
More on Dolly Parton's Career, Courtesy of CMA:
"An internationally renowned superstar, the iconic and irrepressible Parton has contributed countless treasures to the world of entertainment. Her latest album Pure & Simple recently debuted at No. 1 – her first in 25 years. All-inclusive sales of singles, albums, hits collections, paid digital downloads, and compilation usage during her illustrious career have topped a staggering 100 million records worldwide. Achieving 25 RIAA certified Gold, Platinum, and multi-Platinum awards, Parton has had 25 songs reach No. 1 on the Billboard Country charts, a record for a female artist. Making her film debut in the 1980 hit comedy 9 to 5, Parton earned rave reviews for her performance and an Oscar nomination for writing the title tune, along with her second and third Grammy Awards. Roles in Steel Magnolias, Best Little Whorehouse in Texas, Rhinestone, and Straight Talk followed.
Parton saw a cherished dream become a reality in 1986 with the opening of her own theme park, Dollywood, in Pigeon Forge, Tenn. In 1988, Parton began the Dollywood Foundation which funds Dolly Parton's Imagination Library across America and in Canada by giving every preschool child a book each month from the time he or she is born until the child reaches kindergarten. Currently 80,000,000 books are mailed to children in the U.S., Canada, and throughout the U.K. In 1999, Parton was inducted as a member of the Country Music Hall of Fame. She has her own star on the Hollywood Walk of Fame and in 2004, the U.S. Library of Congress presented her with their Living Legend Award for her contribution to the cultural heritage of the United States. In December 2015, more than 13 million viewers tuned in to Dolly Parton's Coat of Many Colors, which was the most-watched film on broadcast network television since May 2012."