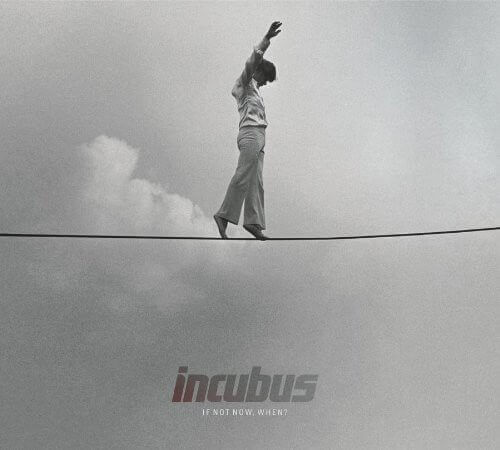 Incubus is set to release their new album If Not Now, When? on July 12, 2011 and will be following it up with a world tour kicking off in Denver on August 17th.

From the official press release:

Leading up to their long-awaited, sixth studio album, multi-platinum rock band Incubus has been asking their fans If Not Now, When?, and on July 12th fans will get the answers they have been patiently waiting for. The 11-track album produced by Brendan O'Brien (Pearl Jam, Rage Against The Machine, Bob Dylan), features hit singles "Adolescents" and "Promises, Promises." Incubus kicks off release week with a performance July 11th on the Late Show with David Letterman as well as a "Live On Letterman" webcast for the fans. Fans can watch the Incubus' "Live On Letterman" webcast live or on-demand at http://www.cbs.com/late_night/liveonletterman/. The webcast will also be available on VEVO's website, mobile and connected devices and syndication partners.



Leading up to the release of their new album, Incubus set-up shop at a secret location in Los Angeles to launch "Incubus HQ Live," giving fans 24 hours of streaming content for an unprecedented, seven days. Nearly two million participants watched and interacted with the band throughout the week with 1.2 million active Facebook participants and nearly 50,000 Twitter mentions creating a global conversation among Incubus fans. Each day the band treated fans to the most unique, personal and up-close experience imaginable, capped off by performances of the bands multi-platinum albums Morning View and Make Yourself, culminating with a preview of the new album, If Not Now, When? in its entirety on the final night.

After spanning the globe playing thousands of sold-out shows on five continents, multi-platinum rock band, Incubus, hits the road again this summer kicking off at Red Rocks in Denver on August 17th. For full tour itinerary visit www.enjoyincubus.com.

If Not Now, When? Track List
1. If Not Now, When?
2. Promises, Promises
3. Friends and Lovers
4. Thieves
5. Isadore
6. The Original
7. Defiance
8. In The Company of Wolves
9. Switchblade
10. Adolescents
11. Tomorrow's Food

Having sold over 13 million albums worldwide, Incubus' extraordinary career has spanned over a decade, and includes six studio albums, which have spawned a total of thirteen Top 10 Rock hits with four singles debuting at #1 upon their release. The multi-platinum quintet's last studio album Light Grenades debuted at #1 on Billboard's Top 200 (highest charting album debut of band's career) and has sold over 800k copies to-date in the US.

Hailing from Calabasas, California, Brandon Boyd, Mike Einziger and Jose Pasillas formed Incubus in 1991 while they were in high school with Chris Kilmore joining in 1998 and Ben Kenney joining in 2003. The band's break came in 1999 with the singles, "Pardon Me," "Stellar" and "Drive," from their second full-length, double-platinum selling disc Make Yourself. The group's third album, Morning View, released in 2001, debuted at #2 on the album chart and included the radio hits "Wish You Were Here," "Nice to Know You" and "Warning." In 2004 Incubus released A Crow Left of the Murder which achieved platinum status on the strength of the #1 hit "Megalomanic."

Source: Epic Records – July 11, 2011