Martin Garrix, Banks and Kid Ink are among the artists Shazam is predicting will have major success in 2014, based on a comprehensive process involving data gathered from millions of users. More than 400 million people use Shazam's services with the company reporting more than 15 million Shazams are performed each day, and because they aren't relying on just a handful of critics to determine the next breakthrough artists, Shazam believes their predictions are more representative of the general public.

2014 New Artists to Watch [According to Shazam]:

Action Bronson – Queens native Bronson lists early influences as Wu-Tang Clan. He launched his first album in 2011 but gained huge Shazam tags in 2013 after releasing several hotly tipped mix tapes.

August Alsina – August's single "I Luv This S**t" has been one of the most Shazamed rap tracks of 2013 and his mix tape tracks are also gaining traction with hip hop heads.

Banks – Born Jillian Banks, she started writing music as a teenager in suburban LA and released an acclaimed EP in 2013.

Jhené Aiko – Collaborations with Drake and Big Sean thrust her into the public eye in 2013. Now, after releasing a mix tape, 'Sail Out', Aiko looks set for big things.

Kid Ink – XXL Magazine listed Kid Ink among artists like Danny Brown and Macklemore in its 2012 Freshman Class feature. Signed with RCA/Epic, Kid Ink is set to release his first album under a major label this year.

Lucy Hale – Best known for her role as Aria Montgomery on the ABC Family series Pretty Little Liars, Hale is set to be the next country star.

Martin Garrix – Dutch DJ best known for his track, "Animals," Garrix is the youngest person ever to top the Beatport charts.

Rich Homie Quan – Georgia native and artist for the Island Jam label, Quan has been named by the New York Times as one of "Atlanta's rising generation of rappers … who deliver lines with melody and heart, like singers on the verge of a breakdown."

Sam Smith – London-born Smith contributed the soaring vocals on Disclosure's 2013 hit, "Latch" and Naughty Boy's "La La La." He prefers the raw soul style in the vein of his favorite artists, Stevie Wonder, Chaka Khan and Aretha Franklin.

Vance Joy – Originally from Melbourne, Vance Joy has already achieved success in his native Australia with his single, "Riptide," and is set to break globally this year.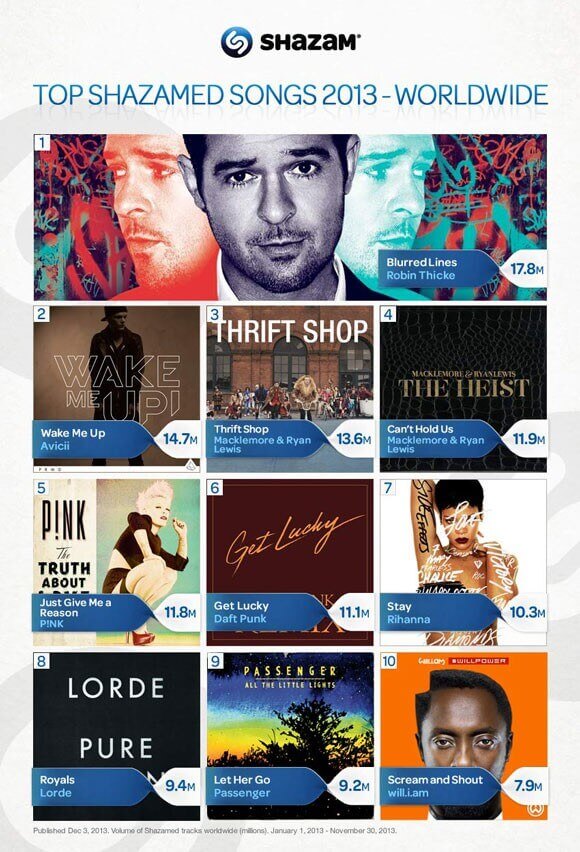 Top Shazamed Songs of 2013 (Total Shazams) – World

1. Robin Thicke, "Blurred Lines" (17.8M)

2. Avicii, "Wake Me Up" (14.7M)

3. Macklemore & Ryan Lewis, "Thrift Shop" (13.6M)

4. Macklemore & Ryan Lewis, "Can't Hold Us" (11.9M)

5. Pink, "Just Give Me a Reason" (11.8M)

6. Daft Punk, "Get Lucky" (11.1M)

7. Rihanna, "Stay" (10.3M)

8. Lorde, "Royals" (9.4M)

9. Passenger, "Let Her Go" (9.2M)

10. Will.i.am, "Scream and Shout" (7.9M)

Top Shazamed Artists (Total Shazams)

1. Macklemore & Ryan Lewis (34.0M)

2. Avicii (26.5M)

3. Rihanna (25.0M)

4. Bruno Mars (20.0M)

5. Robin Thicke (19.8M)

6. P!nk (19.7M)

7. Daft Punk (14.3M)

8. Imagine Dragons (14.2M)

9. Justin Timberlake (12.6M)

10. Lorde (10.5M)

Source: Shazam

-Posted by Rebecca Murray
Follow Us On:
Stumble It!