By Kevin Finnerty
As people begin to break out the shorts and swimsuits, big-budget films head to the multiplex. Which can only mean it's time once again for the Big Summer Movie Preview. This year two superheroes fly back onto the big screen, The Enterprise and its crew head out into space to face its most deadly enemy yet, and a masked cowboy and his loyal Indian companion fight to clean up the Old West.
MAY
IRON MAN 3
– Starring: Robert Downey Jr., Gwyneth Paltrow, Sir Ben Kingsley, and Guy Pearce
Plot: Tony Stark (Robert Downey Jr.), still recovering from the battle with Thor's brother Loki in
The Avengers
, faces a new deadly enemy: a terrorist mastermind named the Mandarin (Ben Kingsley) who's determined to destroy Stark and everything dear to him.
Outlook: With perhaps the best villain yet in the franchise for Tony Stark to go up against and stunning action scenes highlighted in the trailer,
Iron Man 3
looks to be the best one in the series yet.
STAR TREK INTO DARKNESS
– Starring: Chris Pine & Zachary Quinto
Plot: An unstoppable force of terror from within Starfleet destroys most of the fleet leaving the world in chaos. Captain Kirk and his loyal crew head out on board the Enterprise to a war-zone to capture the one man weapon of mass destruction and bring the person responsible to justice.
Outlook: With a bigger budget and a more intelligent villain than the first film from director J.J. Abrams,
Star Trek Into Darkness
is almost sure to be the sequel to surpass the original film in every way.
THE GREAT GATSBY
– Starring: Leonardo DiCaprio, Tobey Maguire, Carey Mulligan, and Joel Edgerton
Plot: Nick Carraway (Tobey Maguire) gets caught up in the lavish world of his dynamic neighbor, Jay Gatsby (Leonardo DiCaprio), in the roaring 1920s in this retelling of F. Scott Fitzgerald's classic novel.
Outlook: With the film being pushed back from an original December 2012 release date and the story focusing on an era long since gone,
The Great Gatsby
just might be the huge flop of the summer.
THE HANGOVER PART 3
– Starring: Bradley Cooper, Ed Helms, Zach Galifianakis, and Justin Bartha
Plot: After the death of his father Alan (Zach Galifianakis) turns to his buddies Stu (Ed Helms) and Phil (Bradley Cooper) for help, ultimately deciding to go to the hospital to deal with his mental issues. However, on the way the wolf pack is ambushed and Doug (Justin Bartha) is kidnapped. Now the gang needs to find Mr. Chow (Ken Jeong) and trade him to a gangster for Doug before time runs out.
Outlook: Promising to be the last in the series,
The Hangover Part 3
hopefully will have enough laughs and some original antics to have the wolf pack's comedic adventures end on a high note.
FAST & FURIOUS 6
– Starring: Vin Diesel, Paul Walker and Dwayne Johnson
Plot: Agent Hobbs (Dwayne Johnson) reaches out to Dominic (Vin Diesel) and his crew to help him bring a more dangerous gang to justice.
Outlook: This is sure to be nothing more than another silly, outrageous and forgettable entry in the car chase series.
JUNE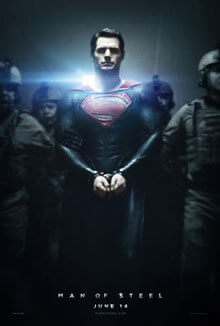 MAN OF STEEL
– Starring: Henry Cavill, Russell Crowe, Amy Adams, and Michael Shannon
Plot: Being sent to Earth from a dying planet, Clark Kent aka Superman (Henry Cavill) grows up into the greatest superhero Earth has ever known and is forced to face enemies from his old planet.
Outlook: With an A-list cast, impressive special effects, and what seems to be a strong script,
Man of Steel
might just be the big winner at the box office this summer – soaring past all the competition.
THE HEAT
– Starring: Sandra Bullock and Melissa McCarthy
Plot: By the book FBI special agent Sarah Asburn (Sandra Bullock) is paired with wild card Boston detective Shannon Mullins to take down a ruthless crime boss.
Outlook: Trying to be a female
Odd Couple
in police work,
The Heat
's success will greatly depend on whether or not its two stars have solid comedic chemistry and a funny script.
WHITE HOUSE DOWN
– Starring: Channing Tatum and Jamie Foxx
Plot: A Capitol policeman (Channing Tatum) struggles to save both his child and the President of the United States during a terrorist attack in D.C.
Outlook: Being almost identical to the film
Olympus Has Fallen
which opened this past March, it's unlikely movie audiences are going to be in the mood for another 'White House under attack' thriller.
AFTER EARTH
– Starring: Will Smith and Jaden Smith
Plot: Crash-landing on Earth 1,000 years after all of mankind has evacuated, young Kitai (Jaden Smith) must travel across what has become one of the most dangerous planets for mankind in the galaxy. His mission: to find their rescue beacon and turn it on to signal for help while his father Cypher (Will Smith) lies seriously wounded in the ship's cockpit.
Outlook: Jaden Smith has not shown the talent or the charisma for being able to carry a major motion picture on his own, and the unimpressive special effects in the trailer leave this picture most likely to be lost at the multiplex while movie goers seek out better entertainment.
THIS IS THE END
– Starring: Seth Rogen, James Franco and Danny McBride
Plot: While attending a party at James Franco's house, Seth Rogen and a handful of friends face the apocalypse and struggle to survive.
Outlook: With a solid comedic cast and two trailers which have already had test audiences laughing-out-loud,
This Is The End
might just be the comedy hit of the summer.
WORLD WAR Z
– Starring: Brad Pitt and Mireille Enos
Plot: The world is at war with zombies and it's all seen through the eyes of one man, Gerry Lane (Brad Pitt), who will become an important part of the fight to save mankind from the undead.
Outlook: Yet another zombie film but this one deals with the actual war before all is lost and has mega-star Brad Pitt leading his family to safety. Still, it has a feeling of being all too familiar and audiences are already getting their zombie entertainment from AMC's television series
The Walking Dead
.
World War Z
could just end up being a colossal flop.
MONSTERS UNIVERSITY
– Starring: Billy Crystal and John Goodman
Plot: Sully and Mike attend college to learn how to become scary monsters in this prequel to the 2001
Monsters Inc.
.
Outlook: With both stars back to bring these classic monsters to life on the screen in a film that shows how their friendship began,
Monsters University
is sure to be both a hit with parents and children.
THE BLING RING
– Starring: Emma Watson, Israel Broussard, Katie Chang, and Taissa Farmiga
Plot: Inspired by actual events, a group of fame-obsessed teenagers use the internet to stalk celebrities and find their homes and rob them.
Outlook: With Emma Watson taking on the role of a sexy, bad girl in this teen drama,
The Bling Ring
is sure to draw both
Harry Potter
fans as well as young men who are interested in seeing the young Watson as a sexy siren.
THE INTERNSHIP
– Starring Owen Wilson and Vince Vaughn
Plot: Two salesman whose careers have been ended by the digital world struggle to win an internship with Google. To do so, they have to go up against young, smart and eager students who are ahead of them in every way in the technical world.
Outlook: The re-teaming of Wilson and Vaughn is sure to bring fans of the film
The Wedding Crashers
to the multiplexes. But what looks to be missing is an engaging story and a strong supportive cast.
JULY
THE LONE RANGER
– Starring: Johnny Depp and Armie Hammer
Plot: Native American spirit warrior Tonto (Johnny Depp) recounts the untold tales of the masked man who he rode with and how they teamed up to fight injustice and corruption in the Old West.
Outlook: Directed by Gore Verbinski (
Pirates of the Caribbean
films) and with what looks like solid chemistry between Depp and Hammer,
The Lone Ranger
should be the great Western adventure of the summer.
PACIFIC RIM
– Starring: Charlie Hunnam and Idris Elba
Plot: When gigantic aliens come up from the depths of the oceans and begin to attack, giant robots – piloted by humans – are created to fight them off.
Outlook: It's
Godzilla
meets
Transformers
. Hopefully the movie-oing public will be wise enough to stay away.
THE WOLVERINE
– Starring: Hugh Jackman
Plot: Wolverine travels to modern day Japan and meets up with an old enemy from his past.
Outlook: This is the latest installment in a superhero franchise that lost energy, creativeness, and fun after its first two films in the series. It's not likely to return.
DESPICABLE ME 2
– Starring: Steve Carell and Kristen Wiig
Plot: Gru is recruited by the Anti-Villain League to go up against a new dangerous super-villain.
Outlook: If the film is as funny as the trailer, then
Despicable Me 2
should be the sequel hit of the summer.
R.I.P.D.
– starring: Ryan Reynolds and Jeff Bridges
Plot: A murdered cop is recruited by the afterlife police department and tries to find the man who killed him.
Outlook:
R.I.P.D.
seems to be nothing more than a rip off of
Men in Black
only instead of hunting aliens the cops are hunting ghouls and ghosts. YAWN!!
THE WAY WAY BACK
– Starring: Steve Carell and Sam Rockwell
Plot: During summer break a teen-age boy starts to slowly become the man he is destined to be, in part due to a friendship he strikes up with a manager of a park.
Outlook: A sweet, silly, funny and charming coming-of-age story might just be the sleeper hit of the summer and the year.
AUGUST
ELYSIUM
– Starring: Matt Damon and Jodie Foster
Plot: Set in the year 2154, the film focuses on a man who threatens the social structure where the extremely wealthy live in a space station while the rest of humanity struggle to survive on an almost uninhabitable Earth.
Outlook: With impressive sets and a visually unique look,
Elysium
could be the science fiction hit moviegoers are looking for near the end of summer.
THE MORTAL INSTRUMENTS
– Starring: Lily Collins, Jamie Campbell Bower and Kevin Zegers
Plot: When her mom is attacked and taken by a demon, Clary Fray (Lily Collins) heads out to save her and discovers some shocking truths about her past and her bloodline that will change her life forever.
Outlook: Based on a series of teen novels,
The Mortal Instruments
hopes to be a successful mixture of
Twilight
and
Harry Potter
but looks as though it lacks the imagination, budget, talent and special effects to pull it off. It's possible it could be a mortal flop.
DON JON
– Starring: Joseph Gordon-Levitt and Scarlett Johansson
Plot: Jon fights against his addiction to online pornography and seeks to find a real relationship with a woman who he could make a life with.
Outlook: With a solid cast but a sleazy and ugly storyline, it's doubtful moviegoers will seek this film out.
WE'RE THE MILLERS
– Starring: Jennifer Aniston and Jason Sudeikis
Plot: A career pot dealer creates a fake family as part of his cover to move a huge shipment of marijuana into the United States from Mexico.
Outlook: With a solid comedic cast, this should be a very funny comedy to close out the summer.
Follow Us On: