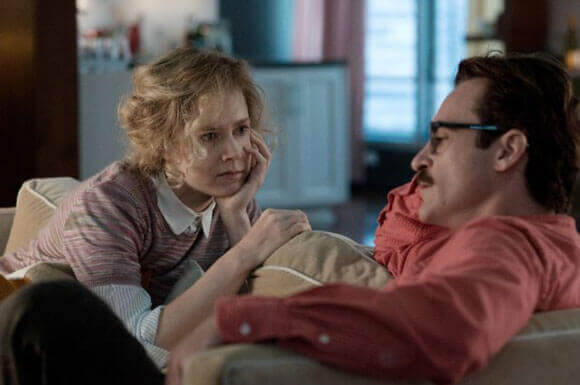 Winners will be revealed on Saturday, February 22, 2014 for the 16th Costume Designers Guild Awards, with nominees just announced today in the feature film, television, and commercial costume design categories. The awards celebrate "the spirit of collaboration between Costume Designers and Actors and Directors," and this year special awards will go to filmmaker Judd Apatow and costume designer April Ferry. Apatow is being recognized with the Distinguished Collaborator Award for his support of costume design and partnership with designers. Ferry will be receiving an Honorary Career Achievement Award for her work in film and television.
"As Costume Designers we take great pride in seeing our work on the screen, bringing characters to life through costumes. The Costume Designers Guild would like to congratulate all of the nominees and we look forward to celebrating the art of Costume Design at our awards gala on February 22nd," said Salvador Perez Jr., President of the Costume Designers Guild Local #892.
NOMINEES FOR THE 16TH ANNUAL COSTUME DESIGNERS GUILD AWARDS:
EXCELLENCE IN CONTEMPORARY FILM

"Blue Jasmine" – Suzy Benzinger
"Her" – Casey Storm
"Nebraska" – Wendy Chuck
"Philomena" – Consolata Boyle
"The Secret Life of Walter Mitty" – Sarah Edwards

EXCELLENCE IN PERIOD FILM

"12 Years a Slave" – Patricia Norris
"American Hustle" – Michael Wilkinson
"Dallas Buyers Club" – Kurt & Bart
"The Great Gatsby" – Catherine Martin
"Saving Mr. Banks" – Daniel Orlandi

EXCELLENCE IN FANTASY FILM

The Hobbit: The Desolation of Smaug – Ann Maskrey, Richard Taylor, Bob Buck
The Hunger Games: Catching Fire – Trish Summerville
Oz: The Great and Powerful – Gary Jones, Michael Kutsche

OUTSTANDING CONTEMPORARY TELEVISION SERIES

"Breaking Bad" – Jennifer Bryan
"House of Cards" – Tom Broecker
"Nashville" – Susie DeSanto
"Scandal" – Lyn Paolo
"Saturday Night Live" – Tom Broecker, Eric Justian

OUTSTANDING PERIOD/FANTASY TELEVISION SERIES

"Boardwalk Empire" – John Dunn, Lisa Padovani
"The Borgias"– Gabriella Pescucci
"Downton Abbey" – Caroline McCall
"Game of Thrones" – Michele Clapton
"Mad Men" – Janie Bryant

OUTSTANDING MADE FOR TELEVISION MOVIE OR MINI SERIES

"American Horror Story: Coven" – Lou Eyrich
"Behind the Candelabra" – Ellen Mirojnick
"Bonnie & Clyde" – Marilyn Vance
"House of Versace" – Claire Nadon
"Phil Spector" – Debra McGuire

EXCELLENCE IN COMMERCIAL COSTUME DESIGN

Call of Duty "Ghosts Masked Warriors" – Nancy Steiner
Dos Equis: "Most Interesting Man in the World Feeds a Bear" – Julie Vogel
Fiat "British Invasion" – Donna Zakowska

Source: Costume Designers Guild

-Posted by Rebecca Murray
Follow Us On:
Stumble It!