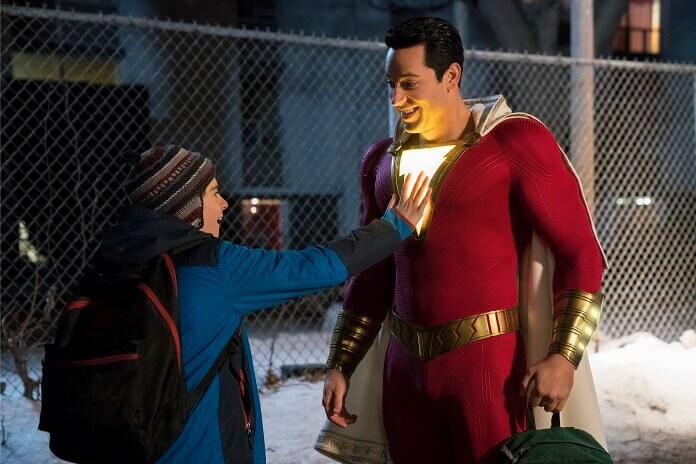 What's left of The Avengers will assemble for Endgame, Brie Larson takes on the lead role in Captain Marvel, and Spider-Man will once again sling his webs as part of the 2019 lineup of comic book-inspired and/or superhero films. The 2019 theatrical release schedule also includes not one but two films set in the X-Men universe: Dark Phoenix and The New Mutants.
2019 will also find Joaquin Phoenix headlining a Joker stand-alone film and Stranger Things' David Harbour taking over the role of Hellboy for a revival of that popular film franchise. And Zachary Levi (Chuck, The Marvelous Mrs. Maisel) channels his inner superhero with a starring role in Shazam!, directed by David F. Sandberg (Lights Out).
It's a packed year for superhero films including a few that were pushed back from 2018. The following preview confirms fans of the genre will have a lot of superheroes to root for over the coming months.
Alita: Battle Angel – February 14, 2019
Starring Rosa Salazar, Christoph Waltz, Jennifer Connelly, Mahershala Ali, Ed Skrein, Keean Johnson, and Jackie Earle Haley
The Plot: When Alita (Salazar) awakens with no memory of who she is in a future world she does not recognize, she is taken in by Ido (Waltz), a compassionate doctor who realizes that somewhere in this abandoned cyborg shell is the heart and soul of a young woman with an extraordinary past. As Alita learns to navigate her new life and the treacherous streets of Iron City, Ido tries to shield her from her mysterious history while her street-smart new friend Hugo (Johnson) offers instead to help trigger her memories. But it is only when the deadly and corrupt forces that run the city come after Alita that she discovers a clue to her past – she has unique fighting abilities that those in power will stop at nothing to control. If she can stay out of their grasp, she could be the key to saving her friends, her family and the world she's grown to love.
Avengers: Endgame – April 26
Starring Chris Evans, Scarlett Johansson, Brie Larson, Evangeline Lilly, Chris Hemsworth, Josh Brolin, Elizabeth Olsen, Chadwick Boseman, and Sebastian Stan
The Plot: Marvel hasn't released the official synopsis for the final film in Phase 3 of the Marvel Cinematic Universe. Marvel promises that with the upcoming superhero film, lingering questions will be answered.
Captain Marvel – March 8
Starring Brie Larson, Samuel L Jackson, Ben Mendelsohn, Djimon Hounsou, Lee Pace, Jude Law, and Lashana Lynch
The Plot: Set in the 1990s, Marvel Studios' Captain Marvel is an all-new adventure from a previously unseen period in the history of the Marvel Cinematic Universe that follows the journey of Carol Danvers as she becomes one of the universe's most powerful heroes. While a galactic war between two alien races reaches Earth, Danvers finds herself and a small cadre of allies at the center of the maelstrom.
Dark Phoenix – June 7
Starring Sophie Turner, James McAvoy, Michael Fassbender, Jennifer Lawrence, Nicholas Hoult, Tye Sheridan, Alexandra Shipp, Kodi Smit-McPhee, Evan Peters, and Jessica Chastain
The Plot: In Dark Phoenix, the X-Men face their most formidable and powerful foe: one of their own, Jean Grey. During a rescue mission in space, Jean is nearly killed when she is hit by a mysterious cosmic force. Once she returns home, this force not only makes her infinitely more powerful, but far more unstable. Wrestling with this entity inside her, Jean unleashes her powers in ways she can neither comprehend nor contain.
With Jean spiraling out of control, and hurting the ones she loves most, she begins to unravel the very fabric that holds the X-Men together. Now, with this family falling apart, they must find a way to unite — not only to save Jean's soul, but to save our very planet from aliens who wish to weaponize this force and rule the galaxy.
Hellboy – April 12
Starring David Harbour, Milla Jovovich; Ian McShane, Daniel Dae Kim, Sasha Lane, Thomas Haden Church, Penelope Mitchell, Sophie Okonedo, Brian Gleeson, and Kristina Klebe
The Plot: Based on the graphic novels by Mike Mignola, Hellboy, caught between the worlds of the supernatural and human, battles an ancient sorceress bent on revenge.
Joker – October 4
Starring Joaquin Phoenix, obert De Niro, Zazie Beetz, Bill Camp, Frances Conroy, Brett Cullen, Glenn Fleshler, Douglas Hodge, Marc Maron, Josh Pais, and Shea Whigham
The Plot: Joker centers around the iconic arch nemesis and is an original, standalone story not seen before on the big screen. Phillips' exploration of Arthur Fleck (Phoenix), a man disregarded by society, is not only a gritty character study, but also a broader cautionary tale.
The New Mutants – August 2
Starring Alice Braga, Maisie Williams, Anya Taylor-Joy, Charlie Heaton, Henry Zaga, and Blu Hunt
The Plot: The official synopsis has not been released.
Shazam! – April 5
Starring Zachary Levi, Asher Angel, Mark Strong, Jack Dylan Grazer, Grace Fulton, Faithe Herman, Ian Chen, Jovan Armand, Cooper Andrews, Marta Milans, and Ron Cephas Jones
The Plot: We all have a superhero inside us, it just takes a bit of magic to bring it out. In Billy Batson's (Angel) case, by shouting out one word—SHAZAM!—this streetwise 14-year-old foster kid can turn into the adult Super Hero Shazam (Levi), courtesy of an ancient wizard. Still a kid at heart—inside a ripped, godlike body—Shazam revels in this adult version of himself by doing what any teen would do with superpowers: have fun with them! Can he fly? Does he have X-ray vision? Can he shoot lightning out of his hands? Can he skip his social studies test?
Shazam sets out to test the limits of his abilities with the joyful recklessness of a child. But he'll need to master these powers quickly in order to fight the deadly forces of evil controlled by Dr. Thaddeus Sivana (Strong).
Spider-Man: Far From Home – July 5
Starring Tom Holland, Jake Gyllenhaal, Michael Keaton, J.B. Smoove, Zendaya Coleman, Marisa Tomei, Numan Acar, Samuel L. Jackson, Cobie Smulders, Remi Hii, and Jacob Batalon
The Plot: Marvel hasn't released the official plot for the Spider-Man Homecoming sequel but they have confirmed it will be set in London and will connect with Avengers: Infinity War and Avengers 4.