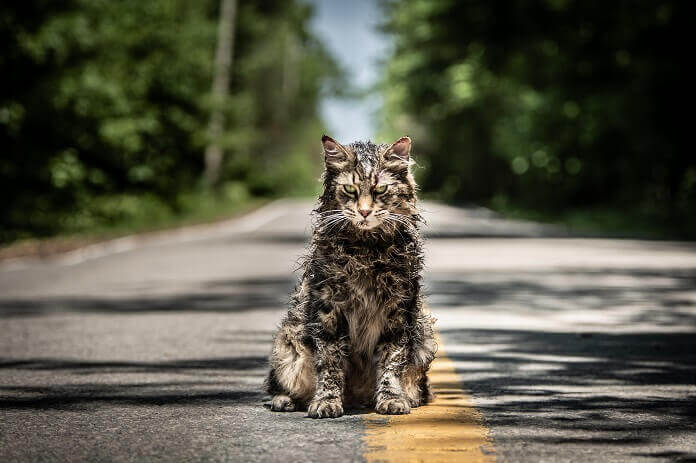 2018's crop of horror movies produced two real box office standouts: Halloween and A Quiet Place. 2019's film entries in the horror genre should easily surpass 2018's box office given that fans will be treated to the second part of It, a new Godzilla film, and the much-anticipated sequel to 2009's Zombieland.
It: Chapter 2 catches up with the story 27 years after the events that played out in 2017's It. Director Andy Muschietti snagged a first-rate cast that includes James McAvoy, Jessica Chastain, Bill Hader, James Ransone, Isaiah Mustafa, Jay Ryan, and Andy Bean to take on the main characters as adults. The new addition to the Godzilla franchise pits the massive creature against Mothra, Rodan, and his biggest nemesis, King Ghidorah. Both films are guaranteed to be blockbusters, as is the Zombieland sequel that took a decade to bring to fruition.
Horror fans will also learn the valuable lesson that bringing loved ones back from the dead has dire consequences with the Pet Sematary remake. The terrifying doll first introduced in The Conjuring gets a third film all to herself, and BrightBurn introduces an evil version of a Superman-type character. Chucky returns, Jim Jarmusch directs a zombie comedy with Bill Murray and Adam Driver, and a remake of The Grudge hopes to creep out audiences in 2019.
Hellboy is reborn with Stranger Thing's David Harbour in the titular role, and 2019's horror film roster also includes Marvel's scariest X-Men story to date.
Here's a look at what's in store for 2019 listed alphabetically and with release dates and plot details where available.
47 Meters Down – Uncaged – June 28
Starring John Corbett, Nia Long, Sophie Nelisse, Corinne Foxx, Sistine Stallone, Brianne Tju, Davi Santos, and Khylin Rhambo
The Plot: 47 Meters Down – Uncaged tells the story of four teens diving in a ruined underwater city, who quickly find themselves in a watery hell as their adventure turns to horror when they learn they are not alone in the submerged caves. As they swim deeper into the claustrophobic labyrinth of caves they enter the territory of the deadliest shark species in the ocean.
Annabelle 3 (not the official title) – July 3
Starring McKenna Grace, Madison Iseman, Katie Sarife, Patrick Wilson, and Vera Farmiga
The Plot: Determined to keep Annabelle from wreaking more havoc, demonologists Ed and Lorraine Warren bring the possessed doll to the locked artifacts room in their home, placing her "safely" behind sacred glass and enlisting a priest's holy blessing. But an unholy night of horror awaits as Annabelle awakens the evil spirits in the room, who all set their sights on a new target—the Warrens' ten-year-old daughter, Judy, and her friends.
Antlers – TBD 2019
Starring Keri Russell, Jesse Plemons, Jeremy T. Thomas, Graham Greene, Scott Haze, Rory Cochrane, and Amy Madigan
The Plot: In Antlers, a small-town Oregon teacher (Russell) and her brother (Plemons), the local sheriff, discover that a young student (Thomas) is harboring a dangerous secret with frightening consequences.
BrightBurn – May 24
Starring Elizabeth Banks, David Denman, Jackson A. Dunn, Matt Jones, and Meredith Hagner
The Plot: What if a child from another world crash-landed on Earth, but instead of becoming a hero to mankind, he proved to be something far more sinister? With Brightburn, the visionary filmmaker of Guardians of the Galaxy and Slither presents a startling, subversive take on a radical new genre: superhero horror.
Child's Play – June 21
Starring Aubrey Plaza, Brian Tyree Henry, and Gabriel Bateman
The Plot: Child's Play follows a mother (Plaza) who gives her son (Bateman) a toy doll for his birthday, unaware of its more sinister nature.
The Curse of Llarona – April 19
Starring Linda Cardellini, Raymond Cruz, Patricia Velasquez, Marisol Ramirez, Sean Patrick Thomas, Roman Christou, Jaynee-Lynne Kinchen, and Tony Amendola
The Plot: This timeless Hispanic legend comes to terrifying life in "The Curse of La Llorona." La Llorona. The Weeping Woman. A horrifying apparition, caught between Heaven and Hell, trapped in a terrible fate sealed by her own hand. The mere mention of her name has struck terror around the world for generations. In life, she drowned her children in a jealous rage, throwing herself in the churning river after them as she wept in pain. Now her tears are eternal. They are lethal, and those who hear her death call in the night are doomed.
La Llorona creeps in the shadows and preys on the children, desperate to replace her own. As the centuries have passed, her desire has grown more voracious…and her methods more terrifying.
In 1970s Los Angeles, La Llorona is stalking the night—and the children. Ignoring the eerie warning of a troubled mother suspected of child endangerment, a social worker and her own small kids are soon drawn into a frightening supernatural realm. Their only hope to survive La Llorona's deadly wrath may be a curandero, and the mysticism he practices to keep evil at bay, on the fringes where fear and faith collide. Beware of her chilling wail…she will stop at nothing to lure you into the gloom. Because there is no peace for her anguish. There is no mercy for her soul. And there is no escape from the curse of La Llorona.
The Dead Don't Die – TBD 2019
Starring Bill Murray, Adam Driver, Chloë Sevigny, Tilda Swinton, Steve Buscemi, and Selena Gomez
The Plot: Writer/director Jim Jarmusch's 2019 film is described as a zombie comedy.
Eli – January 4
Starring Kelly Reilly, Lili Taylor, and Max Martini
The Plot: The story of a young boy who undergoes treatment for a rare disease in a secluded clinic, which turns into a haunted prison with no way out.
Escape Room – January 4
Starring Taylor Russell, Logan Miller, Deborah Ann Woll, Jay Ellis, Tyler Labine, Nik Dodani, and Yorick van Wageningen
The Plot: Escape Room is a psychological thriller about six strangers who find themselves in circumstances beyond their control and must use their wits to find the clues or die.
Godzilla: King of the Monsters – May 31
Starring Vera Farmiga, Ken Watanabe, Sally Hawkins, Kyle Chandler, Millie Bobby Brown, Bradley Whitford, Thomas Middleditch, Charles Dance, O'Shea Jackson Jr, Aisha Hinds, and Zhang Ziyi
The Plot: The new story follows the heroic efforts of the crypto-zoological agency Monarch as its members face off against a battery of god-sized monsters, including the mighty Godzilla, who collides with Mothra, Rodan, and his ultimate nemesis, the three-headed King Ghidorah. When these ancient super-species—thought to be mere myths—rise again, they all vie for supremacy, leaving humanity's very existence hanging in the balance.
Grudge – June 21
Starring Andrea Riseborough, Damián Bichir, John Cho, Betty Gilpin, Lin Shaye, and Jacki Weaver
The Plot: A house cursed by a vengeful ghost curses those who enter it with a violent death.
Happy Death Day 2U – February 14
Starring Jessica Rothe, Israel Broussard, Ruby Modine, Rachel Matthews, Caleb Spillyards, and Charles Aitken
The Plot: Jessica Rothe leads the returning cast of Happy Death Day 2U, the follow-up to Blumhouse's (Split, Get Out, The Purge series) surprise 2017 smash hit of riveting, repeating twists and comic turns. This time, our hero Tree (Rothe) discovers that dying over and over was surprisingly easier than the dangers that lie ahead.
The Haunting of Sharon Tate – TBD 2019
Starring Hilary Duff, Jonathan Bennett, and Lydia Hearst
The Plot: The film follows actress Sharon Tate (Duff) in the weeks leading up to her and her unborn child's murder as she is plagued by visions of her impending death.
Hellboy – April 12
Starring David Harbour, Milla Jovovich, Ian McShane, and Daniel Dae Kim
The Plot: Based on the graphic novels by Mike Mignola, Hellboy, caught between the worlds of the supernatural and human, battles an ancient sorceress bent on revenge.
It: Chapter 2 – September 6
Starring James McAvoy, Jessica Chastain, Bill Hader, Isaiah Mustafa Jay Ryan, James Ransone, Teach Grant, and Bill Skarsgård, Andy Bean, Jaeden Lieberher, Wyatt Oleff, Sophia Lillis, Finn Wolfhard, Jeremy Ray Taylor, Chosen Jacobs, and Jack Dylan Grazer
The Plot: Because every 27 years evil revisits the town of Derry, Maine, It: Chapter Two brings the characters—who've long since gone their separate ways—back together as adults, nearly three decades after the events of the first film.
The Lighthouse – TBD 2019
Starring Robert Pattinson and Willem Dafoe
The Plot: The Lighthouse is a fantasy horror story set in the world of old sea-faring myths.
Ma – TBD 2019
Starring Luke Evans, Juliette Lewis, Octavia Spencer, and Allison Janney
The Plot: Blumhouse Productions hasn't released the official synopsis.
Mary – TBD 2019
Starring Gary Oldman, Emily Mortimer, Owen Teague, Manuel Garcia-Rulfo, and Jennifer Esposito
The Plot: The story centers on a struggling family that buys an old ship at auction with high hopes of starting a charter business, only to discover her horrifying secrets once in isolated open waters.
Midsommar – Aug 9
Starring Florence Pugh, Jack Reynor, and Will Poulter
The Plot: A couple travels to Sweden to visit their friend's rural hometown for its fabled mid-summer festival. What begins as an idyllic retreat quickly devolves into an increasingly violent and bizarre competition at the hands of a pagan cult. (Plot courtesy of Paste Magazine)
The New Mutants – August 2
Starring Alice Braga, Maisie Williams, Anya Taylor-Joy, Charlie Heatons, Henry Zaga, and Blu Hunt
The Plot: The official synopsis has not been released.
Pet Sematary – April 5
Starring Jason Clarke, Amy Seimetz, John Lithgow, Hugo and Lucas Lavoie, Jete Laurence, and Obssa Ahmed
The Plot: Based on the seminal horror novel by Stephen King, Pet Sematary follows Dr. Louis Creed (Clarke), who, after relocating with his wife Rachel (Seimetz) and their two young children from Boston to rural Maine, discovers a mysterious burial ground hidden deep in the woods near the family's new home. When tragedy strikes, Louis turns to his unusual neighbor, Jud Crandall (Lithgow), setting off a perilous chain reaction that unleashes an unfathomable evil with horrific consequences.
The Prodigy – February 8
Starring Taylor Schilling, Jackson Robert Scott, Peter Mooney, and Colm Feore
The Plot: In her much-anticipated foray into the horror-thriller genre, Taylor Schilling stars in The Prodigy as Sarah, a mother whose young son Miles' disturbing behavior signals that an evil, possibly supernatural force has overtaken him. Fearing for her family's safety, Sarah must grapple with her maternal instinct to love and protect Miles in favor of investigating what – or who – is causing his dark turn. She is forced to look for answers in the past, taking the audience on a wild ride; one where the line between perception and reality remains blurry.
Scary Stories to Tell in the Dark – TBD 2019
Starring Michael Garza, Austin Abrams, Gabriel Rush, Austin Zajur, and Natalie Ganzhorn
The Plot: Inspired by one of the most terrifying book series of all time, Scary Stories to Tell in the Dark follows a group of teens who must solve the mystery surrounding a wave of spectacularly horrific deaths in their small town. The five join the previously announced Zoe Colletti in the ensemble at the heart of the film.
The Turning – TBD 2019
Starring Mackenzie Davis, Finn Wolfhard, and Brooklynn Prince
The Plot: For more than 100 years, a deeply haunting tale has been passed down to terrify audiences. DreamWorks Pictures' The Turning takes us to a mysterious estate in the Maine countryside, where newly appointed nanny Kate is charged with the care of two disturbed orphans, Flora and Miles. Quickly though, she discovers that both the children and the house are harboring dark secrets and things may not be as they appear.
Us – March 15
Starring Lupita Nyong'o, Winston Duke, Elisabeth Moss, Tim Heidecker, Yahya Abdul-Mateen II, Anna Diop, Evan Alex, Shahadi Wright Joseph, Madison Curry, Cali Sheldon, and Noelle Sheldon
The Plot: Visionary filmmaker and Academy Award winner Jordan Peele, who created the blockbuster Get Out, follows that success with another original and provocative thriller.
Zombieland 2 – October 11
Starring Emma Stone, Zoey Deutch, Abigail Breslin, Woody Harrelson, Jesse Eisenberg, and Avan Jogia
The Plot: The much-anticipated Zombieland sequel takes place in a future where the zombies have evolved, forcing our fearless zombie killers to sharpen their killing skills.