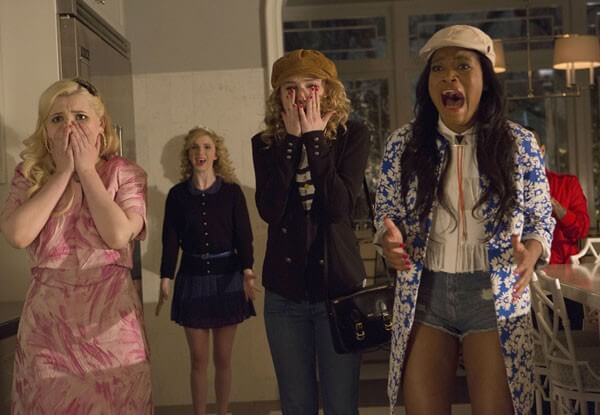 Fox announced American Idol will be ending after season 15 which will kick off in January 2016. Jennifer Lopez, Keith Urban and Harry Connick, Jr will be back as judges for the final season of the singing competition series. The network also just released details on their upcoming 2015-2016 schedule which is set to include four new comedies, four new dramatic series, the Scream Queen horror-comedy anthology, and a new event series. Among the new shows added to Fox's schedule are Lucifer, Minority Report, Rosewood, The Grinder, and Grandfathered.
"Building on the phenomenal momentum created by Gotham, The Last Man on Earth and, of course, Empire, we're infusing next season's schedule with new ambitious dramas, smart comedies, aspirational unscripted series and big live events and specials – all from the best creators in the business," said Dana Walden and Gary Newman, Chairmen and CEOs, Fox Television Group. "And our strategy with these bold creative swings is simple: schedule them strategically, market them relentlessly and create events that break through and captivate viewers across every platform."
FOX FALL 2015 SCHEDULE
MONDAY
8:00-9:00 PM GOTHAM
9:00-10:00 PM MINORITY REPORT (new)
TUESDAY
8:00-8:30 PM GRANDFATHERED (new)
8:30-9:00 PM THE GRINDER (new)
9:00-10:00 PM SCREAM QUEENS (new)
WEDNESDAY
8:00-9:00 PM ROSEWOOD (new)
9:00-10:00 PM EMPIRE
THURSDAY
8:00-9:00 PM BONES
9:00-10:00 PM SLEEPY HOLLOW
FRIDAY
8:00-9:00 PM MASTERCHEF JUNIOR
9:00-10:00 PM WORLD'S FUNNIEST
SATURDAY
7:00-10:30 PM FOX SPORTS SATURDAY: FOX COLLEGE FOOTBALL
SUNDAY
7:00-7:30 PM NFL ON FOX
7:30-8:00 PM THE OT / BOB'S BURGERS
8:00-8:30 PM THE SIMPSONS
8:30-9:00 PM BROOKLYN NINE-NINE
9:00-9:30 PM FAMILY GUY
9:30-10:00 PM THE LAST MAN ON EARTH
GRANDFATHERED – A comedy about coming of age – at any age – GRANDFATHERED stars John Stamos as the ultimate bachelor whose life is turned upside down when he discovers he's not only a father, but a grandfather.
THE GRINDER – Starring Emmy Award nominee Rob Lowe and Emmy Award and Golden Globe Award nominee Fred Savage, follows a famous TV lawyer (Lowe) who, after his hit series, "The Grinder," is canceled, moves back home and joins his brother (Savage) at their family's real-life law firm – despite having no formal education, no bar certification, no license to practice and no experience in an actual courtroom.
SCREAM QUEENS – Award-winning executive producers Ryan Murphy (Glee, American Horror Story), Brad Falchuk (Glee, American Horror Story) and Ian Brennan meld comedy, mystery and horror in SCREAM QUEENS. All hell is about to break loose for the Kappa House sisters of Wallace University when a murder takes place, exactly 20 years after a mysterious death originally rocked their college campus. The super-charged anthology series is a modern take on the classic whodunit with a killer cast, including Emma Roberts, Jamie Lee Curtis, Lea Michele, Oliver Hudson, Keke Palmer and guest stars Ariana Grande and Nick Jonas, among others. With at least one casualty each week until the mystery is solved, anyone could be the next victim – or the murderer.
MINORITY REPORT – Based on Steven Spielberg's international blockbuster film and the first of his films to be adapted for television, MINORITY REPORT follows the partnership between a man (Stark Sands) haunted by the future and a cop (Meagan Good) haunted by her past, as they race to stop the worst crimes before they happen.
ROSEWOOD – From executive producer Todd Harthan, ROSEWOOD stars Morris Chestnut as DR. BEAUMONT ROSEWOOD, JR., a brilliant private pathologist who uses wildly sophisticated technology and his drive to live life to the fullest to help a tough-as-nails detective (Jaina Lee Ortiz) and the Miami PD uncover clues no one else can see.
THE X-FILES – THE X-FILES debuts with a special two-night event beginning Sunday, Jan. 24 (10:00-11:00 PM ET/7:00-8:00 PM PT), following the NFC CHAMPIONSHIP GAME, and continuing with its time period premiere on Monday, Jan. 25 (8:00-9:00 PM ET/PT). The thrilling, six-episode event series, helmed by creator/executive producer Chris Carter and starring David Duchovny and Gillian Anderson as FBI Agents FOX MULDER and DANA SCULLY, marks the momentous return of the Emmy Award- and Golden Globe-winning pop culture phenomenon, which remains one of the longest-running sci-fi series in network television history.
Joining the schedule in 2016:
LUCIFER – Based on characters from DC Entertainment's Vertigo imprint, LUCIFER stars Tom Ellis as the charming, charismatic and handsome-as-hell original fallen angel, who, bored and unhappy in Hell, takes refuge in Los Angeles, where he uses his gift of persuasion to punish bad guys. But the longer he's away from the underworld, the greater the threat that the worst of humanity could escape.
THE FRANKENSTEIN CODE – In THE FRANKENSTEIN CODE, from executive producer/writer Rand Ravich and executive producer Howard Gordon, a disgraced, 75-year-old ex-sheriff, whose life ends at the hands of corrupt cops, is brought back to life and given a second chance by a pair of young tech scientists, as a 35-year-old (Rob Kazinsky) with unpredictable near-superhuman abilities.
THE GUIDE TO SURVIVING LIFE – NEW GIRL will return to Tuesdays in January, for its first-ever season of virtually uninterrupted originals. These weekly all-new episodes will platform THE GUIDE TO SURVIVING LIFE, the new young ensemble comedy about a group of friends living together for the first time. Each episode is told from the perspective of COOPER BARRETT (Jack Cutmore-Scott), a wickedly charming and deeply flawed recent college grad whose life is filled with terrible choices, excellent mistakes and fantastic misadventures.
BORDERTOWN – A new animated comedy from FAMILY GUY's Mark Hentemann and Seth MacFarlane, BORDERTOWN is a satirical look at the cultural shifts taking place in America. Exploring family, politics and everything in between with a cross-cultural wink, the series centers on two very different families living in a fictional Southwest desert town on the U.S. – Mexico border.
GREASE: LIVE – As previously announced, GREASE: LIVE, a three-hour production of the massively popular crossover musical "Grease," starring superstar singers, dancers and actresses Julianne Hough and Vanessa Hudgens, will air LIVE Sunday, Jan. 31, 2016 on FOX. With Hough as the angelic "Sandy" – Rydell High's most talked-about newcomer – and Hudgens as iconic bad girl "Rizzo," this first-ever live television production of Grease will re-imagine the hit musical for an entirely new generation.
-By Rebecca Murray
Follow Us On: